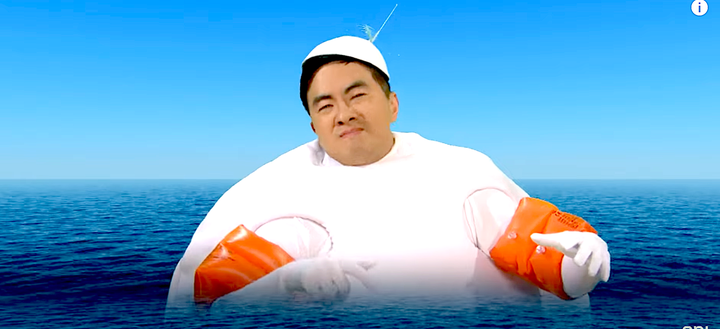 Hours after the U.S. military shot down a suspected Chinese spy balloon off the Carolina coast, "Saturday Night Live" was already featuring a faux MSNBC interview with the still-puffy remains adrift in the Atlantic — played by Bowen Yang in floaties.
"I entertain you people for four days and then get shot by Biden?" grumbles Yang. "Can't believe I'm Joe's Osama."
Katy Tur (played by Chloe Fineman) asks what the balloon was doing over Montana.
Simple: "I love the show 'Yellowstone,'" Yang explains.
Tur is surprised the balloon is still floating, especially since "experts were saying you're the size of three buses."
"OK, ouch," responds Yang. "I'm a balloon, so, that's my body. Now how would you like it if someone measured your width in buses? I'm sorry I'm not camera-ready."
Tur also interviews "Pentagon official" Gen. William Hamilton (Kenan Thompson), who proudly announces: "We popped the balloon."
The general explains that the balloon somehow dodged the "West Coast anti-balloon defense system — the Seattle Space Needle."
Popular in the Community