WASHINGTON ― A top Republican senator leading an investigation into election meddling by Russia has spent the past several months pushing a theory that Fusion GPS, the research firm that paid a former British intelligence officer to investigate then-presidential candidate Donald Trump's potential ties to Russia, was secretly working for Moscow all along.
Since March, Sen. Chuck Grassley (R-Iowa) has sent letters, issued statements and even scheduled (and then postponed) a congressional hearing focused on making the case that Fusion has ties to the Russian government. The Senate Judiciary Committee chairman has suggested the company broke the law by failing to register as a foreign agent when it was hired by an American law firm to assist in defending a money laundering case against Prevezon, a shell company owned by a Russian businessman.
By casting Fusion as a tool of the Kremlin, Grassley could undermine the credibility of compromising allegations about Trump's Russian ties laid out in a 35-page dossier compiled by Christopher Steele, the former intelligence officer. Any Russian connection to Fusion "casts further doubt on an already highly dubious dossier," Grassley wrote in March.
But Grassley's theory has a problem: There is no public evidence that Fusion is or was acting on the Kremlin's behalf and no evidence that its work for Prevezon was connected to its employment of Steele. And although many of the claims in the dossier have not been verified, the FBI took it seriously enough to investigate its contents — and, reportedly, used it to win the legal authority to secretly monitor former Trump campaign adviser Carter Page last year. (Fusion is not related to the similarly named media company.)
So far, Grassley's campaign against Fusion has centered on the firm's supposed non-compliance with the Foreign Agents Registration Act, a 79-year-old law requiring individuals to register with the Justice Department when they are acting on behalf of a foreign principal to influence American public policy and public opinion. Last week, Grassley announced he would hold a Judiciary Committee hearing to probe the Justice Department's "(Non) Enforcement" of the law. There are legitimate reasons to be concerned about the department's enforcement of FARA, but Grassley initially singled out just one potential violator: Glenn Simpson, co-founder of Fusion GPS.
Exemptions available under FARA make it unclear whether Fusion had to register. The firm has long insisted that its work was purely research-based and that it was not involved in any lobbying that required it to register. More importantly, the question of whether Fusion GPS should have registered for its efforts on the Prevezon case has little bearing on its work for an unrelated client on the Trump-Russia dossier.
The whole Judiciary Committee hearing sounded like it would be "a hit job on Fusion," Jack Blum, a lawyer who specializes in white-collar financial crime and has known Simpson for decades, said of the initial schedule. "[Simpson] doesn't lobby; he does research work ― and he wasn't operating as an agent of a foreign government; he was operating as a researcher for a law firm on a court case," Blum continued.
[It sounded] like a hit job on Fusion.

Lawyer Jack Blum, describing the original schedule for Grassley's committee hearing
Grassley postponed the hearing late Tuesday, the day before it was set to take place. He then rescheduled it for next week and added Donald Trump Jr. and Paul Manafort as witnesses. Last summer, Manafort, then the Trump campaign manager, and Trump Jr. attended a meeting with Russian lawyer Natalia Veselnitskaya and Russian-American lobbyist Rinat Akhmetshin with the understanding that they would receive damaging information on Democratic presidential candidate Hillary Clinton. Grassley has threatened to subpoena Trump Jr. and Manafort if they don't appear voluntarily, CNN reported on Thursday.
The chairman has also threatened to subpoena Simpson, the Fusion GPS co-founder, for information about the firm's work on the dossier. Fusion's lawyers had argued in April that Grassley's requests for information violated the firm's First Amendment rights and attorney-client privilege. Simpson is unlikely to attend next week's hearing.
What really happened between Fusion, Steele and Russia is far more complicated than Grassley has suggested.
The story starts in 2008, when a Russian accountant named Sergei Magnitsky uncovered a $230 million Russian tax fraud scheme involving corrupt government officials. At the time, Magnitsky was working for Bill Browder, CEO of Hermitage Capital Management and a major U.S.-born investor in Russia who had been expelled from that country three years earlier. Russian officials retaliated against Magnitsky by arresting and imprisoning him on tax evasion charges; he died in prison in November 2009 after allegedly being beaten and denied medical treatment. His death prompted Browder to lobby Congress to pass the Magnitsky Act, a 2012 law that sanctioned Russian officials accused of human rights abuses.
In 2013, U.S. prosecutors accused Russian businessman Denis Katsyv and his company Prevezon of laundering the proceeds of that tax fraud scheme through high-end real estate in New York. Browder had urged prosecutors to do so and he was the government's main source in building its case against Prevezon, Department of Homeland Security special agent Todd Hyman said in a deposition the next year. 
Katsyv and Prevezon needed lawyers. But Katsyv's Russian attorney, Veselnitskaya ― now best-known for last summer's meeting with Trump Jr. ― was not licensed to practice law in the U.S. So Katsyv and Prevezon turned to an American law firm, BakerHostetler.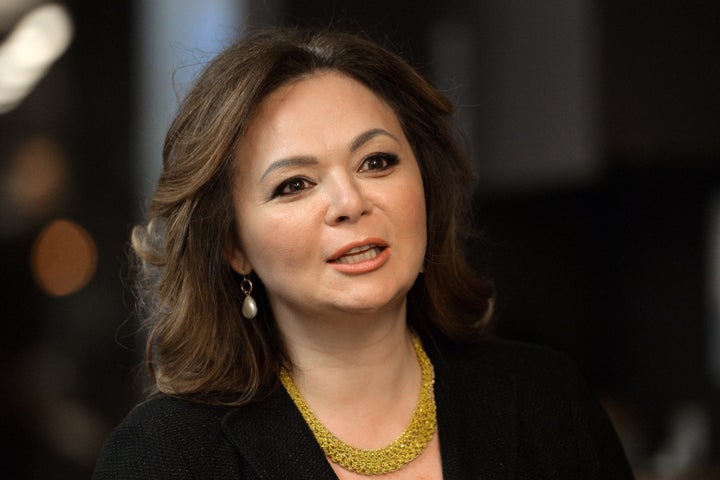 To defend Katsyv against the money laundering charges, BakerHostetler had to discredit Browder's narrative. In 2013, BakerHostetler hired Fusion, which had previously worked with the law firm on other cases, to gather and analyze evidence to disprove Browder's claims. Fusion investigated his finances and real estate properties and tracked him down to serve him with a subpoena that ultimately led to his being deposed. The government ultimately settled the case in May for $6 million; it's not known what impact Fusion's research had on the outcome.
In September 2015, while the Prevezon case was ongoing and the presidential race was heating up, an unnamed Republican client seeking to prevent Trump from winning the GOP nomination hired Fusion to look into his potential weaknesses. As it became clear that Trump would be the nominee, Fusion continued its efforts, but with funding from Democrats.
The firm turned to Steele, the former British intelligence officer, last June. Steele's relationship with Fusion goes back to at least January 2010, when he first signed a nondisclosure agreement with the firm, according to court documents. Steele compiled his findings on Trump from June through December 2016 into the now-infamous dossier. BuzzFeed published a copy of the document in January.
As Browder and Grassley see it, by taking on the Prevezon case, Fusion was working on the same side as Veselnitskaya, who has close ties to Yuri Chaika, Moscow's top prosecutor. And Katsyv, Prevezon's owner, is the son of Pyotr Katsyv, the former vice governor of the Moscow region and current vice president of the state-run Russian Railways. Fusion was effectively working "as a Russian government proxy," Browder argued in an interview. He plans to testify at Grassley's hearing next week.
There are certainly people who were involved in the Prevezon case who were also involved in lobbying against the Magnitsky Act sanctions, a Russian government priority. Last year, Veselnitskaya and Katsyv, Prevezon's owner, launched a nonprofit foundation that hired lobbyists to target the act. The Human Rights Accountability Global Initiative Foundation employed Akhmetshin, the Russian-American lobbyist who was also in last year's meeting with Trump campaign associates. But the fact that Fusion and Veselnitskaya were both working to defend Katsyv and Prevezon in the money laundering case has no bearing on the veracity of the Steele dossier.
Grassley still seems to think he can dig up something about Fusion that buries the Steele dossier once and for all. He used Browder's complaint to the Justice Department last July, which accused Simpson and others of anti-Magnitsky Act lobbying, as the "genesis" of Wednesday's postponed hearing, Browder said. That complaint was of "particular concern," Grassley wrote the Justice Department in March. Tying together a string of allegations against Fusion, the senator wrote, "When Fusion GPS reportedly was acting as an unregistered agent of Russian interests, it appears to have been simultaneously overseeing the creation of the unsubstantiated dossier of allegations of a conspiracy between the Trump campaign and the Russians."
Grassley's committee has now widened its inquiry to delve into the June 2016 meeting between members of the Trump campaign and Veselnitskaya. The committee sent letters on Wednesday asking the Trump campaign, the Trump Organization, Manafort and Trump Jr. to preserve records related to this meeting and to any attempts to obtain damaging information on Clinton.
But Grassley is clearly still interested in investigating — and discrediting — Fusion. In a separate letter to Simpson, the committee framed Trump Jr.'s meeting with Veselnitskaya as a damning example of Fusion's nefarious connections to Moscow. Under threat of subpoena, the committee requested documents from Fusion related to its interactions with dozens of people and firms, including Akhmetshin, Browder, Veselnitskaya — and Christopher Steele.
Calling all HuffPost superfans!
Sign up for membership to become a founding member and help shape HuffPost's next chapter