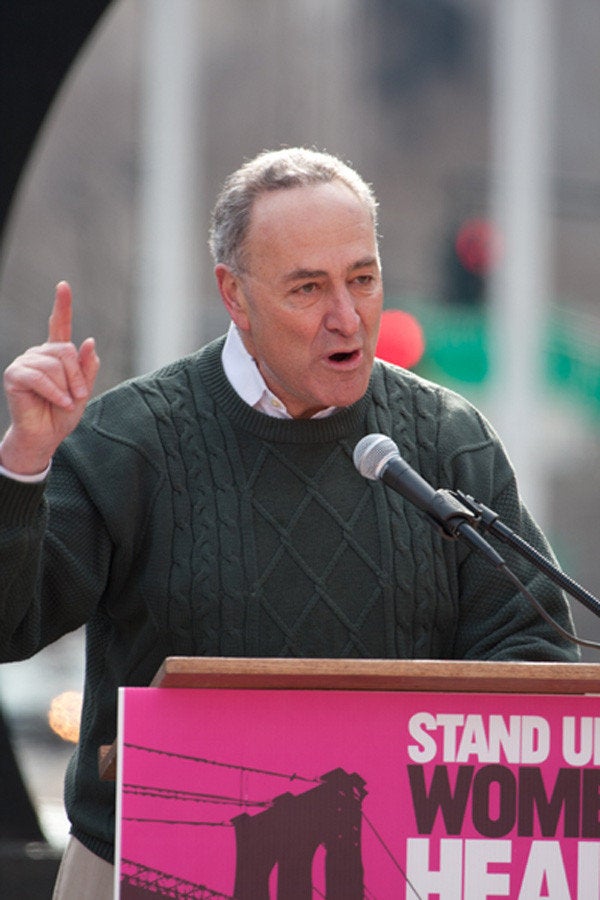 Schumer spoke at the Rally For Women's Health in Foley Square in downtown Manhattan, an event sponsored by a coalition of reproductive health and women's rights organizations, including Planned Parenthood of New York and NARAL Pro-Choice New York.
House Republicans voted to strip federal funding from Planned Parenthood on February 18, 2010. Republicans argue the Pence amendment (introduced by Rep. Mike Pence) is needed to block taxpayer money from being used to fund abortions, however Planned Parenthood is already forbidden by law to use Title X funds for abortion procedures.
In New York State, 49 organizations receive $10 million a year in Title X funds to provide reproductive healthcare to approximately 400,000 patients.

There are 68 Planned Parenthood centers in New York state, which would see many of their services endangered if the Pence amendment passes, including HIV and STD screening and testing, and cancer screening.
M. Tracey Brooks, President and CEO of Family Planning Advocates of New York State, a non-profit organization that advocates for full access to reproductive health care, said she sees Schumer as "a champion" when it comes to protecting family planning.
"If Pence goes through, it would cripple what New York is able to do. It would leave a significant hole in the state budget, and a gaping hole in the budget of the 250 health clinics in New York State, including our 68 Planned Parenthoods," Brooks said.
The New York Times pointed out that for every dollar spent on providing contraceptives to low-income women, four dollars are saved over the next year in medical costs for unplanned pregnancies.
Low-income women and others who cannot afford private health care will be the most affected if the cuts to family planning go through. But the Senate, where Democrats maintain a small majority, "moves slowly," says Schumer, "and there are certain times when that's a good thing."
Popular in the Community