WASHINGTON — As more than 100,000 protesters took to the National Mall Saturday to demand the Trump administration quit cozying up to fossil fuel companies and take action against climate change, D.C. experienced sweltering heat that tied a record for April 29.
The unseasonal heat ― which hit 91 degrees, tying a record high for April 29, set in 1974 ― served as an exclamation point on the demonstration's message: that America and the planet don't have time for the antics of President Donald Trump, who has falsely called climate change "bullshit" and a "hoax."
Neil Gundel, 57, of Hartford, Connecticut, came to the march because he felt it was important to stand up to the Trump administration on behalf of future generations. He described Trump's first 100 days in office as "almost like a satire."
"It's looking like they are trying to accelerate climate change as fast as they can," Gundel said. "I think it's going to hit this generation more than they know."
Rhea Suh, president of the Natural Resources Defense Council, a co-sponsor of the event, said in a blog post Friday that Trump has launched the "worst assault in history" against commonsense environmental protections during his first 100 days.
"A hundred days of hazard and harm are a hundred days too many," Suh wrote. "We won't stand by and watch him surrender our children to the growing dangers of climate change."
Trump has moved quickly to unravel Obama-era policies meant to reduce the United States' carbon footprint and fight climate change. He has proposed deep budget cuts to the Environmental Protection Agency and other scientific agencies, and has signed executive orders that aim to increase fossil fuel production. He has also vowed to withdraw the U.S. from the Paris Agreement, the landmark climate accord in which nearly 200 countries committed to slashing carbon emissions, although many in his inner circle have urged him not to do so.
Trump on Friday signed an executive order aimed at opening protected areas of the Arctic and Atlantic oceans to oil and gas development.
Michael Brune, executive director of the Sierra Club, said Trump's order would "only make our call louder on Saturday."
Also on Friday, the EPA announced "website updates" that involved the removal of several pages, including those related to climate change. It said the changes "reflect the agency's new direction under President Donald Trump and Administrator Scott Pruitt." The changes went into effect Friday night.
As thousands of demonstrators swarmed towards the White House, Trump sent out a tweet.
While passing Trump International Hotel, a chorus of "Dump Trump!" filled the streets. And outside the White House, protesters chanted "The oceans are rising, and so are we!" and "Welcome to your hundredth day, resistance is here to stay."
Aryaana Khan, a 16-year-old with the nonprofit Alliance Climate Education, said she's seen climate change from two different hemispheres, after moving to the U.S. from Bangladesh six years ago.
"The policies that are made in this country not only impact us as a nation, but everyone else around the world," she said.
Michelle Ryan, of New Hampshire, traveled with her husband to D.C. from Florida, where the two are vacationing. She said seeing people from so many different backgrounds and with so many different important messages to share come together left her with goosebumps.
"I have been afraid since the election. I felt I couldn't stand by and watch things happen without having a say," she said. "I think voices have to be heard. That's where [change] starts. And we're upset."
Jamie Henn, co-founder of 350.org, one of several groups that organized the event, told HuffPost this week that online RSVPs had climbed to more than 140,000 nationwide, mostly for the D.C. march. Event organizers estimate the crowd in D.C. reached 150,000 and stretched through some 20 blocks.
"This is a movement, not a moment, and the march is just the beginning," Henn said in an email.
To mark his first 100 days in office, Trump will hold a rally late Saturday in Harrisburg, Pennsylvania. Breaking with precedent, he will not attend Saturday's White House Correspondents Association dinner in Washington.
At around 5 p.m., the Marine One presidential helicopter took off from the South Lawn of the White House and flew directly over what remained of a post-march rally near the Washington Monument, as protesters waved and held up signs.
"I hope that Trump can see that we're people here, not just something that can be discarded," Romero-Frederick said. "Any decision that hurts the earth hurts everyone ― there's a different way than greed. We only get one earth. We have to respect it."
Jazzlyn Lindsey, an organizer with Black Lives Matter D.C., said black communities are disproportionately impacted by climate change, and "it is time for us to end the war on black America in all ways that exist."
"I'm hoping that this march will really bring more attention to the intersectionality between social justice issues and environmental issues," she said.
Before You Go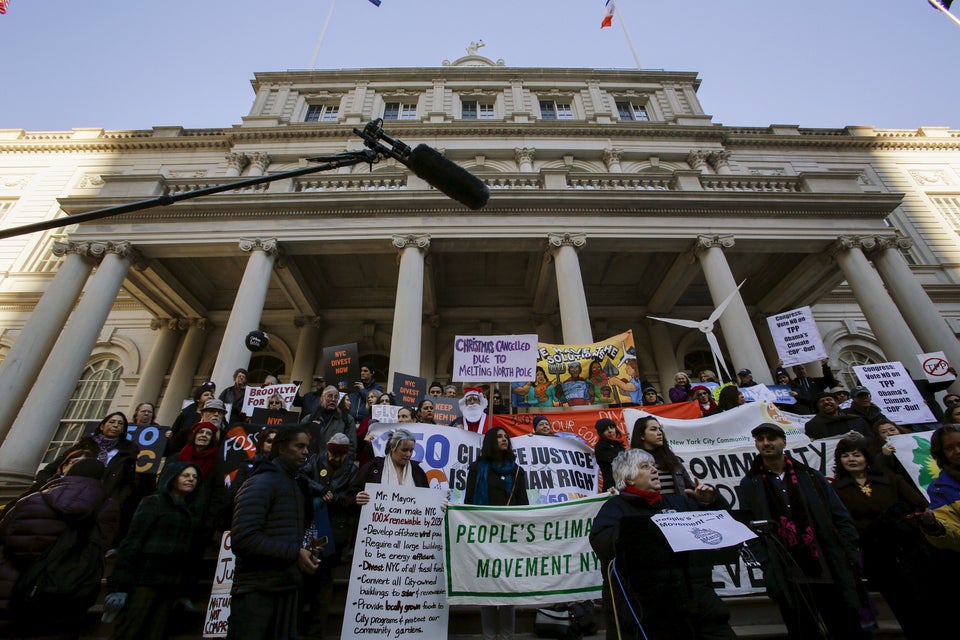 What You Can Do Right Now To Stop Donald Trump's Dangerous Climate Agenda
Popular in the Community