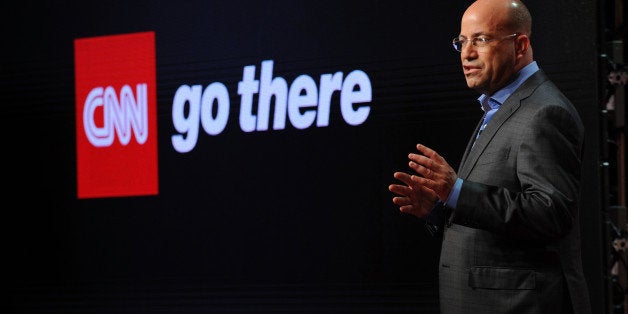 NEW YORK -- After unveiling several new shows Thursday, CNN Worldwide president, Jeff Zucker, wrapped up the network's upfront event by touting recent ratings success.
"Last month, CNN was the fastest growing network in all of television -- not just news, not just cable, all of television," Zucker told an audience of advertisers and some of the network's top stars. "The same remains true in April."
CNN's ratings surge has come amid weeks of obsessive coverage of missing Malaysia Airlines Flight 370, a programming strategy that's attracted viewers as well as critics.
Zucker, however, seemed unfazed by the criticism when approached after Thursday's upfront session.
"The most important thing we pay attention to is journalism and the audience," Zucker told HuffPost. "We feel really good about the journalism and the audience continues to be there. At the end of the day, that's what matters."
Zucker said the network will continue covering the Flight 370 story and that "the amount of resources will be determined by the ongoing news."
Since taking over the top job at CNN, Zucker has emphasized that the network shouldn't just be competing against cable news networks, like MSNBC and Fox News, but also entertainment-focused channels. During his upfront appearance, Zucker highlighted the ratings success of Anthony Bourdain's "Parts Unknown" and Morgan Spurlock's "Inside Man." He announced plans to fill the 9 p.m. time slot with new CNN original programs.
Mike Rowe, the host of Discovery's "Dirty Jobs," will host "Somebody's Gotta Do It," a series CNN described Thursday as "paying tribute to innovators, do-gooders, entrepreneurs, collectors, fanatics -- people who simply have to do it." Journalist and author Lisa Ling will star in a documentary series looking at various American subcultures, and John Walsh, of "America's Most Wanted" fame, will look at criminal investigations in "The Hunt with John Walsh."
Zucker told attendees that the talk show format at 9 p.m. -- a time slot filled by Larry King for 25 years and more recently by Piers Morgan -- is "no longer viable."
That realization, he told HuffPost, came over the past year. "A show in the tradition of what Larry King had always done didn't necessarily make sense for us going forward," he said.
"I think climate change is an important story, and over time, it gets the attention we think it deserves," Zucker said. "We don't make a decision based on a single day or a single report."
Zucker added that CNN International has been covering climate change globally on an "ongoing basis."
Related
Popular in the Community