WASHINGTON -- The Senate added its conflicted stamp of approval to President Barack Obama's request to arm and train Syrian rebels against the Islamic State, voting to fund what amounts to the start of a new war without an actual war vote.
The measure -- attached to a must-pass bill to fund the government until Dec. 11 -- spends $500 million to start training and arming Syrian rebels and to expand on the campaign launched in August against the extremist advance in Iraq.
The bill passed 78 to 22, and heads to the White House, where President Barack Obama, who ran as an anti-war president, is likely to sign it. It allows Obama in effect to begin hostilities against an enemy in Syria, relying on the war declarations passed with the authorizations to use military force in 2001 and 2002 that targeted al Qaeda and Saddam Hussein.
The vote was a strong show of support for the president's military action but revealed some unusual fractures in each party. A total of 33 Republicans voted to back the administration's Syria request while 10 Democrats opposed it. Among those Democrats: Sen. Ed Markey (Mass.), who holds the Senate seat previously held for nearly 30 years by Secretary of State John Kerry, who is actively making the case for supporting military action in Syria.
There was also a notable split among potential 2016 presidential contenders. Republican Sens. Rand Paul (Ky.) and Ted Cruz (Texas) voted against the bill, while Sen. Marco Rubio (Fla.) supported it. Democratic Sen. Elizabeth Warren (Mass.) and independent Sen. Bernie Sanders (Vt.) voted against it.
Lawmakers and the White House agreed the AUMFs are outdated -- some members don't even think it's constitutional for the president to apply them to current military operations against ISIS -- and need to be modernized.

Senate Majority Whip Dick Durbin (D-Ill.), who made the case for the majority, acknowledged that the Senate needs to hold a broader debate, and a vote, on a new war authorization. Durbin said he expects that to happen only after lawmakers return from the elections in November.
"We have a special responsibility given to us by the Constitution that says the American people declare war, not the president," Durbin said. "So we will come back and start the debate on what's known as [an AUMF], a modern version … It's a debate that's long overdue."
The debate Thursday was a study in contradictions, with senators like Durbin who backed the funding complaining about Obama's war authority, and senators who opposed the funding saying nevertheless it is vital for the United States to stop ISIS or ISIL, as the extremists are also known.
Perhaps the highest profile opponent, Sen. Rand Paul (R-Ky.), argued that he would have voted for a war authorization, even as he condemned intervention and mocked the idea of arming Syrian rebels under the old war declarations.
"As [Secretary of State John] Kerry understands it, we could use that [2001] authorization of force to attack the same people we're giving the weapons to. Think about the insanity of this," Paul said. "We're giving weapons to people fighting in trenches with al Qaeda. We could actually attack under that formulation the very people we're giving the weapons to. It's absurd."
Still, before voting against funding, Paul said ISIS was a real threat. "I think there are valid reasons for being involved, and I think we are doing the right thing, but just in the wrong way."
Sen. Angus King (I-Maine) also argued that Obama does not have the authority to wage a new war, but he voted for the funding, calling it "the least-worst option."
Sen. Mark Begich (D-Alaska) called ISIS "terrorist thugs" and a threat to the United States, but adamantly opposed arming the rebels "or who they might be 12 months from now."
"I disagree with my president," Begich said, arguing that the people who live in the area are the ones who should be "stepping up to the plate."
Similarly, Sen. Jon Tester (D-Mont.) said Arab nations should be the ones stepping forward and bearing the burdens, and worried that the costs would again be born by American taxpayers.
"We must stop putting wars on a credit card," Tester said before voting for the bill. "And I wonder if once we start an overseas conflict, do we know where and when it will stop? Do we know what our spending will achieve?"
Even senators who were adamantly for tougher action were not happy with the measure they backed.
"I'll support it. It's long overdue support for the brave Syrians who are fighting on the front lines against a common terrorist enemy," said Sen. John McCain (R-Ariz.), even as he complained that Obama should have acted two years ago, and that even now he was telegraphing his plans to the enemy.
"Two years ago, it could have been decisive, it's not now," McCain said. "We're talking about 5,000 [Syrians] that we're going to train over a year or more period, and they're going to be fighting against an estimated 31,500 fighters."
McCain also complained about a lack of candor over the required U.S. commitment to winning, citing former Secretary of Defense Robert Gates, who predicted "they're not going to be successful against ISIS strictly from the air."
"That's the opinion not of John McCain … but Robert Gates and every military expert I have talked to," McCain said.
Current administration military leaders have said they have no intentions of putting boots on the ground, but also warned that the circumstances could change.
After Thursday's vote, whatever the circumstances become, Congress will not have another say until mid-November, at the earliest.
Obama later praised lawmakers for overwhelmingly voting to support the administration's military efforts.

"I want to thank leaders in Congress for the speed and seriousness with which they approached this urgent issue," he said during brief remarks at the White House. "Bipartisanship ... is the hallmark of American foreign policy at its best."
This article has been updated to add Obama's comment and vote details.
CORRECTION: An earlier version incorrectly reported the vote tally. It has been corrected.
Before You Go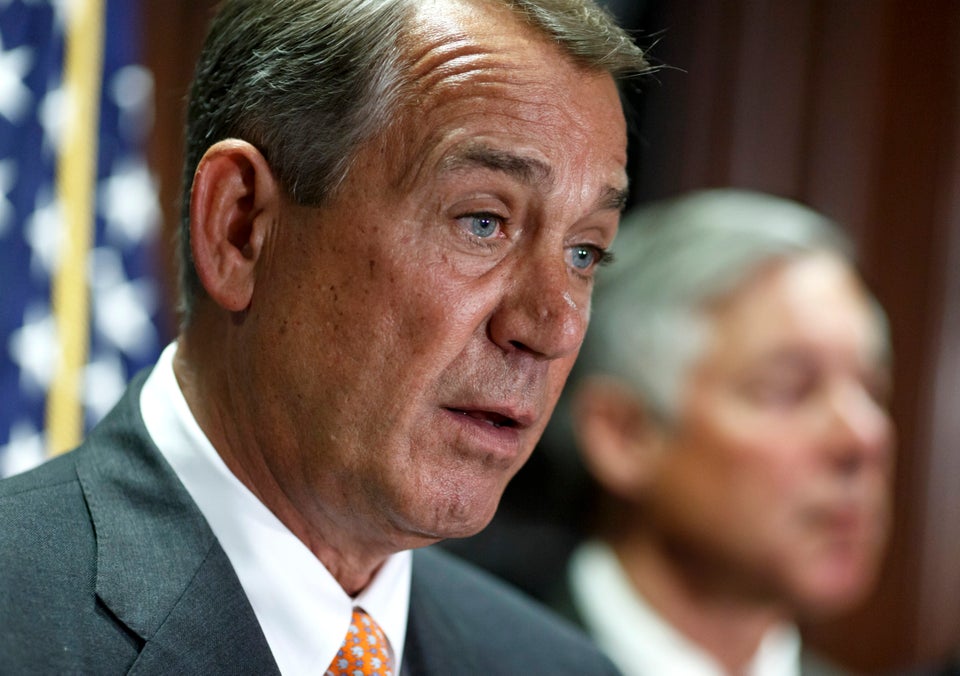 Politicians On Obama's ISIS Speech
Popular in the Community