At this point, former Michigan state Rep. Dave Agema (R) is known more for making inflammatory and controversial statements about gay people than lawmaking.
The Republican National Committee member is coming under fire for two new Facebook posts -- one demeaning Muslims, and another defending Russia's anti-gay propaganda law.
Last Tuesday, Agema shared a link to a Jan. 6 Facebook post from the Illinois Family Institute, headlined, "Russia's Anti-Propaganda Law Riles Pro-Homosexuality Crowd," with the note, "Read their law. Common sense in Russia!"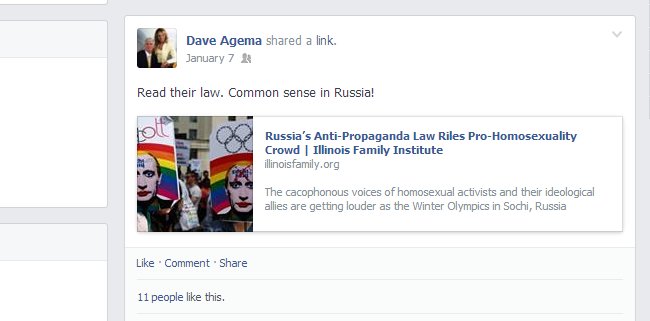 Screenshot courtesy of Dennis Lennox.
Critics charge that Russia's new law forbidding gay propaganda actually limits the rights of LGBTQ people in Russia and is part of a larger campaign to deny them human rights. The law threatens jail time or fines for expressing homosexual behavior in public.
And on Friday, Agema posted a comment on his Facebook account that included the question, "Have you ever seen a Muslim do anything that contributes positively to the American way of life?"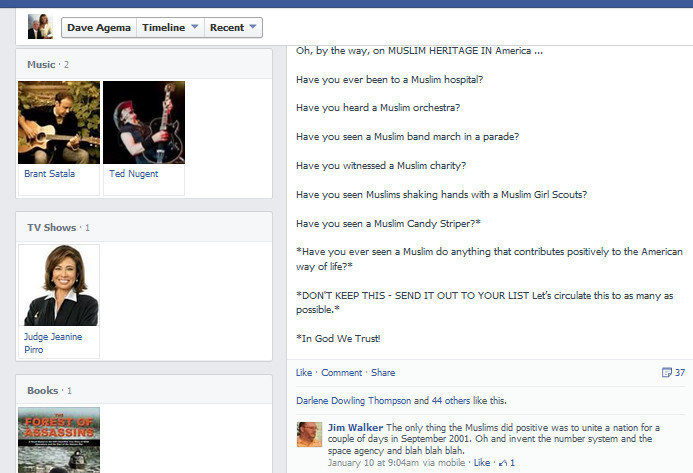 Screenshot courtesy of Dennis Lennox.
The text appears to be the same as a diatribe that's been floating around Internet forums for months.
The apparent screenshots from his private Facebook account were sent to The Huffington Post and other media outlets by Dennis Lennox, a Republican strategist in Michigan. "Good Republicans cannot sit back and allow this bigotry, hate and xenophobia to continue -- this disgraceful rhetoric has crossed the point of no return," he told The Huffington Post. "This goes well beyond debates between those with deeply held religious beliefs. This is pure bigotry and hate," Lennox added.
As a lawmaker, Agema introduced an anti-Sharia law, HB 4769, and once explained to a local radio station that, "just about every terrorist is a Muslim," leading one columnist to compare his views to McCarthyism. Agema has also said that he believes President Barack Obama to be a Muslim.
To sum up Agema's week on Facebook, he's sided with a Russian regime's plan to deny gay citizens human rights and slurred a religion of 1.2 billion people. But they're just the latest posts in a trend of controversial comments made by Agema on social media.
In December, he defended comments by "Duck Dynasty" star Phil Robertson that many said were offensive to gays, referring to Robertson's critics as the "LBGT Gestapo speech police." Also in December, Agema accused gay people of pushing health care reform because they die earlier in life. In April, he compared homosexuality to alcoholism. In March, he promoted an article on his Facebook page that called homosexuality a "filthy" lifestyle.
And although Michigan Gov. Rick Snyder (R)and other prominent state politicians have denounced Agema's past comments, he received no censure at the state's last RNC meeting, telling the audience to "avoid the quagmire of political correctness," the Detroit Free Press reported.
In a recent appearance at a LBGTQ center in Michigan, Democratic National Committee Chairwoman Rep. Debbie Wasserman Schultz (D-Fla.) said that a culture of intolerance plagues the Republican Party.
"Intolerance is in the Republican Party's DNA," she said.
REAL LIFE. REAL NEWS. REAL VOICES.
Help us tell more of the stories that matter from voices that too often remain unheard.
BEFORE YOU GO
PHOTO GALLERY
Gay Marriage In The United States