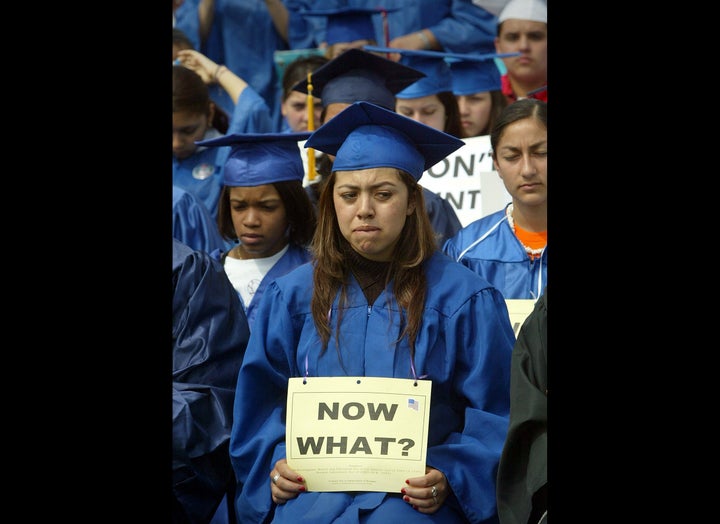 WASHINGTON -- Immigration advocacy groups have a message for President Barack Obama: Stop using the DREAM Act to ask for campaign money unless you can deliver relief from deportation for undocumented youth.
United We DREAM, a group of young people pushing for the bill, started a petition last week asking the president to remove discussions of the bill in campaign literature and fundraising emails unless he is willing to use his executive power to block deportations for DREAM Act-eligible students.
The DREAM Act would grant legal status to some undocumented young people who came to the U.S. as children and are now looking to attend college or join the military.
Although Obama has said repeatedly that he supports the DREAM Act and that undocumented students are not the focus of his immigration enforcement plans, some are nonetheless caught up in a deportation system that removed more than 390,000 people from the country last year.
On Wednesday, a group of DREAM Act supporters gathered outside an Obama fundraiser in Boston to protest against the president's deportation policies.
Vinicius Quirino, 25, a student who is in removal proceedings after overstaying a tourist visa, chanted, "Pass the DREAM Act now!" as attendees filtered into the fundraiser. Although Quirino would not be eligible for the DREAM Act as it is currently written -- he entered the United States from Brazil when he was 17, two years beyond the max entrance age under the bill -- he said he wants to make sure Obama supporters know the president has not delivered on his DREAM Act promises.
"We're just showing to people who were supporting him that he makes promises and he doesn't accomplish anything," he said. "So why are you supporting him? The students are still in the shit."
Quirino has a clean criminal record, he said, and is attending college. He pays international student tuition (at a higher rate than American students) and has a tax ID so he can file taxes to the government. He once tried to join the Air Force, visiting a recruiting center and passing preliminary tests, before he was told his immigration status disqualified him.
As students like Quirino face deportation, some in the immigrant rights activists say Obama is using the DREAM Act as more of a campaign stunt than an actual legislative push.
"We needed this kind of leadership last year," said Carlos Saavedra, a national coordinator for United We DREAM. "Now we have very small chances in Congress, but he still has an ability to secure the lives of DREAM Act youth."
The group's petition, which has more than 1170 signatures, is part of a broader effort in the immigration advocacy community to lobby for executive action for DREAM Act-eligible young people.
The bill was reintroduced in the Senate earlier this month after failing there during last year's lame-duck session. Senate Democrats have said they will hold a vote on the bill -- possibly paired with immigration enforcement measures to win GOP votes -- but there is little hope that the DREAM Act will become law within the next two years.
Some Democrats have said Obama should offer relief in the meantime in the form of executive action that would block deportation of men and women under the age of 35 who entered the United States as children, have clean criminal records and plan to attend college.
The Obama administration has denied that it could use its discretion to stop the deportation of DREAM Act-eligible students.
"I am not going to stand here and say that there are whole categories that we will, by executive fiat, exempt from the current immigration system, as sympathetic as we feel towards them," Department of Homeland Security Secretary Janet Napolitano said in April. "But I will say that group ... are not the priority [for deportation]."
"With respect to the notion that I can just suspend deportations through executive order, that's just not the case," he said.
In March, Rep. Luis Gutierrez (D-Ill.), a vocal supporter of immigration reform, joined with the Fair Immigration Reform Movement and other Democrats in Congress to call for executive action on immigration. The Latino congressman, along with a coalition of immigration groups, is holding events around the country to pressure Obama to keep his 2008 campaign promises, including the ending of deportation of undocumented students with clean criminal records.
"This is not amnesty," Rep. Mike Honda (D-Calif.) said at a March event for the campaign. "It is simply the right thing to do, and we must do it now."
Senate Democrats have also called for Obama to block some deportations. Senate Majority Leader Harry Reid (D-Nev.) and 21 other Democrats sent a letter to the White House in April asking the president to block deportations for those who would qualify for the DREAM Act.
As the deportations continue, DREAM Act supporters say it is disingenuous for Obama to use his support for the bill to drum up support for his reelection.
"Every time I talk to folks, people are really angry about it," Saavedra said. "Knowing he can do something about it is frustrating people the most."
Popular in the Community