 LOS ANGELES -- As a child growing up in a Texas border town, Eva Longoria recalls asking her father, "Why were we born on this side?" to which he replied, "Because we were lucky."
The actress reminisced about her childhood experiences crossing the border during the National Council of La Raza's Awards Gala at the Los Angeles Convention Center on Tuesday night. After being honored for her activism, Longoria took time to reflect on the thousands of Central American children currently seeking refuge at the U.S.-Mexico border.

NCLR, the country's largest Hispanic advocacy group, honored Los Angeles First District Supervisor Gloria Molina, activist Angelica Salas, journalist Jose Diaz-Balart, baseball star Manny Mota and actress and activist Longoria during the final night of its annual conference. Longoria was awarded the Raul Yzaguirre President's Award, named after the organization's former leader, for her work with the Latino community.
"Eva uses her platform to advocate for issues of concern for our community," NCLR President Janet Murguía said. "This is no small thing. And it's not something, unfortunately, that many celebrities -- or Latino celebrities -- feel that they can do. She takes risks and shows courage in standing up and supporting Latinos across the country."
Longoria closed her acceptance speech by describing her years growing up on a ranch in southern Texas. With the location of her family's home, she says, it was "safe and common" for them to cross into Mexico for lunch, supplies and more.
"I just remember, there was always these really long lines and then there were these little lines that we went to, and my dad would always say, 'Don't forget to say American citizen' and so we'd get to the border and I'd say, 'American citizen!' and then they let us through. There was no checking of passports at that time and no papers to show, you just said 'American citizen.' And I remember telling my dad, 'Why doesn't everybody in that line just say American citizen?' -- I really thought they were magic words, I thought, 'They don't know the magic words!' -- and my dad said, 'No, they can't say American citizen because they were born on the other side, el otro lado,' and I said, 'Why were we born on this side?' and he said, 'Because we were lucky.'"
"And I just can't help but think and reflect on the situation that's happening now on the border, everything that's unfolding on our border -- 57,000 children who did not have the luck to be born in America," Longoria continued.
"Little is being done to understand who these children are, where they're coming from, what they're facing," Longoria said at the award ceremony. "They had the bad luck to be born in poor, violent countries in Central America. These children are running for their lives, and they believe that the United States will protect them. And 'will we?' is the question, and I don't know."
"I'm surprised at the handling of it," Longoria continued. "Americans of every background are disappointed with how the issue has been handled, and I think it's time for leaders from both parties to set aside partisan bickering and their own narrow political goals and get immigration reform done. How it's been handled has been unbelievable, unacceptable and un-American."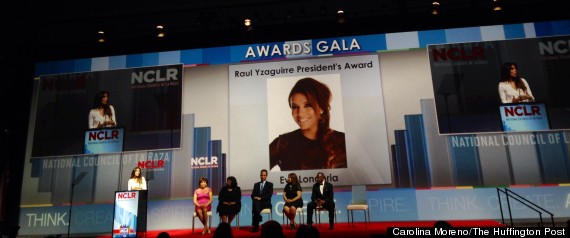 When Longoria first stepped behind the podium, she thanked NCLR and Murguía for the award.
"She's been trying to honor me for so many years and I never like it ... I feel like I've never wanted to receive this honor because my work has just begun," the activist said. "I don't think I've even begun to tap into the full potential that I have as an activists, as an actor, as a woman and as an American. There is so much to be done and I am so grateful for this recognition."
REAL LIFE. REAL NEWS. REAL VOICES.
Help us tell more of the stories that matter from voices that too often remain unheard.
BEFORE YOU GO