A right-wing extremist, armed with a semi-automatic handgun and an avowed hatred for women and people of color, shot up a yoga studio in Tallahassee, Florida, over the weekend, killing two and wounding five others before he shot himself dead.
Scott Beierle, 40, was a solo gunman but he wasn't really alone. He had a hateful wind at his back ― a month of slayings, assaults and harassment aimed at Jews, black people and Democrats and carried out with tacit endorsement of the wrongdoers' rage, if not necessarily their actions, from conservative pundits and the president of the United States.
This is a month of American hate:
Proud Boys Go On The Offensive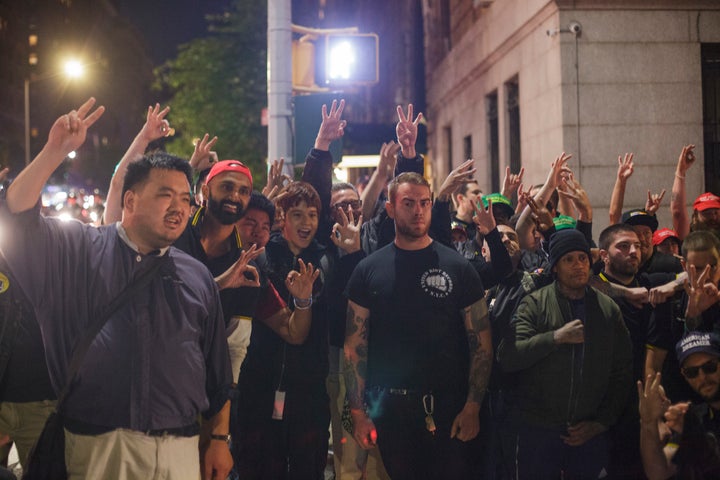 Over the weekend of Oct. 12, the Proud Boys ― a violent, misogynistic and homophobic group of neo-fascists ― marched through the streets of New York City and Portland, Oregon, throwing haymakers and beating people to the ground.
In New York, skinheads and white supremacists joined their ranks to guard the Proud Boys leader, Vice Media co-founder Gavin McInnes, who had just taken the stage at the Metropolitan Republican Club, the GOP's Manhattan headquarters. McInnes regularly incites violence among his gang members, and they obliged that night. As they attacked anti-fascist protesters, shouts of "Faggots!" and "Do you feel brave now, faggot?" were heard. Several Proud Boys have been arrested and charged since then, thanks in part to activists who compiled information about each gang member who marched the streets that night.
Bombs Sent To Democrats And Trump Critics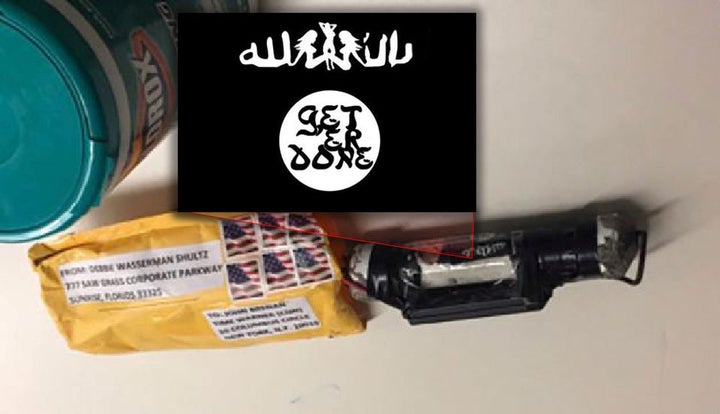 Around Oct. 22, packages containing what appeared to be pipe bombs were sent to high-profile Democrats and Trump critics, including Bill and Hillary Clinton, Barack Obama, Joe Biden, Rep. Maxine Waters (D-Calif.), former CIA Director John Brennan and CNN.
The first showed up outside a residential compound owned by George Soros, the billionaire philanthropist who has been vilified by the right for decades. Only under the current administration, however, have we seen a president and his close associates outright endorsing hate speech directed at Soros. As The New York Times reports, President Donald Trump has amplified conspiracy theories that Soros actively funds the president's opposition; Donald Trump Jr. has retweeted claims by Roseanne Barr that Soros is a Nazi; and lawyer Rudy Giuliani has called Soros the Antichrist.
The president and other conservatives also implied or outright stated that the pipe bombs were a false-flag operation committed by Democrats. In fact, suspect Cesar Sayoc, 56, was revealed to be a devout Trump supporter and conspiracy theorist who idolized white supremacists.
Black People Executed At Kroger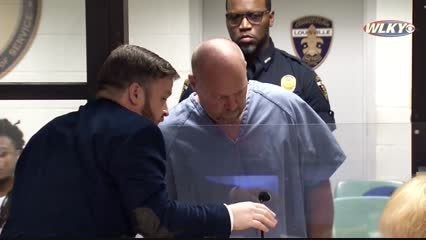 On Oct. 24, a man tried and failed to enter a predominantly black church and then made his way to a Kroger grocery store in a Louisville suburb, where he shot and killed two black people.
A witness told the Louisville Courier-Journal that suspect Gregory A. Bush, 51, uttered, "Whites don't kill whites" as he passed by "nonchalantly."
Jews Murdered In A Place Of Worship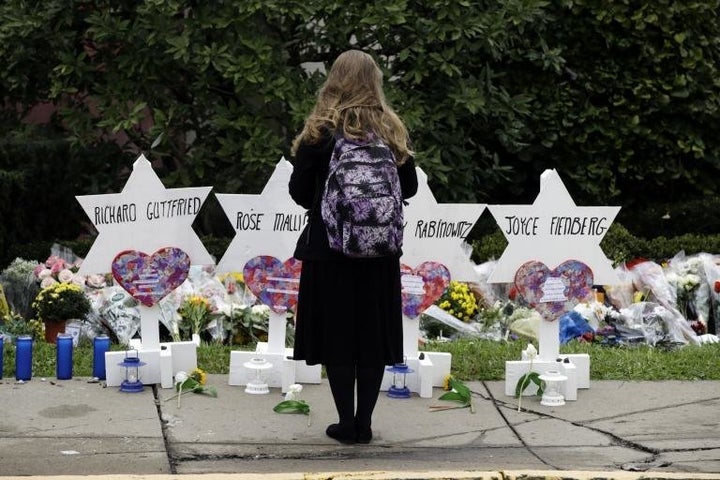 On Oct. 27, a gunman entered a synagogue in Pittsburgh, shot and killed 11 people, and wounded several others. There was no question about the motive. Suspect Robert Bowers, 46, is an avowed anti-Semite who associated with like-minded racists on Gab, the social media platform for neo-Nazis and the like.
His anger was fueled by the idea that Jews were bringing immigrants into the United States to displace white people ― another conspiracy theory fed by the president.
The synagogue shooting was so shocking and so transparently fueled by hate that it led to some real-world consequences for racists and their platforms. Gab went dark for a few days after host GoDaddy dropped it (it's back up this Monday, and its users are back to celebrating Bowers and the killing of Jews). Rep. Steve King (R-Iowa) began taking flak for his white supremacist views, which HuffPost's Christopher Mathias has been reporting on for months, and his constituents took notice that he shares his ideology with the Bowers of the world.
Indirect lines were also drawn between the shooting and President Trump. Pick a news site that isn't Fox News and you'll likely find headlines acknowledging that Trump has stoked anti-Semitism, white angst, racism and violence throughout his time at the top, and especially in the past few weeks.
Just Sunday, at a rally in Georgia, the president appeared to give marching orders to his followers, asking civilians and military personnel alike to deal with antifa protesters:
Women Killed At A Yoga Studio
On Nov. 4, Beierle ― who was an "incel," one of a self-identified group of "involuntarily celibate" extremists who spend their time online lashing out at and threatening women ― entered a yoga studio in Tallahassee, killed two women, injured more and then killed himself. He had a long track record of expressing far-right extremist views, especially violent misogyny, online.
Trump's Call To Arms Is Working
Gun-toting civilian militia members are flocking to the Mexico border at the behest of Trump, seemingly ready to wage war against a caravan of thousands of migrants.
White nationalists are planning to show up at local polling places on Tuesday to "monitor for voter fraud," which is white supremacist lingo for harassing and threatening voters of color.
Conspiracy theorists emboldened by Trump are flooding his rallies and making real-world appearances.
The president's various calls to arms are working. His opponents are receiving bombs in the mail. His civilian foot soldiers are marching in the streets. His party is sticking by him through it all.
And there's no reason to think these violent, politically motivated hate crimes are over.
Popular in the Community