ST. LOUIS ― Not far from the courthouse where a white former police officer was acquitted Friday in the shooting death of a black man, a federal judge said in a hearing that officials in the suburb of Ferguson had made "good progress" since 2014.
Barricades and yellow police tape surrounded the building Tuesday, evidence of the protests that have been going on since Jason Stockley was found not guilty in the 2011 shooting death of Anthony Lamar Smith. But the mood was more hopeful inside the courtroom of U.S. District Judge Catherine Perry, who is overseeing the federal consent decree struck last year between Ferguson and the Justice Department. At issue in the decree are the unconstitutional policing practices that came to light in 2014 after a white police officer shot and killed an 18-year-old black man named Michael Brown. 
HuffPost is hitting the road this fall to interview people about their hopes, dreams, fears ― and what it means to be American today.
In the hearing, Jude Volek of the Justice Department's Civil Rights Division told Perry that the DOJ was committed to seeing reforms through in Ferguson. Volek said the city had made "good faith" efforts to meet the demands of the consent decree, which came about after federal investigators issued a damning report finding that the city, among other abuses, had treated residents as sources of revenue rather than as citizens to be protected.
The sunny progress report on Ferguson came against the backdrop of the demonstrations in St. Louis. While there had been some vandalism in the later evening hours, Monday's protest did not result in any property damage. The police response had been aggressive at times, with St. Louis Metropolitan Police officers chanting "Whose streets? Our streets!" after arresting citizens en masse (at least one journalist among them) on Sunday evening.
Despite the concerns of St. Louis residents about policing in their city, it's a safe bet that the city won't be forced to implement reform the same way Ferguson was. U.S. Attorney General Jeff Sessions has made it clear that the Trump administration won't be pursuing "pattern and practice" investigations that examine the conduct of police departments systemically rather than focusing on individual incidents. And last week, on the day Stockley was found not guilty, the DOJ announced that it was backing away from "collaborative reform," a more gentle way of implementing changes to police conduct through the Office of Community Oriented Policing Services (COPS), a process that had been underway in the St. Louis County Police Department.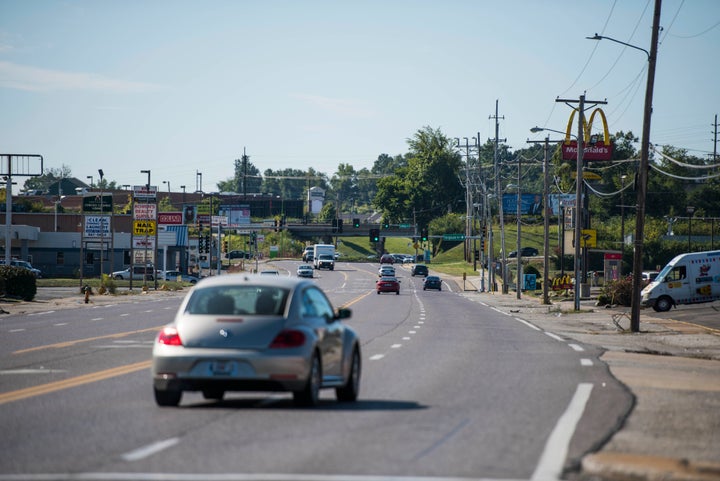 Volek told the court that the city had rescinded ordinances, made "really incredible progress" on its use-of-force policies thanks to Ferguson Police Commander Frank McCall, boosted assistance and support for officers in dealing with the stress of their jobs, taken "really proactive steps" on officer pay, and put in place a new judge who brought a "fresh approach" to the municipal court. There's still plenty of work to be done, Volek said, citing the backlog of "thousands of cases" in the municipal court system predating Brown's 2014 death.
Apollo Carey, an attorney for Ferguson, admitted to the court that the city had a large backlog of cases. He said the city needed to prioritize its work on the backlogged boxes of files to determine whether there is "good cause" to continue prosecuting the cases when outstanding arrest warrants could carry significant repercussions for citizens accused of minor violations.
Carey said the city has 42 officers and wants to bring it up to 50. Hiring is taking time, he said, because the city wants to properly vet candidates and "not just be putting bodies in uniforms and sending them out on the street."
Natashia Tidwell, the court-appointed monitor overseeing the implementation of the consent decree, agreed that Ferguson had made progress on municipal court reform, calling the new municipal judge a "breath of fresh air" who obviously had "empathy" for the individuals appearing before him. But she said that thousands of people still had warrants out and "could be living in constant fear" that they'll be arrested. She pointed to a case mentioned in the Justice Department's report on Ferguson involving Fred Watson, a Navy veteran who lost his high-paying job after being arrested under questionable circumstances by an officer with a history of allegations of excessive force. Watson is suing the city of Ferguson, and prosecutors finally dropped the five-year-old case against him last week following extensive media attention.
But a municipal court case shouldn't have to "appear in The New York Times," Tidwell said, for a Ferguson prosecutor to take a second look at it. 
At the end of the hearing, Perry said progress is being made even if it's not happening as quickly as some people would like. She thanked the Justice Department for sticking with the case.
Ferguson City Manager De'Carlon Seewood told HuffPost that changes have certainly been made in the city. He cited a recent incident in which a man was standing in front of his home with a gun asking for police to shoot him. Officers were able to talk to him and calm him down without using deadly force.
"You don't hear that, especially not in St. Louis," Seewood said. "The officers that have come to Ferguson now are the ones who are dedicated to the community, they're excited to be in the community and they actually want to see positive things occur."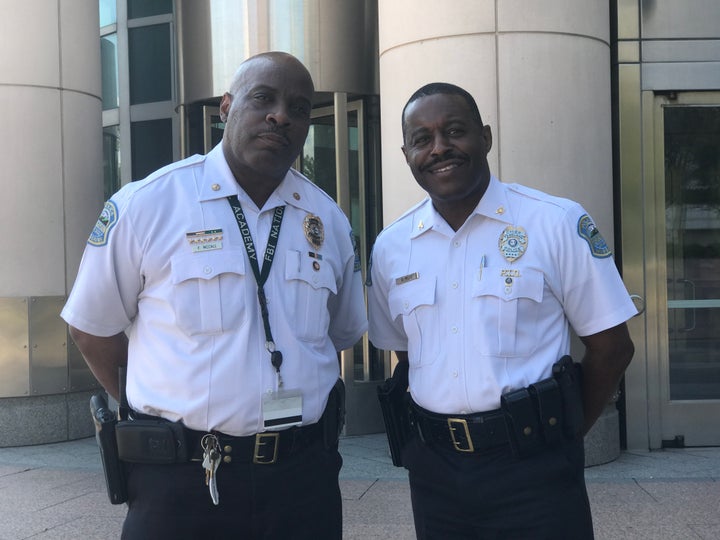 Ferguson Police Chief Delrish Moss, appointed in May 2016 after a career in the Miami Police Department, told HuffPost that the process has been slow and methodical, and perhaps not the quick turnaround that some might have expected. Hiring has been difficult, he said, but not because of the consent decree. Moss has hired eight police officers but lost five. Some went to other agencies; some decided to pursue other careers. But in a couple of cases, he said, people were "invited to leave, for lack of a better way of putting that." He wanted to be "very careful" about who the city hired to patrol the streets and said it took 60 to 65 applications to get one officer.
"You can train the hand, but you've got to hire the heart," Moss said. "If you hire people with good character and respect for the community, I think you can give them the skills to be a police officer, and part of that process is painstakingly going through backgrounds and social media footprints, all those things to make sure you get the right people."
"Under the circumstances and the different steps we have to go through, I think we're doing pretty well," said McCall, the Ferguson police commander, who is charged with implementing the terms of the consent decree.
Moss said the Ferguson Police Department is in a much better place than it was before the unrest. He cited both the new hires and the officers who stuck around throughout all the changes.
"Think about the ones who stayed on. They've gone through something that most police departments never experience, and yet they're still here day in and day out showing their commitment. I think they are really committed to this process, and I think it's a compliment to them," Moss said. "The police department's outlook and view is vastly different than it used to be. We're working with the community. We are enjoying that relationship. As a young police officer, when you see progress being made in relationships, it's infectious."
Calling all HuffPost superfans!
Sign up for membership to become a founding member and help shape HuffPost's next chapter