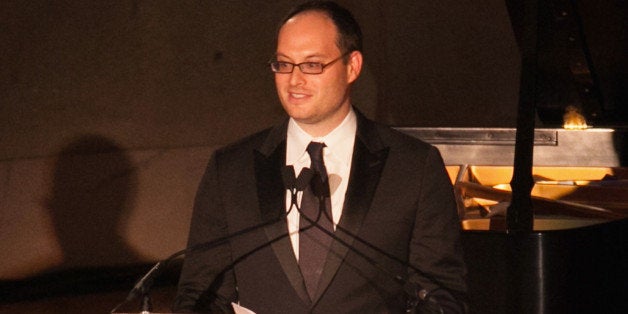 NEW YORK -- In one of the biggest editorial shake-ups in The New Republic's 100-year history, editor Franklin Foer and literary editor Leon Wieseltier resigned on Thursday amid an internal dispute over the magazine's editorial direction.
Management announced plans to reimagine the venerable politics and culture magazine "as a vertically integrated digital media company" and halve the number of print issues published per year. Gabriel Snyder, who is currently overseeing digital efforts at Bloomberg Media and was previously top editor at Gawker and The Wire, has been hired to replace Foer.
Speculation had run rampant that Foer might leave the magazine, which he returned to edit in 2012 following its sale to Facebook co-founder Chris Hughes. Some staffers fear that Hughes and chief executive Guy Vidra are too focused on increasing Web traffic, and that such a strategy could pull the magazine away from its legacy of narrative journalism and criticism.
Staffers said they were blindsided by Vidra's hiring to a newly created position above Foer. And concerns grew following a Oct. 24 all-hands meeting in which Hughes and Vidra spoke about the magazine as if it was a tech start-up, sources told The Huffington Post. At the meeting, there was even some talk of the staffers getting shares in the company after the restructuring. The message conveyed by Hughes, according to one staffer, was to be less like The New Yorker and more like Facebook.
The conflicting visions seemed evident during last month's centennial gala. Foer and Wieseltier, who has worked at the magazine for thirty years, evoked its traditions and heralded past editors, while Hughes and Vidra emphasized the need to experiment and grow online.
In a Thursday memo to staff, Foer acknowledged the competing plans for the magazine's future. "Chris and Guy have significant plans for this place," he wrote. "And their plans and my own vision for TNR meaningfully diverge."
Several New Republic staffers told The Huffington Post they side with Foer and Wieseltier, and that some are considering following them out the door.
"All of us here are pretty depressed and disgusted," a senior staffer said.
In his memo, Foer described The New Republic as "one of the great loves of my life -- a set of ideas, a history, a collection of people I revere.
"I grew up here, made my best friends here, and learned so many profound lessons about the world in the process," Foer wrote. "Part of the joy has been the struggle: We've fought to preserve an institution that was perpetually imperiled," he continued. "It's been hairy at moments, no doubt, but also exhilarating and immense fun. I've had an especially wonderful time these past two and half years. We've published essays and journalism that have actually, in moments, changed the world, or at least people's opinions about the world."
In a separate memo to staff, Vidra praised the outgoing editors and explained why management believes Snyder is best equipped to steer the magazine in a new direction.
"Gabriel is ideally suited to bridge traditional journalism and digital media. He is committed – as am I – to The New Republic's mission of impact, influence and persuasion, but understands that fulfilling that mission in today's media landscape requires new forms," Vidra wrote. "He truly reflects the 'straddle generation' of journalists and editors who remain deeply rooted in the qualities of traditional journalism -- having worked with brands such as the New York Observer and The Atlantic -- but also understands what it takes to create content that will travel across all platforms. We believe he is the right person to help us to maintain the core DNA of The New Republic, while propelling us forward to the 21st century."
Vidra also announced a coming "recalibration of our resources," which will involve making changes to staff structure and decreasing the number of print issues published each year from 20 to 10. He said that The New Republic's center of gravity would shift from Washington, D.C., to New York, noting that the magazine will have a "newly re-designed, expanded office" in Union Square. "New York was the original home of The New Republic, and we're thrilled to further expand our presence here," he wrote.
On Twitter, previous New Republic writers and others close to the magazine criticized the shift.
The New Yorker's Ryan Lizza, who had previously been a New Republic staff editor, tweeted that he wanted his "contributing editor" title immediately removed from the magazine's masthead.
"So for Chris Hughes, 100 years of The New Republic was apparently enough," tweeted The Atlantic's Jeffrey Goldberg.
Calling all HuffPost superfans!
Sign up for membership to become a founding member and help shape HuffPost's next chapter