"I'm 39," Amal told the magazine with a head shake when asked if she wanted more kids. "I already had them quite late."
The couple met in 2013 and tied the knot the next year in a star-studded ceremony in Venice, Italy. Before that, George, 56, admits the desire to have kids had "never been part of [his] DNA." While dating, the couple never discussed the prospect of raising a family.
"We didn't plan on it. We never talked about it until after we were married, which is funny. There was an assumption that we didn't want them," he said. "And then, after the wedding, Amal and I were talking and we just felt we'd gotten very lucky, both of us, and we should share whatever good luck we've got. It would seem self-centered to just have that belong to us."
George and Amal, an international human rights lawyer, announced the birth of their babies in a humorous joint statement in June, revealing that they were "happy and healthy," while George was "sedated and should recover in a few days."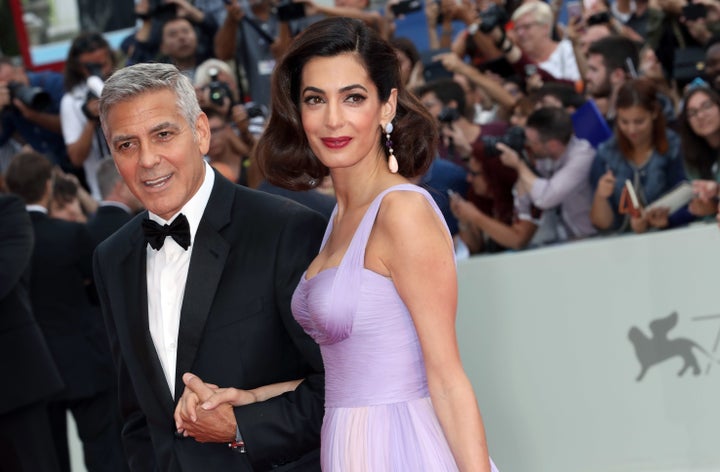 ″[The doctor] goes, 'Well, there's one.' And I said, 'Great.' And then he goes, 'And there's the second one.' And I was like, 'What?' We just sat there, staring at that piece of paper they give you, and I kept thinking there was a mistake," said the actor-director, who appears on the cover of THR with Matt Damon and Julianne Moore, both of whom star in his new movie "Suburbicon."
Elsewhere in the interview, George, who hasn't appeared in a film since 2016′s "Money Monster," delves into why he no longer considers himself a leading man.
"As you get older, the parts aren't as interesting," he tells the magazine. "I'm not a leading man anymore. Nobody wants to see me kiss the girl."
In any case, it sounds like the actor has enough on his plate without those leading roles. Last month, he opened up about parenting in an interview with The Associated Press at his home in Lake Como, Italy.
"I just have to clean the barf off of my tux. It used to be my barf but now it's the twins' barf. So it all works out," he joked.
"Right now my job is changing diapers and walking them around a little bit," the actor added. "I really didn't think at 56 that I would be the parent of twins. Don't make plans. You always have to just enjoy the ride."