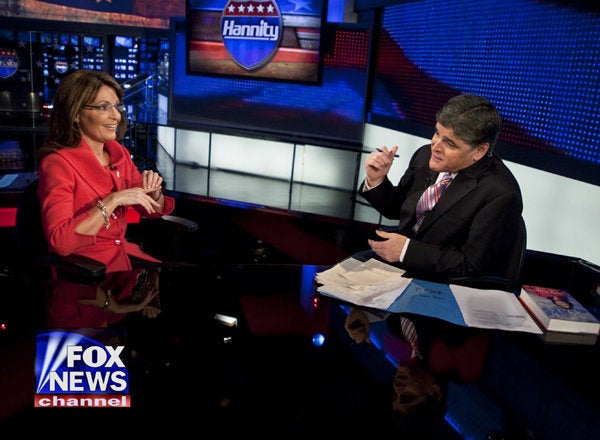 Now Bill O'Reilly might really be mad.
After O'Reilly reportedly threw a "hissyfit" because Sean Hannity's interview with Sarah Palin would air before his, the ratings show Wednesday's "Hannity" was a huge hit and even beat "The O'Reilly Factor."
"Hannity" was the top show on cable news Wednesday, averaging 4.200 million total viewers and 1.149 million viewers in the A25-54 demographic. That's more than O'Reilly's 3.868 million total viewers/1.065 million A25-54 viewers and enough for the second highest "Hannity" episode of 2009 (behind only Election Night 2009, when he averaged 4.224 million total viewers).
Elsewhere at 9PM Wednesday, Rachel Maddow came in second with 957,000 total viewers and 273,000 A25-54, while Larry King placed third with 835,000 total viewers and 208,000 A25-54.
Rounding out the top five programs among total viewers in cable news Wednesday were three more Fox News programs: "Glenn Beck," which averaged 2.512 million, "On the Record with Greta Van Susteren," which averaged 2.383 million, and "Special Report with Bret Baier," which got a boost from Major Garrett's interview of President Obama to average 2.235 million total viewers.
Popular in the Community