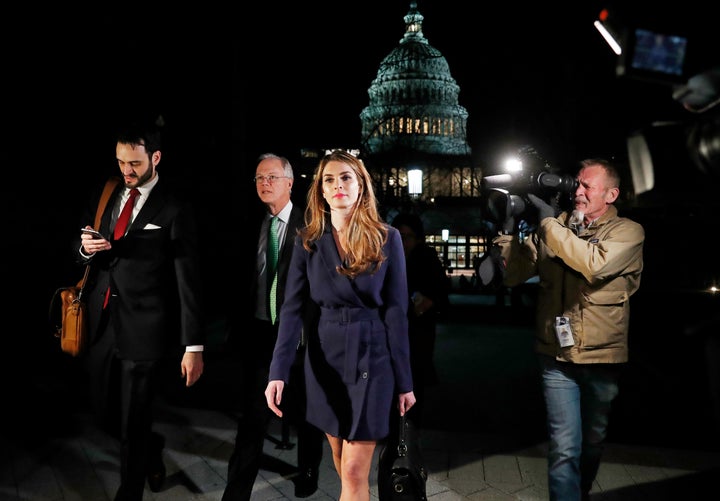 WASHINGTON (Reuters) - Hope Hicks, a close aide to President Donald Trump, declined to answer questions about the administration on Tuesday from members of the U.S. House of Representatives Intelligence Committee investigating Russia and the 2016 U.S. election, lawmakers said.
Hicks, the White House communications director, was Trump's spokeswoman during the 2016 election campaign.
The president seemed to defend her shortly before her House appearance, taking to Twitter early on Tuesday to say: "WITCH HUNT," a phrase he has used in the past to describe the Russia investigations.
Hicks answered every question lawmakers asked about her time with the campaign, and most about the transition, the months between Trump's victory in November 2016 and his January 2017 inauguration, Republican and Democratic committee members said.
But she refused to discuss her role in the administration, including her part in drafting a statement in July 2017 misrepresenting a July 2016 meeting at Trump Tower that included the president's eldest son, Donald Trump Jr., other Trump associates and Natalia Veselnitskaya, a Russian official.
Trump Jr. said initially the meeting was about adoptions, but said later that Veselnitskaya had promised damaging information about his father's presidential opponent, Democrat Hillary Clinton.
That meeting has been a focus of investigations by House Intelligence and two other congressional committees.
Special Prosecutor Robert Mueller is also probing the issue. On Friday, Rick Gates, a former senior Trump campaign official who is cooperating with Mueller's investigation, pleaded guilty to charges including conspiracy against the United States.
BANNON RULE
Popular in the Community