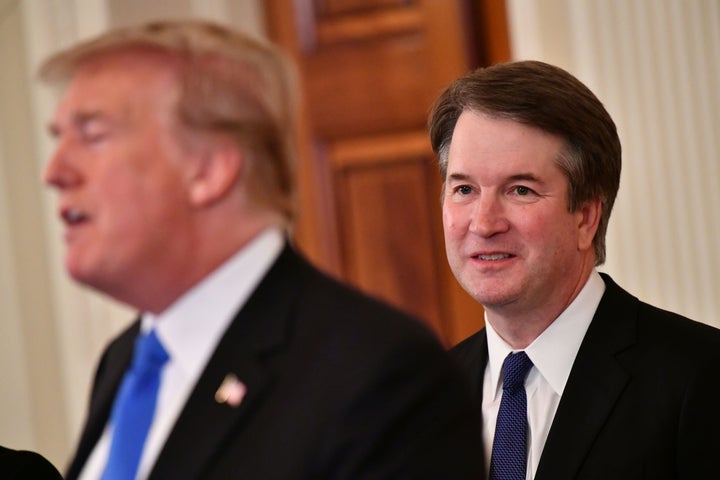 WASHINGTON ― Two national civil rights organizations are planning to run full-page ads in several newspapers this weekend to pressure key Republican senators to oppose Supreme Court nominee Brett Kavanaugh.
Ads targeting Lisa Murkowski (Alaska) and Susan Collins (Maine) will praise them for their past support of the Affordable Care Act, which critics of Kavanaugh warn is at risk if he is confirmed. Other ads aimed at Dean Heller (Nev.), who is up for re-election in November, and Cory Gardner (Colo.) will call on them to protect the law.
Here's what one of the ads looks like: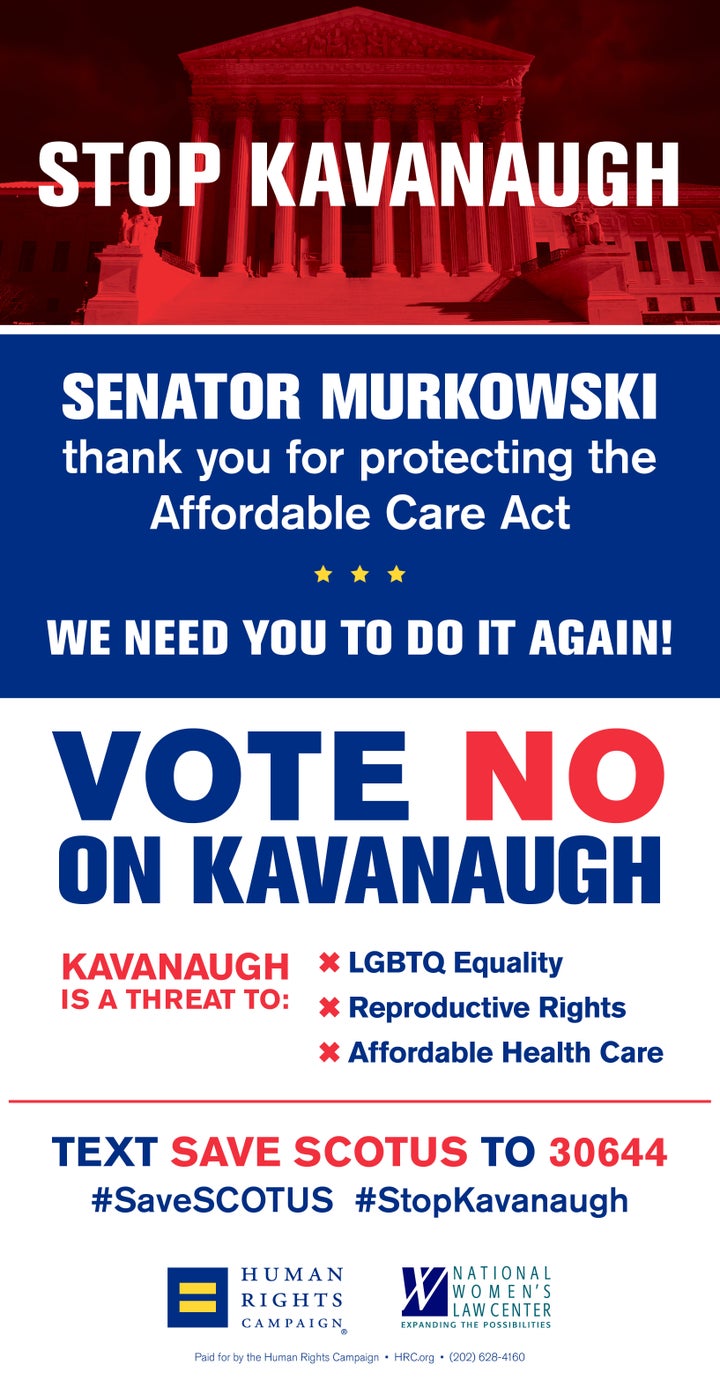 The groups spent about $75,000 on the ads, per a Human Rights Campaign staffer.
Concerns about Kavanaugh stem from his record as a judge on the D.C. Circuit Court of Appeals, where he ruled that an employer's religious beliefs should be allowed to override workers' insurance coverage of birth control. Kavanaugh also suggested last year that Roe v. Wade, the landmark 1973 Supreme Court ruling that protects women's access to abortion, was wrongly decided.
As for health care worries, in a 2017 speech, Kavanaugh strongly suggested that the Supreme Court was wrong to uphold the Affordable Care Act's insurance mandate, the heart of the law.
Kavanaugh's record on LGBTQ issues is virtually non-existent. But some scholars and activists say his approach to judging in the roughly 300 opinions he handed down as an appellate judge suggests he won't be as friendly to the LGBTQ community as his predecessor, Justice Anthony Kennedy.
Like so many of Trump's court picks, Kavanaugh's nomination was fed to the White House by The Federalist Society, a national organization of conservative lawyers. There's a clear pattern to the nominees being recommended by the group: They are young, conservative and have records of being anti-abortion, anti-LGBTQ rights and anti-voting rights.
Popular in the Community