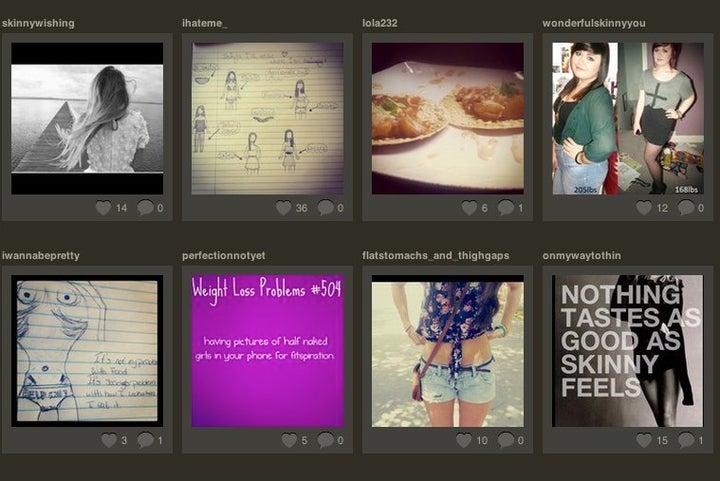 When Tumblr and Pinterest came under fire for housing 'thinspiration' communities that actively encourage eating disorders, a more hidden community on Instagram thrived in their shadow. The popular photo-sharing app, that was bought by Facebook earlier this month for $1 billion, was home to tens of thousands of images tagged 'thinspo,' 'thinspiration,' 'anorexia,' and other related terms that glorify female emaciation and promote self-destructive behavior.
But this weekend, in the interest of maintaining a "positive and healthy community," Instagram updated its Community Guidelines to ban images of self-harm and make the hashtags associated with this content unsearchable. The restriction will remove over 30,000 images currently tagged 'thinspo,' as well as thousands of others that advertise eating disorders, self-mutilation and suicide.
Don't promote or glorify self-harm: While Instagram is a place where people can share their lives with others through photographs, any account found encouraging or urging users to embrace anorexia, bulimia, or other eating disorders; or to cut, harm themselves, or commit suicide will result in a disabled account without warning. We believe that communication regarding these behaviors in order to create awareness, come together for support and to facilitate recovery is important, but that Instagram is not the place for active promotion or glorification of self-harm.
Furthermore, users can no longer search for hashtags such as 'thinspo,' 'anorexia' and 'bulimia.' Hashtags related to eating disorders but not necessary glorifying them will be accompanied by an advisory that reads: "Please be advised: These images may contain graphic content. For information and support with eating disorders, visit nationaleatingdisorders.org."
The decision isn't surprising, considering that Instagram was recently spotlighted as a host of the thinspiration community. When Tumblr and Pinterest faced the same national media pressure, both sites updated their content policies to censor content that encourages eating disorders, self-mutilation and suicide.
But the effectiveness of these measures has recently been called into question. Weeks after Pinterest updated its Terms of Service, the tag "thinspo" is still alive and well on the site, featuring images and quotes that may foster the development of eating disorders.
Moreover, it is possible that thinspo users who do not remain on sites where the content has been banned will move over to unexposed platforms. As Forbes recently noted, "It's unrealistic to think that bans alone will stop girls that have a strong will to find each other. They will find new ways, new homes."
As a young thinspiration blogger told the Huffington Post in February, before Tumblr banned the blogs: "It's like we're all part of this secret community that most of our family and friends don't have the slightest clue about."
If the movement of the thinspo users thus far is any indication, the online community will continue to proliferate, scouring the Internet for private and undiscovered forums to house their 'secret' community.
Popular in the Community