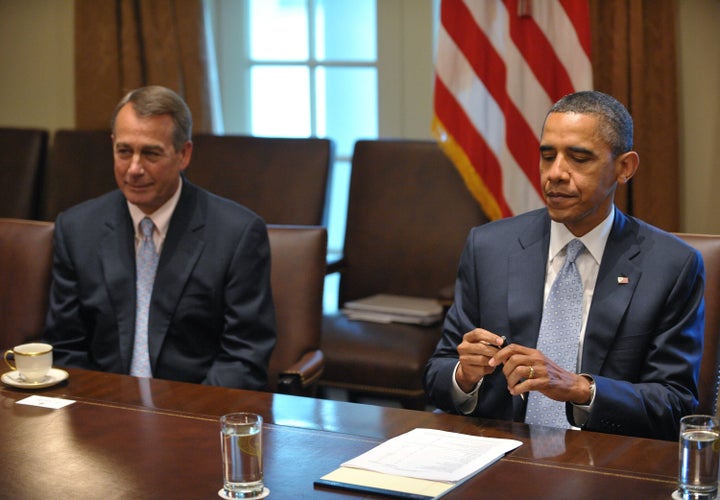 As President Obama continues to push for an ambitious deficit-reduction deal in advance of the August 2nd deadline for raising the debt limit, one thing is clear: Medicare reform will be a critical part of any budget agreement -- now and in the future.
And while essential to curbing our government's rising spending, reform must be done in a way that protects policies and programs that work while eliminating or avoiding policies and programs that prove both costly and ineffective.
For conservatives, Independents and a growing number of Democrats, the Independent Payment Advisory Board (IPAB) that was created with the passage of last year's health care law represents the worst of health care reform. IPAB would allow an unelected board to singularly enact spending cuts in the Medicare program through binding recommendations to reduce Medicare spending.
Last weekend, Reps. Tim Bishop of New York and Eddie Bernice Johnson of Texas were the latest Democrats to join the increasing bipartisan effort that opposes IPAB as they signed on as co-sponsors of Rep. Phil Roe's bill to repeal it. Quite simply, IPAB has so many opponents because it embodies centralized planning from Washington, D.C., and enables unelected bureaucrats to make decisions about people's health care. The contrast couldn't be more clear: a new government body (IPAB) charged with taking resources away from the beloved Medicare program.
Further, IPAB is a threat to critical medical treatments and services for all Medicare beneficiaries. Proponents of the board have argued that IPAB will improve the quality of care as a result of the cost-cutting measures it enacts in order to save. However, it is doubtful this will happen because the board will have to make cuts that reach annual targets. Thus, standard line item cuts will result, which will only reinforce systemic problems, not fix them, and create unsustainable savings.
Major changes in the Medicare program should be decided by elected officials who will be held accountable for their decisions. Such an arbitrary system lacks transparency and oversight, and according to the Congressional Budget Office, IPAB will save no money over the next decade because Medicare spending won't hit the threshold level to activate its powers.
Health care reform gets far greater savings from ideas that no one objects to, like developing new approaches to delivering health care services and creating policies that support medical innovation. The president can help health reform's sustainability by tossing the unnecessary baggage and leaving the primary engine intact.
When the health care bill was still working its way through Congress, more than 70 Congressional Democrats sent a letter to Nancy Pelosi asking that IPAB be excluded from the final legislation. Today, many Congressional Democrats share doubts and concerns held among conservations and Independents regarding IPAB, but they are reluctant to move against the preferences of President Obama.
It would be to President Obama's long-term political advantage to give his fellow Democrats subtle signals that they can act to repeal IPAB. In so doing, they would bolster their credentials as Medicare champions, killing a "mistake" that serves no purpose except to chop Medicare budgets.
President Obama would still maintain the heart of health care reform, full coverage of the uninsured and delivery reform innovation without IPAB in the equation. By allowing Congressional Democrats to repeal IPAB, he will also strengthen his party's chances to increase their numbers on Capitol Hill while losing nothing of any real policy consequence. As someone who has been involved in Democratic politics for more than three decades, it's as close to a win-win as one can get.
Popular in the Community