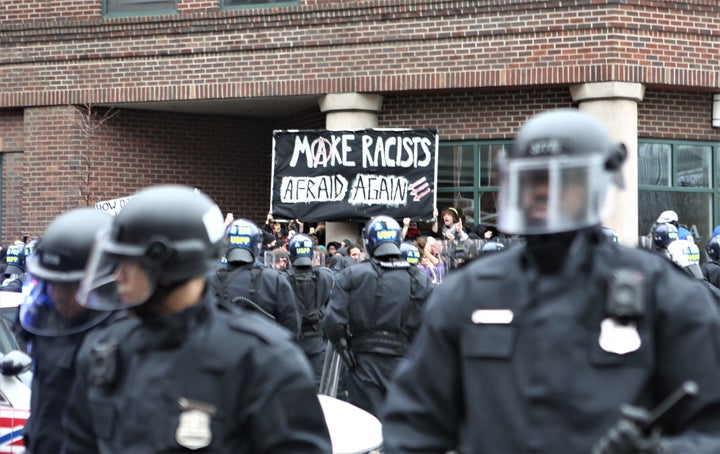 WASHINGTON ― The Justice Department failed to convict any of the four defendants facing felony trial in connection with property destruction during a "black bloc" protest of President Donald Trump's inauguration, with jurors either finding defendants not guilty or deadlocking on charges against the defendants.
Two of the defendants could still face trial on felony charges, while one defendant could face a single misdemeanor charge.
Members of the jury had discussed the concept of jury nullification after a juror read graffiti on a bathroom stall wall that said "Google jury nullification."
But speaking after the verdict, jurors said that jury nullification didn't strongly factor into their deliberations. Instead, jurors said they could not reach a consensus about the identity of three black-clad individuals shown destroying property and whom the government alleged were three of the defendants. "Identity was the wild card," said one juror.
Jurors speaking after the verdict said they also didn't understand why one of the defendants they acquitted early into deliberations, Casey Webber, was in the group being prosecuted, as the government never alleged that he took part in any destruction.
"Casey's case was different," said Juror No. 1, a male resident of the Shaw neighborhood in D.C. "I think we felt very clear based on what was presented that with Casey there was no action."
The jury acquitted another defendant, Seth Cadman, of all but a single misdemeanor charge of engaging in a riot. They acquitted defendant Anthony Felice of a single count of assaulting a police officer, but deadlocked on all other charges. The jury deadlocked on all charges against Michael Basillas, and a judge declared a mistrial and dismissed the jury.
Prosecutors with the U.S. Attorney's Office for the District of Columbia ― a component of the Justice Department that uniquely prosecutes both local and federal charges in D.C. ― originally pressed felony charges against more than 200 defendants. But after a jury acquitted six defendants on all charges late last year, prosecutors decided to drop charges against 129 defendants. There are defendants still exposed to felony charges in connection with what the government alleged was a conspiracy to riot.
Juror No. 9, a woman who lives in D.C.'s Adams Morgan neighborhood, said it was disturbing to see videos showing people destroying parts of the city, and that it would be appropriate to hold people accountable for those actions.
"I think it's appropriate that people are held accountable, you just have to make sure it's the right person who actually did something," the juror said. "We just couldn't get beyond reasonable doubt."
Charges against 10 defendants were dismissed because the government had edited and withheld videos that the group, headed by James O'Keefe, had turned over to prosecutors.
Jurors also said it wasn't helpful that a police officer who testified in the case, D.C. Metropolitan Police Department Officer William Chatman, wore a shirt to court that made light of police brutality.
It's unclear at this point what the verdict means for the dozens of defendants still facing felony charges in connection with their Jan. 20 arrests. Prosecutors said that demonstrators causes more than $100,000 in damages that day.
While D.C. voted overwhelmingly voted for Clinton in the 2016 election, two jurors said politics didn't factor into the decision.
"Politics never came up," Juror No. 9 said. "We just took it as, this is behavior happening in our city, and what are the rights involved? I think all of us felt that the issues were very important, from First Amendment right to protest, to the right to be safe in your own community, to reasonable doubt."
One defense argument ― that sports fans all wear the same color but shouldn't be held responsible for the actions of every other sports fan ― apparently held some sway with jurors in the District, where the Washington Capitals are on the verge of winning the Stanley Cup.
"Especially with the Caps doing so well right now, we actually brought that up several times," said Juror No. 9.
This was a developing story and has been updated throughout.
Ryan Reilly is HuffPost's senior justice reporter, covering the Justice Department, federal law enforcement, criminal justice and legal affairs. Have a tip? Reach him at ryan.reilly@huffpost.com or on Signal at 202-527-9261.
Popular in the Community