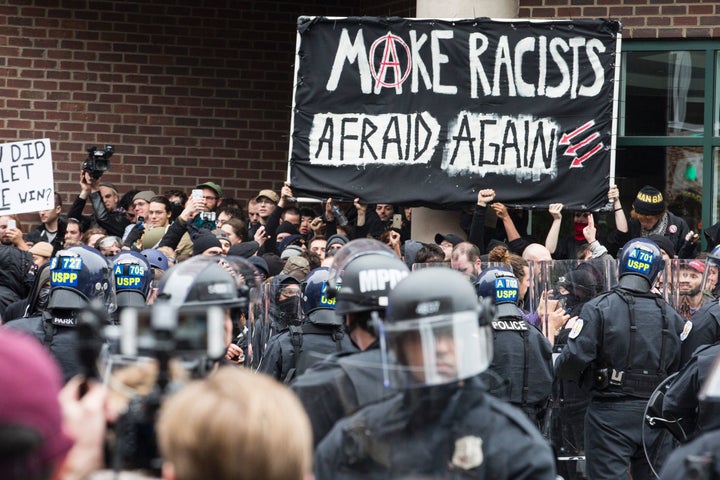 The U.S. Attorney's Office for the District of Columbia, which handles both federal and local cases in the nation's capital and is part of the Justice Department, said it would focus on a "core group" of 59 defendants it thinks were most responsible for destruction.
"The U.S. Attorney's Office for the District of Columbia has filed notice with the Court that it is exercising its discretion and moving forward with the prosecution of 59 defendants indicted on felony charges related to the rioting that took place on January 20, 2017, in Washington D.C.," spokesman Bill Miller said in a statement. "The government will be filing motions to dismiss without prejudice the indictment against the other remaining 129 defendants so that it can focus its efforts on this smaller, core group that we believe is most responsible for the destruction and violence that took place on Inauguration Day."
When the first six individuals went on trial, the government conceded upfront that it had no evidence that any of them directly engaged in property destruction. But it said they should be held responsible for the damage that took place because they were part of a broader conspiracy to riot. During the trial, prosecutors used videotapes filmed by James O'Keefe's Project Veritas and relied heavily on the testimony of a District of Columbia police detective who regularly tweeted about his distaste for activists. Defense attorneys argued that convicting their clients would amount to criminalizing First Amendment rights. The jury evidently agreed.
An official from the Washington office of the American Civil Liberties Union said that the "U.S. Attorney has essentially admitted it never had the evidence to charge these innocent people in the first place, and we're gratified to see they've come to their senses."
"For a full year, the government's abusive prosecution has upended the lives of these defendants, who've endured the anxiety of multiple court hearings and suffered disruptions to their educations or careers while facing the prospect of more than 60 years in prison," said Scott Michelman, a senior staff attorney for the ACLU office in D.C. "We hope the government continues to carefully examine the evidence it has against the remaining 59 defendants, at least some of whom we continue to believe are innocent."
The group of 59 people still facing charges includes several who have received prominent attention, including journalist Aaron Cantú.
This article has been updated with comment from the ACLU office in Washington, D.C.
Ryan Reilly is HuffPost's senior justice reporter, covering criminal justice, federal law enforcement and legal affairs. Have a tip? Reach him at ryan.reilly@huffpost.com or on Signal at 202-527-9261.
Support HuffPost
The Stakes Have Never Been Higher
Popular in the Community