MANCHESTER, N.H. ― Former Vice President Joe Biden took the stage at the presidential debate here Friday night, and the very first question he received was about his poor performance in the Iowa caucuses.
Instead of reassuring his supporters that the situation would get better, Biden told them to expect it to continue to look bad for a bit longer.
"It's a long race," he said. "I took a hit in Iowa and I'll probably take a hit here. Traditionally, Bernie won by 20 points last time. And usually it's the neighboring senators that do well."
In other words, in the first line of the debate, he seemed to essentially write off the state of New Hampshire. And to voters here, it was confusing and discouraging.
"Why would he say that?" said Lew Feldstein, a former president of the New Hampshire Charitable Foundation who came to hear Biden speak in Manchester Saturday morning.
"I was kind of discouraged when I saw him writing off New Hampshire," said Alexandra Argasinsky, a Windham resident leaning toward Biden. "He needs to keep campaigning, keep meeting voters and keep trying to get his message out. So I would encourage him not to give up on New Hampshire yet."
Barry Nestor, a Milford resident who is backing Biden, said he wished he hadn't made that remark, but it wasn't going to change his mind.
"This is a race. You want to be upbeat," he said. "You don't want to be ― he's the leader. He's the one. He needs to put on a brave face for all of us."
Biden spokeswoman Symone Sanders insisted that Biden planned to compete in the state and was "absolutely not" writing it off.
"We know it's going to be a fight, we know it might be an uphill battle, but the reality is we are still in this race," Sanders told reporters Friday night after the debate.
Biden came in fourth in the Iowa caucuses, far lower than predicted. His comment at the debate was an attempt to lower expectations, but it also could have the effect of dampening enthusiasm. He did not use that line in his two speeches Saturday in Manchester.
Sen. Bernie Sanders (I-Vt.) and former South Bend, Indiana, Mayor Pete Buttigieg came out tied for first, with Buttigieg in particular doing better than expected.
Biden has been far more aggressive against his opponents since his loss. On Wednesday, he took shots at both Sanders and Buttigieg, which he escalated at Friday's debate.
Biden took aim at Sanders' policies on guns and Medicare for All, as well as his self-proclaimed "democratic socialist" label. With Buttigieg, Biden hit back at the 38-year-old mayor's call to put aside the "politics of the past," vociferously defending the work he's done over the years on legislation like the Violence Against Women Act and the Recovery Act.
And on Saturday, his campaign escalated those attacks. The Biden campaign put out an ad mocking the fact that Buttigieg's only experience in public office is as the mayor of a city with just over 100,000 residents.
"The Vice President's decision to run this ad speaks more to where he currently stands in this race than it does about Pete's perspective as a mayor and veteran," Buttigieg spokesman Chris Meagher responded in a statement.
Biden and his team have said that Iowa and New Hampshire just aren't their states. For one thing, they're overwhelmingly white, and Biden does well with African-American voters. They argue that Biden will do better in both Nevada and South Carolina, which are the third and fourth states in the primary calendar and are considerably more racially diverse.
They also say that candidates like Sanders and Sen. Elizabeth Warren (D-Mass.) have an advantage in New Hampshire because they live nearby.
"I think he [Biden] is going to do well," said former New Hampshire Gov. John Lynch (D), a Biden backer. "I think it's always a challenge competing against elected officials from neighboring states."
"We're surrounded by two states whose two senators are running," added Gene Faltus, 67, a precinct captain for Biden in Keene, New Hampshire. "Joe himself admitted he expects not to win in New Hampshire. South Carolina is going to be a big big win for him. And southern states on Super Tuesday."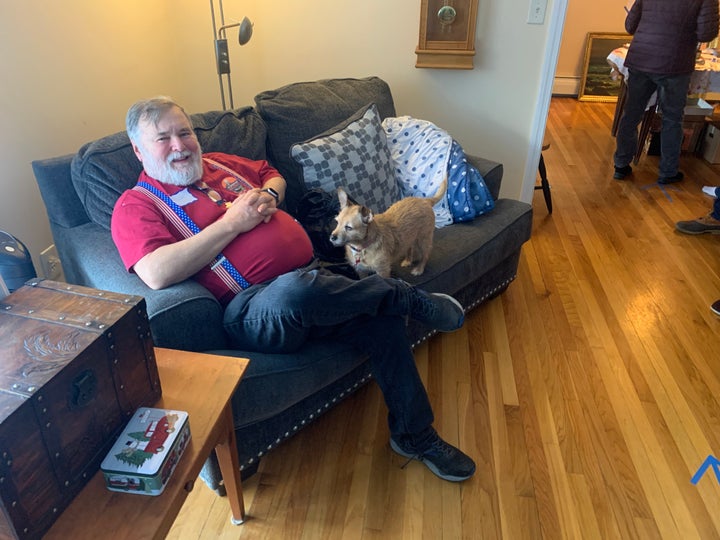 But Biden's weak showing in Iowa was giving some voters pause.
Rick Gehrich, 64, a retiree from Jaffrey who showed up to a Buttigieg event in Keene on Saturday, said he was deciding whether to support Buttigieg or Biden.
"Basically it's going to be who I think can beat Donald Trump, more than their views on the economy and those kinds of things," he said. "I'm afraid he [Biden] is starting to look a little old, a little weak. Maybe he can't beat Trump."
Rita Marshall was at the Biden rally in Manchester Saturday morning. She's from Connecticut, but she, like many others, has come to New Hampshire in the run-up to the primaries to experience the political circus. She likes Biden, but she's starting to take a look at billionaire Michael Bloomberg because she's not sure Biden can win.
"I used to think he could, but I'm starting to worry that Trump will annihilate him based on what happened on the Ukrainian story and the way he squashes anyone that gets in his way," she said.
Her husband, Etienne Delessert, was also bullish on Bloomberg.
"He will slap him. He will humiliate him," he said. "Trump will pee in his pants."
Igor Bobic and Kevin Robillard contributed reporting.
Popular in the Community