Kevin McCarthy (R-Calif.) on Tuesday became the first House speaker in history to be removed from his post in a resolution to vacate the chair. He lost a 216-210 vote after eight Republicans, led by Florida Rep. Matt Gaetz, joined Democrats in the push to oust him. He promptly blamed Democrats for the mutiny in his own ranks.
But maybe McCarthy should look in the mirror first. Beginning with the decision to entertain former President Donald Trump's election fraud lies, McCarthy led the Republican Party to be marked with the stain of opposing the peaceful transfer of power. McCarthy not only entertained Trump's falsehoods, but voted to steal the 2020 election for Trump. Weeks later, he paid tribute to Trump at the former president's Mar-a-Lago resort. And when Trump endorsed House candidates in 2022 based on their fealty to his lies, McCarthy did little to contest him.
Those elections in which Trump endorsed toxic primary candidates who embraced his untruths cost McCarthy the speakership. In several contested races, Trump-backed candidates won out over their GOP competitors and went on to lose the general election to Democrats. Had the GOP put forward candidates not tarred by their association with Trump, they may very well have won these races. If they did, McCarthy may have been able to count on 217 nay votes in the motion to vacate and remained speaker.
Now, Trump's impact in shifting these seats away from potential pro-McCarthy votes is more clear-cut in some races than others.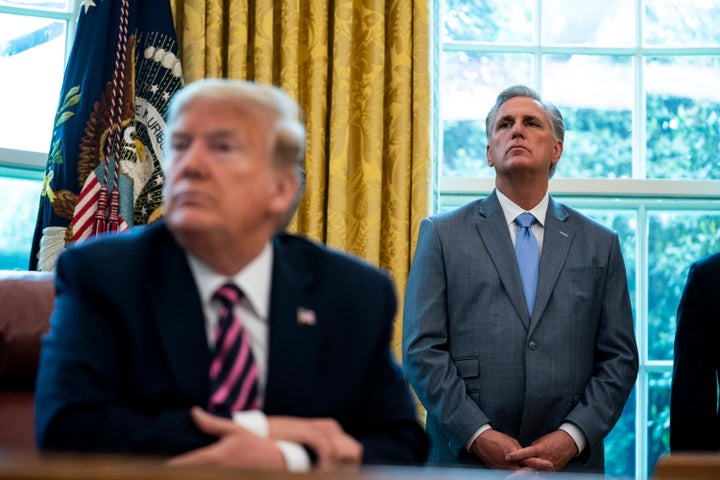 In Michigan's 3rd Congressional District, Trump backed the lie-embracing John Gibbs against incumbent GOP Rep. Peter Meijer because Meijer voted to impeach Trump for trying to overthrow the government. The same thing happened in Washington's 3rd District when Trump backed far-right candidate Joe Kent over incumbent Rep. Jaime Herrera Beutler, who also voted to impeach. In both cases, the ousted incumbent would have been favored to win those toss-up districts.
Jan. 6, 2021, rally attendee J.R. Majewski won Trump's endorsement in Ohio's 9th Congressional District over state Rep. Craig Riedel and state Sen. Theresa Gavarone in the GOP primary. Riedel and Gavarone secured numerous high-level state GOP and business lobby endorsements, but Trump's support for Majewski carried him to victory with just 35% of the vote. Though the district had recently been redrawn to favor Republicans, Majewski was crushed by 13 points against incumbent Democratic Rep. Marcy Kaptur.
By ousting two incumbents and backing a Jan. 6 rally-attending political novice, Trump's intervention clearly harmed Republicans' ability to compete and win in those districts. A three-vote shift on the motion to vacate, if all four Democrats and three Republicans who did not vote remained absent, would have kept McCarthy in the speaker's chair with a 213-213 tie.
But there are more races where Trump's primary endorsements likely cost Republicans seats. For example, North Carolina's new 13th Congressional District was designed to tilt to Republicans, but Trump backed former college football player Bo Hines, who affirmed Trump's election lies, in the primary. Hines won the primary with just 32% of the vote and went on to lose to Democrat Wiley Nickel in the general.
Trump also endorsed model Madison Gesiotto Gilbert in Ohio's 13th Congressional District and Jim Bognet in Pennsylvania's 8th District, both of whom echoed his lies. Gesiotto Gilbert won her primary with only 28% of the vote and then lost the general to Democrat Emilia Sykes. Bognet may be more of an edge case since he won his primary easily. Still, his embrace of Trump's lies did not help with his general election loss to incumbent Democratic Rep. Matt Cartwright in his GOP-leaning district.
It's a little bit more complicated in Alaska due to the use of instant runoff voting in its elections. In an instant runoff system, candidates of all parties appear on the same ballot line in the primary, with the top four candidates advancing to the general election. In the general, the bottom two candidates are eliminated and their second choices distributed to the top two candidates to determine the winner. In 2022, Trump endorsed Sarah Palin, the former vice presidential nominee and governor, in her competition with Democrat Mary Peltola and Republican Nick Begich. Peltola and Palin finished first and second, respectively, but Peltola won enough of Begich's second-choice voters to easily beat Palin.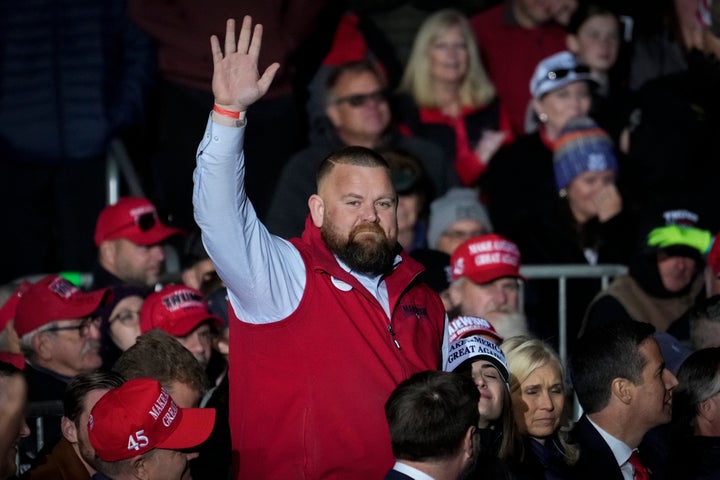 These other four races, tainted by Trump's endorsements, could have provided an even bigger buffer to McCarthy.
While these contests all featured different dynamics that affected the poor outcome for Republicans, they shared one thing in common: the House GOP super PAC run by McCarthy's allies did not intervene against the Trump-backed candidates. The Congressional Leadership Fund, which spent $227 million in 2022, poured no money on independent expenditures in the primary elections in any of these races, according to data collected by OpenSecrets.
It's not that McCarthy's super PAC didn't intervene in GOP primary elections at all; it spent around $2 million against Republicans in six primary elections. These included beating back primary challenges to incumbents like Nevada Rep. Mark Amodei and California Reps. Young Kim and David Valadao, while also helping its preferred candidates win the primary in Mississippi's 3rd Congressional District. The super PAC's picks did lose in North Carolina's 1st Congressional District and New York's 22nd District. The GOP primary winner in New York's 22nd District, Brandon Williams, did receive the super PAC's endorsement and won the general election.
Beyond the specific individual primaries — and decisions to not intervene in them — that may have cost McCarthy votes to keep his speakership alive, the choice by McCarthy and the Republican Party to embrace Trump following his effort to overthrow the government stalked the entire 2022 midterm election field. Despite an overall turnout advantage and sky-high inflation hurting Democratic chances, an anticipated "red wave" victory providing a solid GOP House majority did not materialize. McCarthy won just a slim five-seat majority, forcing him into accepting a deal with Gaetz and other mutineers that ultimately sealed his fate.
After boxing McCarthy into this situation, Trump, in characteristic fashion, did nothing to help him. McCarthy's fall ends up as just another consequence of Republicans' decision to go all-in on Donald Trump.
Support HuffPost
The Stakes Have Never Been Higher
Popular in the Community