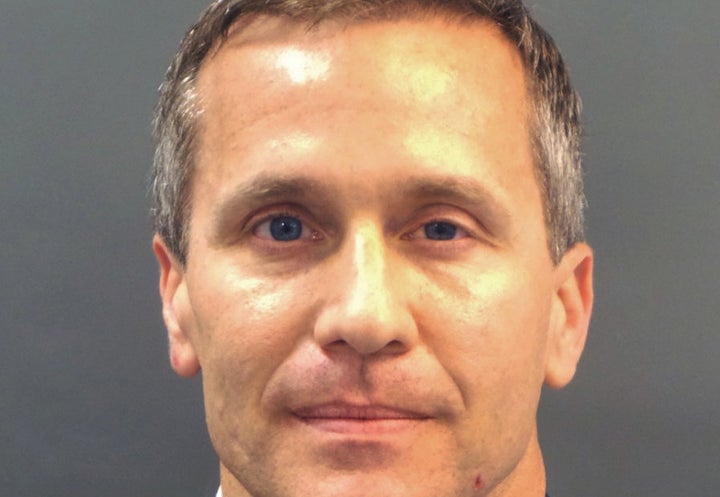 Wisconsin GOP Senate candidate Kevin Nicholson needs to convince Republican voters that even though he used to be a Democrat, he's now a true conservative who is the best choice to be their nominee in November.
A super PAC is trying to help him out. Americas PAC put out a radio ad favorably comparing him to other Republicans who used to be Democrats. 
But the spot is proving less than helpful because one of the politicians it highlights is Missouri Gov. Eric Greitens, who is in the middle of sexual misconduct and ethics scandals. 
Americas PAC head Tom Donelson told the Associated Press that the ad was made months ago and "should not have been sent to the stations." He said the group sent a replacement spot to radio stations, but some still ran the old version. 
The ad does not name Greitens, but it mentions the "governor of Missouri" and had audio of him saying, "All of those things made me a conservative not by birth but by conviction."
"Like the governors of Missouri and West Virginia, Kevin Nicholson left the Democrat Party. Kevin Nicholson chose to be a conservative Republican," the ad's narrator says. 
Because candidates are legally barred from coordinating with these outside groups, it also means they can't stop a super PAC when it's about to mess up. 
"Sometimes we love the ads, and sometimes it's not what we would have chosen," Nicholson spokesman Brandon Moody said. 
Greitens is certainly not someone Republicans are rushing to associate with these days. He faces a felony charge of invasion of privacy related to an extramarital affair he had with a woman. 
His trial is set to begin May 14. He is accused of taking the woman to his basement, taping her up, blindfolding her and taking a partially nude photograph of her without her consent. He allegedly coerced her into a sexual act and threatened to release the photograph if she ever told anyone about him. 
Greitens admitted to the affair but has denied the other allegations. He has refused to step down.
Additionally, Missouri Attorney General Josh Hawley, a Republican, said he believes Greitens committed a felony by illegally obtaining a donor list from a charity. The New York Times reported that Hawley declined to file charges and referred the matter to St. Louis' circuit attorney.
In Wisconsin, Nicholson faces state Sen. Leah Vukmir in the Aug. 14 Republican primary. The winner will face Democratic Sen. Tammy Baldwin in the general election. 
Americas PAC is primarily funded by conservative billionaire Richard Uihlein, who is based in Illinois. He is Nicholson's biggest backer and is largely responsible for turning him into a contender for the Senate race. Following his usual strategy, Uihlein picked Nicholson early, then established and donated to super PACs to boost his candidacy. 
Uihlein initially supported Greitens' gubernatorial bid, and he's now supporting Hawley a his race for U.S. Senate. Uihlein also backed GOP Senate candidate Roy Moore in Alabama, who faced allegations of pursuing teenage girls years ago when he was many years older than them. 
"Out-of-state billionaire Dick Uihlein is spending millions to buy Kevin Nicholson a U.S. Senate seat in Wisconsin," said Brad Bainum, a Wisconsin Democratic Party spokesman. "Wisconsinites should be concerned ― and not just because of Uihlein's history of bankrolling alleged child predator Roy Moore in Alabama and alleged sexual assaulter Eric Greitens in Missouri." 
REAL LIFE. REAL NEWS. REAL VOICES.
Help us tell more of the stories that matter from voices that too often remain unheard.