WASHINGTON -- A progressive-populist coalition fueled by women's groups and high-end donors was responsible for undoing President Barack Obama's bid to install Larry Summers as the next chairman of the Federal Reserve.
On Friday, Sen. Jeff Merkley (D-Ore.) told the White House, Senate Majority Leader Harry Reid (D-Nev.) and the Senate Banking Committee chairman that at least five Democrats would vote against Summers in committee, according to a Democratic aide who was involved in the intra-party brawl.
The five opposing senators were a combination of traditional progressives -- Merkley, Elizabeth Warren (Mass.) and Sherrod Brown (Ohio) -- and prairie populists -- Jon Tester (Mont.) and, according to three Senate Democratic sources, Heidi Heitkamp (N.D.). Tester's opposition was reported Friday by Reuters; Heitkamp's intention was not previously public.
Tester's public disapproval likely pushed Summers' chances into the abyss, since even with just four Democratic opponents, Banking Committee Chairman Tim Johnson (D-S.D.) would have needed to sway at least that many Republicans to back Obama's choice.
On Thursday, the No. 2 Senate Republican, John Cornyn (Texas), revealed his opposition to HuffPost, indicating that the president would need to rely largely on his own party's senators.
Meanwhile, a coalition of progressive groups -- which included UltraViolet and the National Organization for Women, two powerful women's groups -- teamed with the big donors and grassroots advocacy groups to pressure Banking Committee members and other Senate Democrats. Heitkamp and Sen. Joe Manchin (D-W.Va.) were top targets of the Summers opponents, who were planning to continue a blitz of pressure on Monday. The donors, who were mostly women, had concerns that ranged from populist to feminist.
With five Democratic "no" votes, Summers would have needed five of the Banking Committee's 10 Republicans to support him just to make it to the Senate floor.
Merkley, according to another aide, spoke to Democratic senators on the committee during caucus meetings on Tuesday and Thursday, and made Summers' closeness to Wall Street and prior support for deregulation the key element of his pitch. He homed in on Summers' backing for the Glass-Steagall repeal, which allowed banks to grow much larger and take on more risk. He also highlighted Summers' opposition to regulating derivatives in a battle with then-Commodity Futures Trading Commission head Brooksley Born. Summers took both positions as treasury secretary during the Clinton administration. To make the point that Summers had not revised his approach, Merkley noted his intense behind-the-scenes opposition to the Volcker Rule, an attempt to reinstate some of Glass-Steagall's restrictions that was added to the Dodd-Frank Wall Street reform law by Merkley and Brown.
A spokeswoman for Tester, Andrea Helling, echoed that language.
"Sen. Tester believes we need a consensus builder to lead the Federal Reserve," Helling said. "He's concerned about Mr. Summers' history of helping to deregulate financial markets. The Senator thinks it is vital to have a chair who appreciates the important role small community lending institutions play in financial markets."
Summers had also opposed naming Warren to permanently head the Consumer Financial Protection Bureau, a decision that came back to haunt him, as Warren instead ran for the Senate and won a spot on the Banking Committee, where she has now helped tank Summers' shot at the Fed chairmanship.
"I don't think it's any secret that Larry was not my first choice," Warren said on MSNBC's "Morning Joe" Monday. "He's a brilliant economist who has made many terrific contributions to the field of economics. I have no doubt that he's going to continue to do that in the future. I think that the president is working through a difficult decision. It's a reminder of the importance of the Federal Reserve chair. ... I think the president is taking his time, he's thinking through this, and we're having a good and thoughtful discussion, which is a good thing to have in Washington."
Summers had been promised the job as Fed chair when Ben Bernanke stepped down and was furious that Bernanke was reappointed in 2010, according to multiple books written about Obama's first term and confirmed to HuffPost by people familiar with the situation. The deal had been made to coax Summers to accept a position as director of the National Economic Council, which was a step down from his previous service as treasury secretary. Yet it was Summers' tenure in the White House post in 2009 and 2010 that helped doom the arrangement, as he frequently alienated members of his own party whom he would later need to win the Fed job.
And Summers promised Merkley that in exchange for supporting the second round of the Wall Street bailout, the administration would put $50 billion to $100 billion toward foreclosure relief and would lobby on behalf of cramdown, a process that would allow bankruptcy judges to reduce mortgages. Neither happened, and instead Summers later lobbied against Merkley's push for the Volcker Rule.
Merkley was the first senator to express reservations about a Summers nomination.
Support HuffPost
The Stakes Have Never Been Higher
Before You Go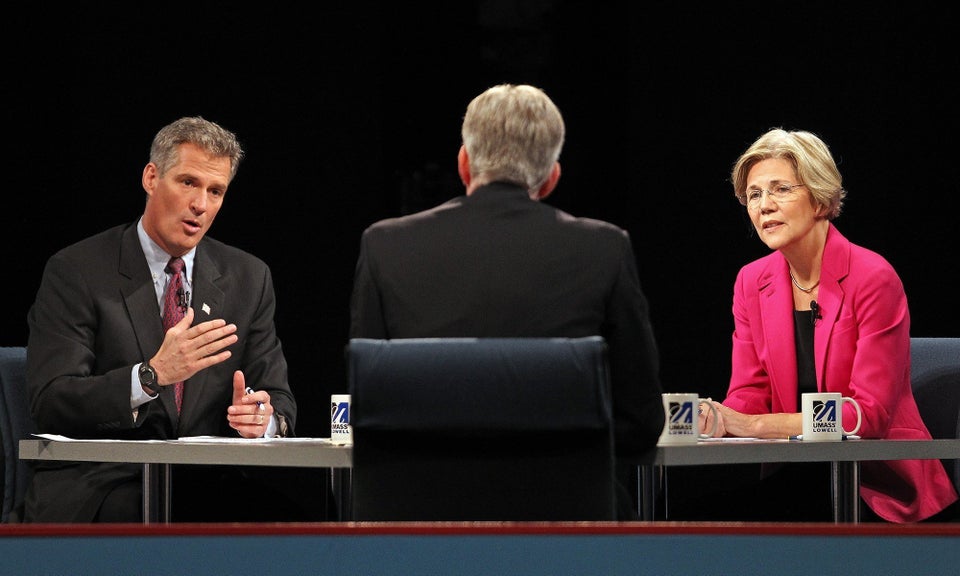 2012's Most Expensive Senate Races
Popular in the Community