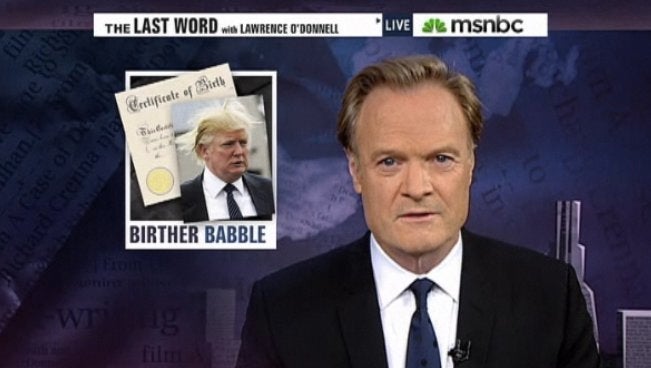 Donald Trump and Lawrence O'Donnell are engaged in a Twitter feud.
Trump was a frequent target of O'Donnell's earlier in the year. O'Donnell drew widespread attention for the ferocity of his attacks on Trump back when Trump was saying he was going to run for president (and when he was making his descent into birtherism.)
On Tuesday, Trump somewhat randomly launched into a Twitter attack on O'Donnell.
"Last year @Lawrence strongly predicted that @TimPawlenty would be the Republican nominee--@Lawrence is a total loser who is killing the MSNBC brand," he wrote. He is begging me to be on his show. I am his only hope--@oreillyfactor killed him."
Trump is apparently correct that O'Donnell predicted the now-departed Pawlenty as the GOP nominee. O'Donnell fired back: "What else did I predict? Something about u? Like the exact day u would reveal that u were not running. That was so easy." (O'Donnell is definitely correct on that point).
He continued: "I assume you're still afraid of coming on my show. Don't worry, we will light your hair any way you want."
Trump replied once more: "I only go on shows that get ratings, that's why I do @oreillyfactor, @hannityshow, and @gretawire. Your show @lawrence, like you, is a loser that will soon be off the air. @oreillyfactor killed you at 8PM."
This boast, as TVNewer's Alex Weprin pointed out, is not exactly accurate. Every time Trump goes on CNN, after all, he appears on a show that gets lower ratings than O'Donnell's (except, perhaps, for Anderson Cooper.)
Who knows where the feud will lead? Let's hope to an appearance by Trump on "The Last Word."

Related
Popular in the Community