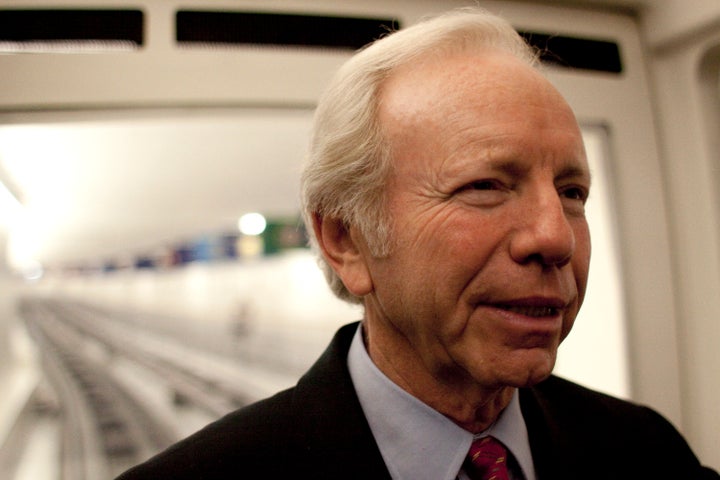 WASHINGTON -- Sen. Joseph Lieberman (I-Conn.) warned on Tuesday that he and many Democrats would oppose increasing the debt limit without measures for deficit reduction in place. That creates a steep climb in the Senate for the president's desired "clean" debt ceiling bill.
"There are a lot of Democrats, including myself, that are not going to vote to raise the debt ceiling unless there is something concrete, specific, real, tough done so the debt itself will be reduced in the coming years," Lieberman, who caucuses with the Democrats, told reporters.
The White House indicated on Monday it wants a "clean" bill -- meaning one without separate policy measures -- to raise the debt ceiling and prevent the government from defaulting on its loans.
The nation's debt limit will be reached by May 16, and the government would default by early July if Congress does not authorize the Treasury to take on new debt in order to pay the interest on old loans and take out new loans, Treasury Secretary Timothy Geithner said in a letter to Congress last week.
A bill to raise the debt ceiling was already viewed as politically difficult in the Senate, where Sen. John Cornyn (R-Texas) told The Huffington Post that Republicans may all oppose an increase.
But now, with Democrats also saying they will oppose a bill without policy changes, passing a "clean" bill through the Senate may be impossible.
President Obama will unveil a long-term plan to reduce the deficit in a Wednesday speech, and Lieberman said he hopes that plan will be partially tackled in the debt ceiling vote.
The leadership could create a "rolling debt ceiling," increasing the limit bit-by-bit, until it can reach a more dramatic agreement to bring down the deficit, Sen. Tom Carper (D-Del.) told reporters on Tuesday. He said the idea was based on his own speculation, and did not come from party leadership. It's not clear whether Carper's suggestion would be practicable -- the Treasury tends to sell huge blocs of bonds all at once.
Sen. Max Baucus (D-Mont.), chairman of the Senate Finance Committee, also said he would like to see a framework for reducing the deficit before voting to increase the debt ceiling. He said Democratic leaders need to avoid a drawn-out battle like the negotiations over the CR, which nearly shut down the government before an eleventh-hour resolution on Friday.
Baucus said he would support a bill that includes a structure requiring specific amounts of debt to be eliminated by various deadlines.
"My biggest concern right now is to find a way to negotiate something so we can avoid brinkmanship on the debt limit," he told reporters. "We cannot go through the same process [as the spending deal] on the debt. Default would be unspeakably cataclysmic and coming close to default would be unspeakably cataclysmic."
Baucus acknowledged he opposed raising the debt ceiling in 2006, when a number of Democrats voted against allowing the Treasury to take on more loans under then-President George W. Bush. Obama and House Minority Whip Steny Hoyer (D-Md.) also voted against earlier debt ceiling increases, but have said they regretted those votes.
Baucus told reporters there is "no comparison" between the upcoming debt ceiling bill and his "no" vote in 2006.
"Both sides have voted both ways. Now is the time to stand up and do what's right, partly because the stakes are so much higher," he said. "The stakes are so much higher because the debts are so much higher."
Ryan Grim contributed to this report.