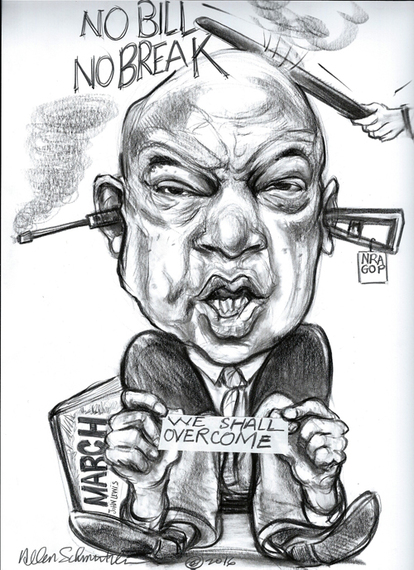 A celebrated novel life that is graphic becomes a graphic novel celebrated. Move over or join in, John Lewis is on the march, and no amount of menace one can toss his way will slow him down. The racial violence John Lewis has experienced was graphic. The racist verbal assaults John Lewis has experienced were graphic.
The world John Lewis was born into and struggled against was drawn in graphic lines delineating the separate and unequal world between black and white. Color and colored were connotations of derision, apartheid, segregation, separate but no way equal, the most popular "Crow was Jim," and voting rights did not mean blacks had the equal right to vote. Iconic and heroic, John Lewis marched over many dangerous years and miles to forge a better America, an amalgamated America of graphic equality and rightness.
John Lewis is a best-seller marvel rendered by a cartoonist, but is also the equivalent of a Marvel Superhero. He can be drawn graphically in black and white, but he cannot be written off as only a black and white character. On June 23, 2016, John Lewis marched to the floor of the United States Congress to stage a graphic "sit-in," schooling the 21st century in how to change a broken entrenched Congress resistant to righting a wrong.
John Lewis had enough, again, but this time it was the senseless daily graphic killing, and a cowardly Republican Congressional majority leadership owned by the NRA, refusing to bring a vote to pass common-sense sane gun legislation. Democrats, on the eve of their summer recess, lead by an aging John Lewis, took to the hard floor for 25 hours chanting, "no bill, no break!"
Emboldened Democrats feeling supported by polling and inspired by the heroics of John Lewis, finally, spoke loudly over the course of their presidential nominating convention against gun violence, gun lobbyists, the NRA, and entrenched Republicans. "Mothers of the Movement," Sandy Hook families and others gave graphic testimonial of crazy out-of-control gun violence and calling for appropriate gun-reform in alignment and consistent with Second Amendment Rights. Hopefully, we shall overcome our sick gun culture with Democrats under the Presidency of Hillary Clinton, and graphic leadership of a John Lewis march and sit-in with no break until a bill. Our racist separate but not equal society had to be cleansed and now our gun bloodstained society needs to be cleansed. Bring on John Lewis, the Superhero from the graphic novel trilogy, "March," to right this wrong.
REAL LIFE. REAL NEWS. REAL VOICES.
Help us tell more of the stories that matter from voices that too often remain unheard.