In the wake of one of the deadliest mass shootings in modern U.S. history, the National Rifle Association turned to a familiar tactic: pointing the finger at Hollywood for promoting a culture of violence. But at its museum in Fairfax, Virginia, the gun rights advocacy group continues to celebrate the very firearms that it has accused the movie industry of using to glorify gun violence and make billions of dollars
The "Hollywood Guns" exhibit, in the National Firearms Museum's William B. Ruger Gallery, "spotlights 125 firearms that have thrilled moviegoers for generations," according to the NRA's website. 
Among the weapons on display are the Smith and Wesson revolver used by Clint Eastwood in the films "Dirty Harry" and "Magnum Force", the suppressed shotgun of Javier Bardem's character in "No Country for Old Men", a submachine gun used by Bruce Willis in "Die Hard", and Captain Jack Sparrow's flintlock pistol from "Pirates of the Caribbean". There are also guns from "Pulp Fiction", "Reservoir Dogs", "The Departed" and a number of westerns, including "3:10 to Yuma" and "True Grit".
"These guns have never before been seen together, and probably never will again," museum director Jim Supica is quoted as saying on the exhibit's website.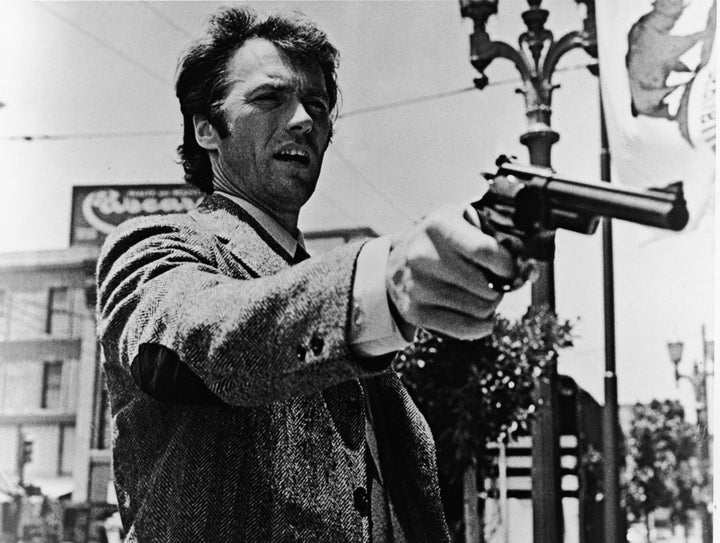 A second exhibit of Hollywood weaponry can be found at the NRA National Sporting Arms Museum at the Bass Pro Shops in Springfield, Missouri. The pair of exhibits debuted as "Reel Guns of Reel Heroes" in 2002, according to an NRA blog post. The collection at the Virginia museum has been a permanent fixture since 2010. New guns were added to the collection as recently as October 2016. 
That the NRA showcases such items is neither new nor surprising. But given comments by the association's leadership, it's hard not to question that if by maintaining such exhibits the NRA isn't guilty of the same glorification for which it has skewered the film industry.
In December 2012, about a week after a gunman murdered 20 children and six teachers at Sandy Hook Elementary School in Newtown, Connecticut, NRA executive vice president Wayne LaPierre held a press conference and did what the group so-often does. He called for more guns. "The only thing that stops a bad guy with a gun is a good guy with a gun," he said, while calling for armed guards at every school in the nation.
He took no responsibility for the role the NRA might play in deadly shootings by encouraging the nation to be flooded with more weapons and working to sink numerous efforts to pass gun control legislation. Instead, he has consistently pinned mass killings on seemingly everything else — video games, Hollywood and the media.
"Then there's the blood-soaked slasher films like 'American Psycho' and 'Natural Born Killers' that are aired like propaganda loops on 'Splatterdays' and every day," he said during his 2012 press conference, adding that "fantasizing about killing people" is the "filthiest form of pornography."
The NRA took the same approach on Thursday, nearly a week after 59 people were killed and hundreds more were injured by a gunman at a country music festival in Las Vegas. 
"The NRA spends millions of dollars every year teaching safe and responsible gun ownership, and Hollywood makes billions promoting and glorifying gun violence," Chris Cox, executive director of NRA's Institute for Legislative Action, told Fox News' Tucker Carlson. "And then the same hypocrites come in and suggest we're to blame for this." 
LaPierre echoed that same message in a separate interview with Fox News' Sean Hannity. "This Hollywood crowd makes billions ... teaching gun irresponsibility to the American public," he said. "The hypocrisy is beyond belief. They criticize me for saying people ought to be able to protect themselves from murderers, rapists and robbers, and then they make billions depicting every night those same situations."
In a 2013 report entitled "Bloody Reel," gun control advocate Tom Diaz documented how the NRA and gun industry "exploit images of guns in extremely violent movies to sell the increasingly lethal military-style guns that define today's civilian gun market." He wrote, "it would be hard to find a more hypocritical statement" that the one made by LaPierre against Hollywood in the wake of Sandy Hook. 
"The fact is that neither movies nor video games, nor any other of the wondrous excuses the NRA can dream up are the cause of America's gun violence epidemic," Diaz wrote in the report. "Guns are."
The NRA did not respond to HuffPost's request for comment on Friday.
The National Firearms Museum highlighted its Hollywood firearms exhibit in a 2010 promotional video. In it, museum senior curator Phil Schreier encourages viewers to "come by and visit this sequel and come see a true blockbuster here in Fairfax, where all the stars of the silver screen have descended into these galleries and are represented by some of the firearms that we've fallen in love with in our youth and our adulthood, wishing that we too could be like our matinee idols."
The video was deleted from the NRA's YouTube channel, but not before being archived by Media Matters for America. 
Several other videos about the the NRA's Hollywood collection remain online. In one, Schreier shows off the MP5 submachine gun from "Die Hard". In another, Jim Supica, the museum's manager, demonstrates shooting both blank and live rounds from the same type of gun.
"Here to kick ass and chew gum," Supica says before unloading a magazine of blanks at large jars filled with bubble gum, a reference to a line from the 1988 film "They Live".
Supica then switches to live ammo. "Me personally, I prefer the real thing," he says. 
Calling all HuffPost superfans!
Sign up for membership to become a founding member and help shape HuffPost's next chapter