PHILADELPHIA ― Speaking a few hundred feet away from the red brick building where a group of wealthy white men signed the Declaration of Independence and the U.S. Constitution, the nation's first black president on Monday encouraged voters to replace him with the first female commander in chief in America's 240-year history.
In the final hours of her campaign, Democratic presidential nominee Hillary Clinton returned to the City of Brotherly Love, where she had officially become the first woman presidential nominee of a major political party at the Democratic National Convention in July.
Speaking at campaign rally on the mall in front of Independence Hall, Clinton was joined by President Barack Obama, first lady Michelle Obama, her husband former President Bill Clinton and daughter Chelsea Clinton. Thousands of voters packed the grass in front of Independence Hall to hear performances from Bruce Springsteen and Jon Bon Jovi.
"Philadelphia, in this place, where our founders forged the documents of freedom, in this place where they gave us the tools to perfect our union, if you share my faith, then I ask you to vote," Obama said as he introduced Clinton. "If you want a president who shares our faith in America, who has lived that faith in America, who will finally shatter that glass ceiling and be a president for each and every one of us, then I am asking each and every one of you to work as hard as you can this one last day to elect, my fellow Americans, this fighter, this stateswoman, this mother, this grandmother, this patriot, our next president of the United States of America, Hillary Clinton!"
"America, I'm betting on you one more time," he went on.
"I'm betting that tomorrow, most mom and dads across America won't vote for someone that denigrates their daughters from the highest office in the land. I'm betting that most Americans won't vote for someone who considers minorities and immigrants and people with disabilities as inferior, who considers people who practice different faiths as objects of suspicion. I'm betting that tomorrow that true conservatives won't cast their vote for someone with no regard for the Constitution. I'm betting that young people turn out to vote because your future is at stake. I'm betting that men across the country will have no problem voting for the more qualified candidate who happens to be a woman. I'm betting that African Americans will vote in big numbers because this journey we've been on has never been about the color of a president but the content of his or her character. I'm betting that America will reject a politics of resentment and a politics of blame, and choose a politics that says we're stronger together. I am betting that tomorrow, you will reject fear, and you'll chose hope. I'm betting that the wisdom and decency and generosity of the American people will once again win the day. And that is a bet that I have never, ever lost."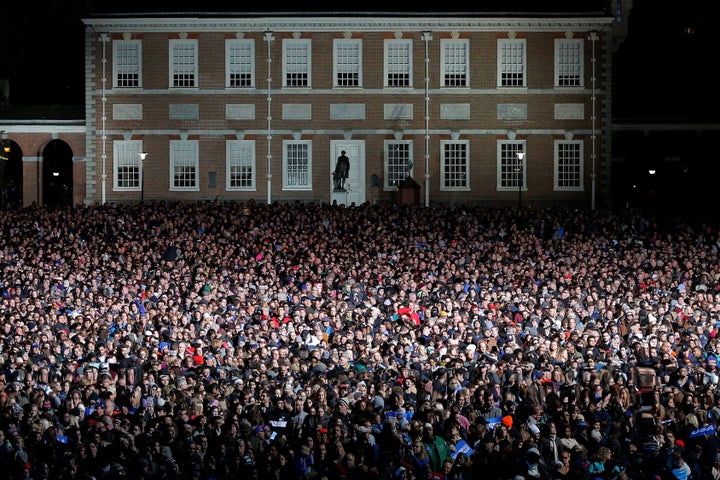 "It started right here in Philadelphia," Clinton said. "Representatives from 13 unruly colonies came together to launch the greatest experiment the world has ever seen. Our parents and grandparents defended that democracy. They created the great American middle class. They marched for civil rights, and voting rights, and women's rights, for LGBT rights and rights for people with disabilities. And tomorrow, we face the test of our time. What will we vote for, not just against. What will we decide is on the ballot?"
"It is not just my name or Donald Trump's name on the ballot tomorrow," she went on. "Every issue you care about is at stake, and that is just the beginning, because we have to bridge the divides in our country. I regret deeply how angry the tone of the campaign became."
"Not your fault!" someone yelled from the crowd. Clinton smiled.
Christine Hennessy of nearby Wyndmoor, Pennsylvania, became emotional talking about the historic significance of the first major party female candidate making her final case for the presidency just outside Independence Hall. "This is sacred ground," she said
It is crucial for Clinton to hold on to Pennsylvania, which last went for a Republican presidential candidate 28 years ago. Obama narrowly won in 2012 with 52 percent of the vote.
Philadelphia offers Clinton more than simply a historic backdrop for her appeal to voters. While the city is overwhelmingly Democratic and certain to support Clinton overwhelmingly over Trump ― Obama won 85 percent of the vote in 2012 ― the suburbs that surround Philadelphia are among a handful of true battlegrounds during this contest for the White House.
Southeastern Pennsylvania is a crucial Democratic stronghold, and Republican presidential candidate Donald Trump has indicated he believes there are improprieties at polling places in many cities, and specifically in Philadelphia, though he offered no evidence. The Justice Department said Monday it would monitor polling places in Philadelphia.
Clinton leads Trump in Pennsylvania, 46.4 percent to 41.2 percent, according to the HuffPost Pollster average of polls.
Clinton's clearest path to Pennsylvania's 20 electoral college votes is not only to perform well in the Philadelphia and Pittsburgh suburbs but to generate big numbers from the urban centers to offset Trump support in the remainder of the state, which is more conservative than its two major cities.
Despite Pennsylvania being a reliable Democratic win in the last six presidential races, Republicans are a force in the Keystone State, where they control the legislature and represent 13 of 18 U.S. House members and one of the two U.S. senators. Republican Sen. Pat Toomey's Democratic opponent, Kathleen McGinty, also spoke at the Clinton rally.
Clinton's rally was held a day after FBI Director James Comey informed Congress that the bureau had found no information in a set of newly discovered emails that would change their prior conclusion that Clinton should face no charges in connection with her handling of emails as secretary of state.
At the rally Monday night, Obama said Trump had shown "utter contempt" for American values and had demonstrated himself to be incapable of leading the country. He poked fun at a report that Trump's advisers were finally able to seize control of the Republican presidential nominee's Twitter account.
"His closest advisors don't trust him to tweet, why would any of us trust him with the nuclear codes?" Obama asked.
"Let's show him there will be no question about the outcome of this election," Clinton said.
"Make no mistake, our core values are being tested in this election. We know enough about my opponent, we know who he is. The real question for us is what kind of country we want to be, and what kind of future we want to build for our children."
Calling all HuffPost superfans!
Sign up for membership to become a founding member and help shape HuffPost's next chapter