Flanked by health insurance customers who received rebates because of Obamacare, President Barack Obama on Thursday highlighted his health care reform law's benefits for people who already have coverage.
Over the past two years, 21.5 million health insurance consumers have gotten $1.6 billion in rebates because their providers spent less than 80 percent of the premiums they paid on medical care, rather than overhead or profit, as the Obama administration announced last month. On Thursday, Obama sought to heighten awareness of such parts of the health care law that already are in effect, ahead of a major campaign to enroll a targeted 7 million more people in health insurance starting Oct. 1.
"If you're one of the 85 percent of Americans who already have health insurance -- could be through your employer or through Medicare or through Medicaid -- you already have an array of new benefits in place," Obama said during remarks at the White House. "You don't have to wait until Oct. 1. You're already getting benefits even if you don't know if it's because of the Affordable Care Act."
The administration faces significant challenges to getting those health insurance exchanges ready for the six-month enrollment period that begins in October, and it is embarking on a major effort to promote enrollment in health insurance and Medicaid among people -- especially the young, healthy, and poor -- who are uninsured or currently buy their own health insurance. The difficulty of the task and doubts about the administration's readiness are underscored by the White House's decision to delay a separate requirement that large employers cover their workers of face penalties of up to $3,000 per worker.
The biggest parts of the health care law not yet online -- and the hardest measures to put into place -- will affect the uninsured.
"Our broken health care system threatened the hopes and dreams of families and business across the country who feared that one illness or one accident could cost them everything they spent a lifetime building. Step by step, we're fixing that system," Obama said Thursday. "Affordable health care is not some privilege just for the few. It's a basic right that everybody should be able to enjoy."
"Millions of Americans opened letters from their insurance companies, but instead of the usual dread that comes from getting a bill, they were pleasantly surprised with a check," he said. "Most folks wouldn't know when that check comes in that this was because of Obamacare."
Health insurance premiums in 10 states and the District of Columbia will be lower on average than projected by the Congressional Budget Office, the Department of Health and Human Services reported in an analysis released Thursday. Premiums will vary greatly from state to state and based on individuals' ages and other factors, and will be higher for some people next year.
On average, the lowest premium for a "silver" plan -- the second-least-generous of four levels of coverage available to anyone on the exchanges -- in those states will be $321 a month for a single person, compared to the $392 the CBO predicted, according to HHS. That represents an 18 percent difference, although the prices in those states could change before October.
HHS produced charts comparing the lowest and second-lowest average premiums for a silver-level plan in those 10 states and the District of Columbia. The first bar on the right represents the department's analysis of the CBO projections and the second shows the average across the states. New Mexico will have the lowest average health insurance premiums among the states, at $226, while the highest will be in Vermont, at $400, according to the analysis.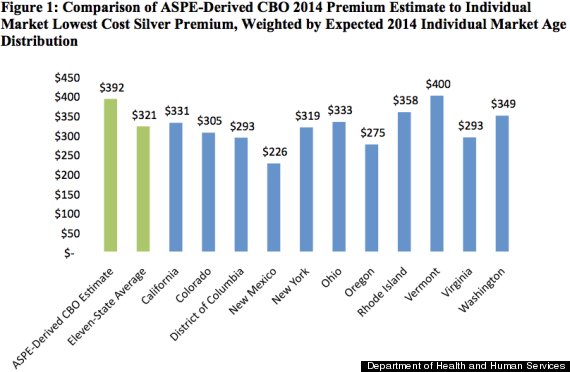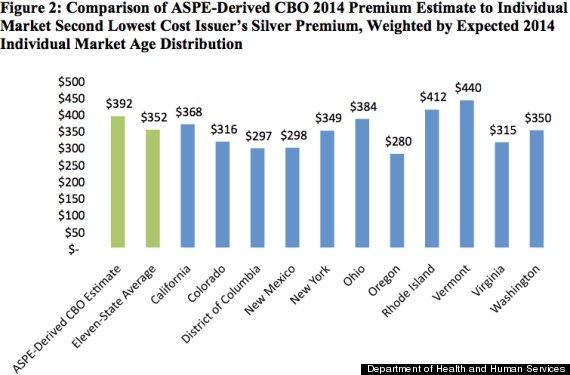 Republican opposition to Obamacare remains fierce, and the GOP brushed aside Obama's messages about New York's premiums and other positive effects of the law, emphasizing instead its potential negatives, like that some Americans may pay more for coverage next year. The House voted Wednesday to to repeal parts of the law, marking nearly 40 such attempts to eliminate, scale back or defund Obamacare since 2011.
"The picture that the president paints of his health care law looks nothing like the reality facing struggling American families," House Speaker John Boehner (R-Ohio) said in a press release after Obama's speech Thursday. "House Republicans will continue our efforts to fully repeal the president's health care law in its entirety once and for all."
In his speech, Obama acknowledged political opposition to the law was affecting his administration's ability to carry it out and criticized House Republicans for "re-fighting these old battles."
But it's resistance to Obamacare at the state level that is having a more tangible impact on the law's reach. Just 16 states and the District of Columbia elected to manage their own health insurance exchanges, leaving the federal government responsible for the remainder, and as many as half of states won't expand Medicaid to more poor people under the law.
"In states that are working hard to make sure that this law delivers for their people, what we're seeing is that consumers are getting a hint of how much money that's going to be saved because of this law," Obama said, citing California, New York, Oregon and Washington state, where health insurance premiums for next year beat estimates.
"It's hard, it's a big country, and the health care industry is massive," he said. "As we implement, there are going to be glitches and there are going to be certain states that, for political reasons, are resisting implementation. And we're just steadily working through all that stuff."
This story has been updated with additional information on health insurance premiums, quotes from President Barack Obama and House Speaker John Boehner (R-Ohio), and background information.
Calling all HuffPost superfans!
Sign up for membership to become a founding member and help shape HuffPost's next chapter
BEFORE YOU GO
PHOTO GALLERY
Health Care Reform Efforts In U.S. History