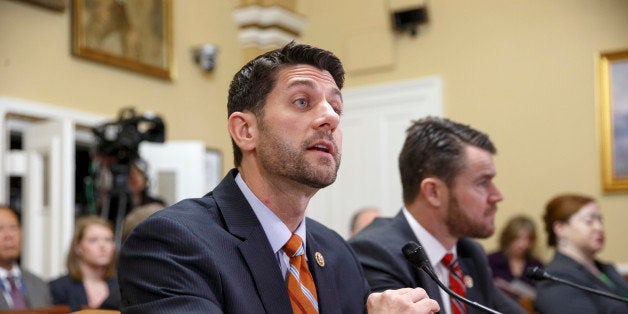 WASHINGTON -- Rep. Paul Ryan (R-Wis.) said on Thursday that he is open to another bipartisan deal to alleviate sequestration before it returns in October.
Ryan cautioned that his ability to bring along other House Republicans was more limited now that he no longer chairs the House Budget Committee. But he expressed a willingness to support a deal that raises the sequestration spending caps, much as he did two years ago with Sen. Patty Murray (D-Wash.).
"I am open to doing that. I'm not the budget chair anymore, but I am willing to help to do that," said Ryan, who now leads the House Ways and Means Committee.
The statement provides a sliver of hope to Democratic lawmakers who have insisted they won't allow those caps to return, given their effect on domestic priorities. The most prominent of these Democrats is President Barack Obama, who in an interview with The Huffington Post last week firmly said he would not sign a spending bill that didn't lessen the blow of sequestration.
Ryan's comments suggest there could be a path forward, though envisioning it right now is tricky. Both the House and the Senate this week have considered Republican-authored budgets that seek to boost defense spending while cutting non-defense spending below the pending sequestration caps. Democrats, including Obama, have criticized this approach, calling it a political non-starter.
Budgets are simply statements of principle, however. The real work comes when the congressional appropriators sit down at the negotiating table. Ryan's comments may indicate a willingness within the top ranks of the House GOP to craft a deal similar to that late 2013 agreement. Back then, Murray and Ryan agreed to two years of sequestration relief spread evenly between defense and non-defense accounts. Roughly $45 billion of that relief came in 2014 and $20 billion or so in 2015. The deal offset the spending with a mix of additional revenues (such as fees on airline travelers) and other spending cuts, including extending sequestration cuts on Medicare for an additional two years.
With the 2013 deal set to expire by the end of September, Democrats have begun seeking a replacement. On Wednesday, Murray introduced an amendment to provide sequestration relief in 2016 and 2017.
In a plea to her colleagues, the senator said that Congress should "not wait for another crisis to hit before we come together and make a deal."
"The fact of the matter is that we simply can't make the investments we need, on both defense and non-defense, if these caps remain in place. We should be able to give our Appropriations committees the guidance they need to write responsible bills at bipartisan levels," Murray said.
The amendment would have increased defense and non-defense spending by $74 billion each above sequester levels. It failed in a party-line vote.
Calling all HuffPost superfans!
Sign up for membership to become a founding member and help shape HuffPost's next chapter
BEFORE YOU GO
PHOTO GALLERY
Paul Ryan Has Deep Thoughts