Democratic lawmakers gathered Thursday to discuss the Trump administration's zero tolerance policy toward immigrants crossing the border illegally, which has led to officials separating over 2,300 immigrant kids from their parents.
"You come near our cubs, you got a problem. And we consider these [immigrant] children our children," House Minority Leader Nancy Pelosi said at the "shadow" hearing ― one held outside the formal committee process. During the hearing, lawmakers questioned experts from child health and immigration advocacy groups about the consequences of Trump's zero tolerance policy, and its resulting separations and detentions of migrant kids and parents.
"You cannot do harm to these children, and in the name of the United States of America," Pelosi added, after noting she was speaking "as a mom, a mother of five children."
"They think there's no harm done to a child from removing them from the arms of a parent, all the psychological and emotional scarring," she continued. "We demand to know what they're doing to unite these families, to end the zero tolerance policy."
Over a dozen members of Congress, largely women, attended the hearing led by Rep. Pramila Jayapal (D-Wash.), co-chair of Congress' Women's Working Group on Immigration Reform.
Experts testified from the American Academy of Pediatrics, as well as from immigrant advocacy groups Human Rights First and Kids in Need of Defense.
"Evidence affirms that parental separation and family detention are not healthy for children," said Danielle Dooley of the American Academy of Pediatrics, adding that even short periods of detention could have long-lasting health impacts on parents and kids. "Even when the family is together, it is a very grave situation for families to be in. We remain very concerned."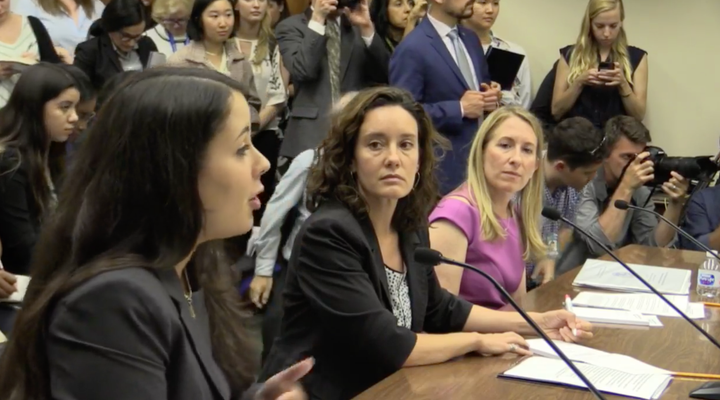 Trump signed the executive order after days of nationwide outrage over his administration's zero tolerance policy, which refers for criminal prosecution all migrants crossing the border illegally and has led to officials separating over 2,300 immigrant kids from their parents since May.
At the hearing, experts testified to what Dooley called the "compounded" trauma these immigrant children would experience ― for many, fleeing gang violence in their home countries, then experiencing difficult journeys along migrant routes, and finally enduring the trauma of being separated from their parents after arriving in the U.S.
"I want to be clear: Detention is not summer camp," Dooley added, referring to comments earlier this week by Fox News host Laura Ingraham, who described federal detention centers the children were being kept in as "essentially summer camps."
Experts also insisted that Trump's new policy of detaining families together would be harmful to the health of both migrant parents and children, noting the reports of substandard health conditions in federal detention centers, as well as allegations of abuse in these centers.
"We are in a fight for the soul of our country. This is not about immigration policy. This is about right and wrong.""
Both the experts and Democratic lawmakers pushed for the government to use alternatives to detention, including releasing immigrant families into the community, with regular check-ins set up with immigration officials ― a policy they said has had high rates of success in the past.
"What's the point of detention? If it's to ensure that someone shows up, these alternatives absolutely work," Jennifer Podkul, policy director at Kids in Need of Defense, said at the hearing. "If the purpose is for punishment ― that's what we're seeing now."
On Friday, members of the House are expected to vote on a Republican-backed immigration bill, which echoes Trump's order in replacing family separations with family detentions.
Many questions still remain about the consequences of the order, including how it appears to conflict with a 2015 court ruling on the Flores agreement, which bars the government from holding children in detention for more than 20 days. There are also questions as to how and when the children who have already been separated from parents will be reunited with them.
"We are in a fight for the soul of our country," Jayapal said at the hearing. "This is not about immigration policy. This is about right and wrong."
"What we are doing, ripping children away, putting them in tent camps," she added. "This is not a Republican, Democrat or independent issue ― this is an issue of who we are. And we need to [be able to] go back and sleep at night."