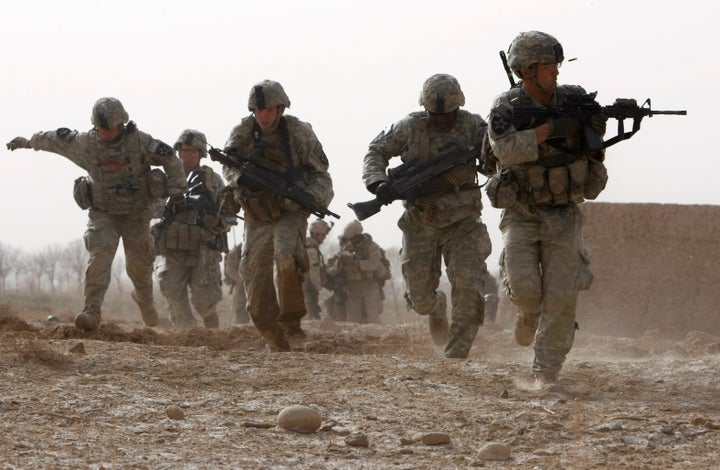 WASHINGTON -- A new survey from the Pew Research Center finds a record number of Americans now want to bring the troops home from Afghanistan, confirming the trends of other recent polls showing majorities now opposed to the nearly decade-long war.
For the first time since Pew Research began asking the question in 2008, a majority (56 percent) now say they want the U.S. to remove American troops from Afghanistan "as soon as possible," while 39 percent say they they want to leave troops "until the situation has stabilized." That result represents a reversal since last year, when leaving the troops in place was preferred by a majority of 53 percent to 40 percent.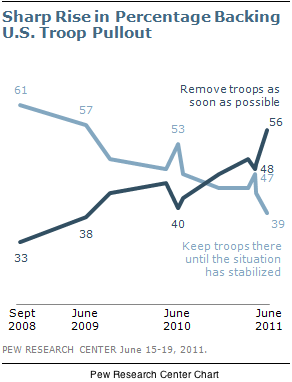 This latest result confirms the findings from four other recent national surveys, all of which indicate majority support for bringing some or all of the troops home. The numbers are bigger when pollsters allow options for returning "some" troops or "reducing" their number rather than implying a total drawdown. But majorities now support troop withdrawal, regardless of question phrasing:
Both the Pew Research and CBS News polls, which have tracked these questions for two or more years, indicate a big jump in desire to withdraw U.S. forces since the killing of Osama bin Laden in early May. The Pew Research survey shows an eight-point jump over the last month (from 48 to 56 percent). The CBS News survey shows a 16-point jump (from 48 to 64 percent) since a survey conducted in the immediate aftermath of bin Laden's killing.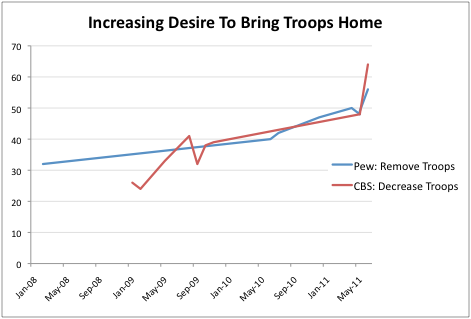 The increasing desire to bring the troops home tracks with general opposition to the war in Afghanistan, which has steadily increased over the last two years on surveys conducted by ABC/Washington Post, CNN/ORC and AP-GfK, as shown in the chart below. (This data is via the Polling Report.)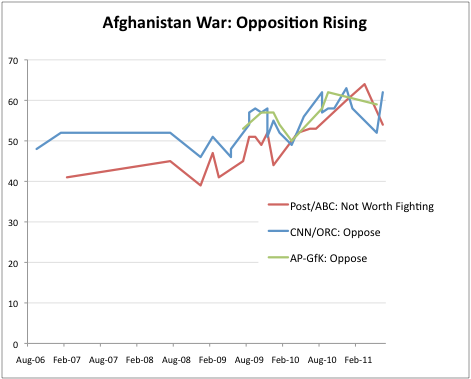 The Pew Research analysis shows that support for removing troops from Afghanistan over the last year "has increased across nearly all political and demographic groups." Although Democrats are more willing to drawdown troops (64 percent) than Republicans (43 percent), the Republican number has increased 12 points (from 31 percent) since June 2010. They also show that support for withdrawal has increased most among Tea Party Republicans, nearly doubling from 21 percent to 42 percent over the last year.
Read the full Pew Research report here.

Popular in the Community