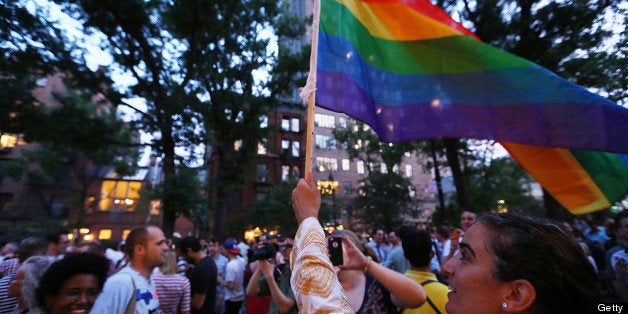 National same sex marriage is on the horizon. Yesterday's landmark Supreme Court decision striking down the Defense of Marriage Act (DOMA) and sending Proposition 8 back to the California courts, thereby nullifying it, has opened the floodgates for the unstoppable wave of marriage equality for gays and lesbians in this country. It officially gives equal protections and rights under federal law granted to all married couples. Right now it only applies to those thirteen states that have adopted gay marriage, but I believe it is only a matter of time (and a few more law suits) until all our states recognize it.
Although the progress has been remarkably fast (in 2004 President George W. Bush won re-election opposing gay marriage), it has been a long time coming. As a gay woman growing up in the '50s and '60s, I can attest that the battle has been long and at times agonizing. Today's younger generation is pro-LGBT equality but in my youth we had no gay role models to look up to. Everyone was pretty much in the closet. Even Liberace.
There were no books in the library we could check out to research the subject, no gay characters in TV shows and movies except negative ones or ones that committed suicide in the end as Shirley MacClaine did in the 1961 film The Children's Hour, a movie that had a profound effect on my psyche. We couldn't talk to our parents or guidance counselors or teachers or pastors about it for fear of being rejected.
We were told we were perverts, pedophiles, sinners, and freaks. We were made fun of and called fags, queers, and dykes. We were compared to drug addicts and the mentally ill. We were even preached to that God hates us. Is it any wonder we were all in the closet back then?
But something amazing happened between the '60s and today. We woke up. We fought back at Stonewall in 1969. We fought the AIDS epidemic and Anita Bryant with her failed attacks against our human rights which fueled a movement that began with Harvey Milk, the first elected gay official in San Francisco.
And though we need to give a lot of credit to Milk and President Obama for ending the Military's Don't Ask, Don't Tell policy (DADT) and coming out for same-sex marriage, former Representative Barney Frank (D-MA), (our most prominent gay politician), and the first lesbian senator, Tammy Baldwin (D-WI), it has not been the politicians that have been the leaders on the forefront of the gay rights movement. They basically follow polls and do whatever they have to do to get elected. Consider President Bill Clinton who was supposed to be an advocate for gays but ended up signing DADT and DOMA into law.
No, our leaders are ordinary gay citizens like Edith Windsor, the 84-year-old plaintiff in yesterday's historic DOMA suit, who had the guts to come out at a time when it was not popular to do so. Our heterosexual allies like PFLAG (founded by Jeanne Manford) and our straight friends that support us deserve equal recognition for their unwavering love and acceptance.
We must also be grateful to the entertainment business for opening up a whole new generation to the possibility that gays are just plain folks with the same emotions and goals as everyone else. TV shows like Will and Grace, Queer Eye For the Straight Guy, Modern Family and Glee have presented LGBT characters as regular, funny, compassionate, and even noble people.
Beginning in the late 1990s around the time that DOMA was signed into law, we had entertainment industry pioneers take some bold steps in declaring their gayness publicly like Ellen DeGeneres on her TV show,nMelissa Etheridge in the rock music world, singer k.d. lang, movie actor Rupert Everett, and more recently, comedian Wanda Sykes, NBA star Jason Collins and Chely Wright, the first country/western singer to come out.
We also have pioneers in broadcasting like cable political talk show hosts Rachel Maddow (MSNBC), Anderson Cooper (CNN), Don Lemon (CNN), and Thomas Roberts (MSNBC).
To me, these are the real heroes of the gay rights movement. To come out in a field where you could end your career by alienating your fan base takes real courage. They have paved the way for the rest of us.
In the movie Milk, Harvey Milk implores his fellow supporters to come out of the closet, knowing that this is one of the most powerful ways to advance the cause of equal rights. His advice still holds true today.
I remember in 1976 watching a gay political rally on TV in Philadelphia, Pennsylvania where the room was darkened so we couldn't see who was there. It was all so secretive. Then after moving to California in 1977, I watched in amazement a gay pride parade being broadcast from San Francisco and thought "these people are fearless." There is strength in numbers. The San Jose Symphony of which I was a member had a high number of out/gay musicians. Because of this open environment, California is where I came out in 1980.
When I flew home for Christmas I greeted my parents at the airport with "Hi, Mom, hi, Dad. I'm gay." I just needed to get it out. They were in shock but recovered and became supportive of me in time. I felt very empowered and relieved to finally be living as my authentic self. The Philadelphia LGBT community has since come out of the shadows.
Another miracle occurred recently when Exodus International, a "pray away the gay" therapy group announced they were ending because their programs were not working. Their president, Alan Chambers, said they may have even caused harm to LGBT teenagers and apologized for it. It was a stark moment of truthfulness.
So, we have a lot of people to thank for our momentous, historic ruling yesterday. We must remember our martyrs: Harvey Milk, Matthew Shepard, all those who died for the cause of gay rights, all those teenagers that committed suicide who were bullied to death. We owe a debt of gratitude to the celebrities as well as the ordinary folks who came out to the world or to a select few, the drag queens that fought back at Stonewall, the doctors who changed the definition of homosexuality to not be a disease, the producers of the gay-friendly TV shows and movies, the new generation for being open minded, the president for leading on the issue, PFLAG and other straight allies, Troy Perry for founding the Metropolitan Community Church for gay Christians, Exodus International for seeing the Light, and yes, the politicians from both sides of the aisle that have been slow to jump on the bandwagon. We acknowledge and appreciate their support too no matter how late.
But we must realize that through our perseverance we are the ones that changed the public's perception about us and that our fight is not done. Until every LGBT person can marry in any state of the union and until there are no more gay suicides there will be no liberty and justice for all.
REAL LIFE. REAL NEWS. REAL VOICES.
Help us tell more of the stories that matter from voices that too often remain unheard.