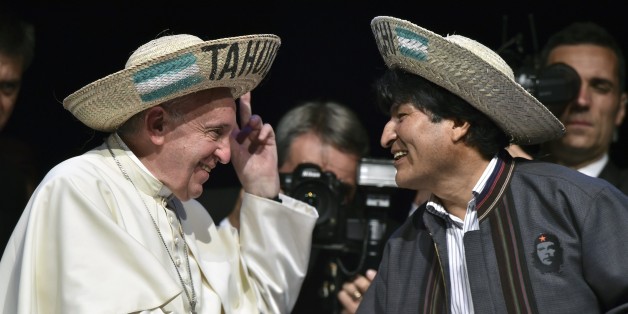 "Following Francis" is a monthly blog on the latest happenings of Pope Francis. It is prepared exclusively for The WorldPost by Sébastien Maillard, Vatican Correspondent for La Croix, Rome
ROME -- When traveling outside Rome, popes are usually seen in cathedrals and sanctuaries or in local stadiums to celebrate mass for a large audience. Over his eight days across Latin America, in Ecuador, Bolivia and Paraguay, Francis went to many venues of this kind. The one place where the head of the Catholic Church was least expected though was the meeting of the so-called "popular movements." These associations gather players of the informal economic sector, which is widely spread out in developing countries. Some do recycling, some are involved in street education, others defend access to land and the rights of the indigenous. Some among them may worship, but many of these movements are not confessional and do not have any Catholic connections.
Their meeting in Santa Cruz, Bolivia had the atmosphere of an anti-globalization forum. The banners displayed there were not of the local holy patron, but instead demanded quality health and education for all or access to the sea Bolivia lost over a century ago -- the nation's dream promoted by the country's president, Evo Morales, who took part in the meeting and whose administration reviewed the list of attendees allowed.
So why would these social activists and downtrodden want to meet the pope? Jorge Bergoglio is acquainted with some of these movements from his time in Buenos Aires, especially the "cartoneros," who collect cardboard and wasted paper to recycle.
The cartoneros first appeared during Argentina's economic crisis. The future pope witnessed his country's harsh financial backlash at the time and the role played by the IMF. This is known to have influenced his views on the global economy.
"''I have a great allergy to economics,' Pope Francis has said."
Yet Pope Francis does not pretend to have a thorough understanding of economic mechanisms, if any. "I have a great allergy to economics," he acknowledged to the press on his flight back to Rome from Latin America. His approach is ground-based. One of his key principles, explained in the roadmap of his pontificate, Evangelii gaudium, is that "realities are greater than ideas." From the villas miserias of the capital of Argentina, which he used to visit, to the Vatican City, around which many homeless and beggars camp, he sees that reality doesn't match what economic theory has promised.
But the fact that economic theory may be wrong is not his business or that of any other pontiff. What matters for Francis is whether our societies have become too used to poverty, comfortable with inequality and at ease with exclusion. This is what he depicted in his speech in Santa Cruz, and in previous speeches, as the "globalization of indifference."
"This pope doesn't try to reason with people but instead seeks to touch their hearts."
This pope doesn't try to reason with people but instead seeks to touch their hearts. His speech contains no figures or any other data, but tries to touch a person's compassion as a deep-rooted force that will contest indifference.
Once the need for change is thus not just understood from the outside but felt from the inside, the pope proposes two ways to answer the question "What can I do about all this?"
Change from the Bottom Up
The first way is to follow a bottom-up approach, meaning not just to work for, but also with, the poor and to learn from them. The aim is that the poor should not rely on assistance, which is only a temporary palliative, but to enable them to create active solutions out of their very own exclusion. The cartoneros are one example of this approach.
This is what Francis' purpose in getting his Church closely involved with grassroots movements is all about, no matter whether they are religious or not. Jorge Bergoglio is convinced that once churchgoers and social activists get to know each other, they'll find out they have much more in common than expected and they'll unite to foster change in the economy. In fact, the meeting in Santa Cruz, co-organized by these movements and the Holy See, was his second attempt at this, following a first event inside the Vatican last October.
"Faith Is Revolutionary"
Jorge Bergoglio's second approach is to think of change in terms of a long-term process rather than an immediate or short-term action. In his belief that "faith is revolutionary;" he is not calling for any big overnight shift. He encouraged the "popular movements" gathered in Santa Cruz to sow for the future rather than try to gain power. This is similar to his own approach in reforming the Catholic Church and the Roman Curia: a lengthy process rather than some high-profile action with no lasting effect.
"Don't expect a recipe from this pope," he warned his audience in Santa Cruz. The Jesuit pope has no one-size-fits-all solution, no program to unravel, but broad guidelines taken from what is known as the Social Doctrine of the Church.
In a nutshell, these teachings could be summarized as "listen to the heart, start from ground level and take time in order to make a difference."
This is certainly not conventional economic thinking, nor some anti-capitalist hidden agenda. It is a way to implement what Pope Francis hopes will become a "Christian-inspired economics."
More From Following Francis:

No Room for Decadent 'Princes' in Francis' Vatican
A 'Homebody' Out in the World Who Has Never Been to the United States
A Day in the Life of Pope Francis, Who Lives Behind This Gas Station
Moving the Church Forward on the Modern Family, One Step at a Time
Holy Ghostwriters: Behind the Pope's Tweets and Encyclicals
Is There Life After the Pontificate for Francis?
Why Pope Francis Is so Focused on Asia
In Francis' Vatican, the Homeless Get VIP Treatment
Pope Francis Wants Women to Be Sisters, Not Servants
Pope Urges 'Every Person Living on This Planet' to Take Action on Climate Change
PHOTO GALLERY
Pope Francis Latin America
Calling all HuffPost superfans!
Sign up for membership to become a founding member and help shape HuffPost's next chapter