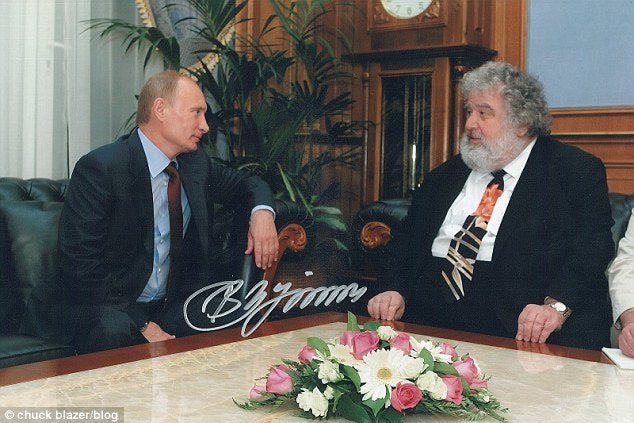 Russian President Vladimir Putin knows that the kind of one-on-one meeting he had Monday morning with President Donald Trump can get him exactly what he wants. That was Putin's winning strategy when he persuaded global soccer officials to choose Russia to host this year's World Cup. He set the rules for those meetings in 2010: Come alone, no friends, no spouses — no witnesses, except those loyal to the Russian leader. 
Putin's careful orchestration of those meetings, their secretive nature and the charm offensive that won his goal offer a glimpse into how effectively he operates in face-to-face encounters. It also supports American officials' concern about the risks of a one-on-one meeting with Trump on Monday in Helsinki. 
"We need to have other Americans in the room" when Trump meets with Putin, Virginia's Sen. Mark Warner, the ranking Democrat of the Senate intelligence committee, said on CNN on Sunday. "Vladimir Putin is a trained KGB agent ... Frankly, I think he'll take advantage of this president, who we know doesn't do much prep work before these meetings."
A FIFA official who met with Putin in 2010 found him incredibly disarming, amusing, flattering and attentive, while dead set on his goal. The official said Putin had the uncanny ability to make his target feel like the center of the universe — a particularly useful skill dealing with an American president who loves to bask in attention. 
I learned the details of the FIFA official's meeting with Putin while researching my book with co-author Teri Thompson, American Huckster (Harper Collins 2016). It's the story of the late New Yorker Chuck Blazer (he died in 2017), a onetime general secretary of the Confederation of North, Central America and Caribbean Association Football who later turned FBI snitch to help bring down the corrupt FIFA leadership.
Blazer — who lived and worked in Trump Tower in Manhattan at the time and was a friend of Trump's — assumed that his meeting with Putin in 2010 about this year's World Cup would be secretly recorded, he told his longtime lover Mary Lynn Blanks. He also assumed that he and other members of the executive committee of FIFA were under constant government surveillance during their time in Moscow to meet with Putin — including at the Ritz-Carlton, where Trump's alleged encounter with peeing prostitutes was reportedly recorded, according to the Christopher Steele dossier. A large ceiling mirror in the hotel room Blazer shared with Blanks was positioned over the master bed, and they often joked about what government officials were hoping to see, Blanks said.
When the two men met in the Kremlin, Blazer said, he was captivated by Putin. "As the large doors to his private inner sanctum swung open, I was greeted by a smiling and very affable leader of the government, Mr. Putin himself," Blazer later gushed in his blog. "A firm handshake and a personable smile set the tone for what turned out to be a very special experience." Putin was accompanied by his sports minister (and FIFA official) at the time, Vitaly Mutko (who sat in a far corner) and his own interpreter, though Putin spoke English throughout the meeting. Blazer was alone.
The Russian president joked that Blazer, with his wild salt-and-pepper hair and beard, looked like Karl Marx. Blazer responded, "I know! And the men gave each other a high five.
Putin talked about an upcoming vacation, showing Blazer a map of Europe behind a hidden panel, and asked about his ancestry. (Blazer had a grandfather from Russia.) Amid the imposing trappings of his office, Putin managed to make Blazer feel as if no one mattered more, Blazer later told Blanks.
The encounter was a surprise for Blazer, who expected something far more dour from a former KGB official. 
Putin referred to Blazer's blog and asked him what he would title it if the Russian leader sent him photos of his own exploits, Blazer said he guessed he would change it to Travels With Chuck Blazer and Friends. Within weeks, the renamed blog featured a series of photos of Putin posing with various animals, including a tranquilized polar bear.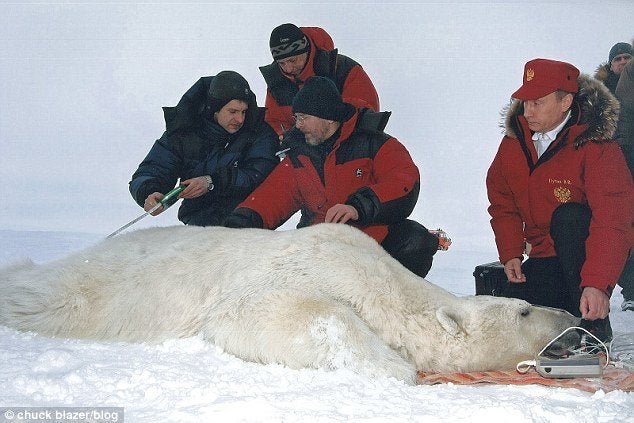 Blazer voted later that year for Russia to host the World Cup. The choice was surprising because there had long been an understanding between the U.K. and the U.S. that each country would vote for the other if it was up for selection. England was competing with Russia to host the 2018 event.
Bribes from countries seeking to host the World Cup were common, Blazer later told the FBI. He confessed that he was offered — and accepted — millions of dollars to pick certain U.S. Gold Cup and World Cup venues from officials in South America, Africa and the Middle East. He never told the FBI about any bribes from Russia.
Blazer didn't discuss his financial arrangements with Blanks, but he boasted to her after the Kremlin meeting that he and Putin were now "friends."
"He was starry eyed when he walked out of that building," Blanks said.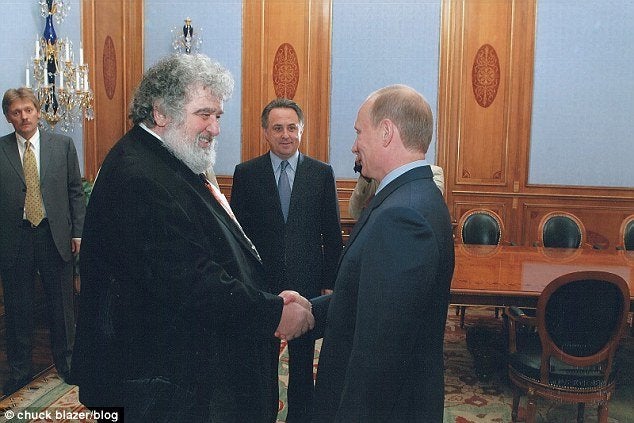 Calling all HuffPost superfans!
Sign up for membership to become a founding member and help shape HuffPost's next chapter
BEFORE YOU GO