WASHINGTON -- While many Senate Democrats said Sen. Rand Paul (R-Ky.) raised legitimate concerns about the Obama administration's drone program during his epic filibuster of John Brennan's nomination as CIA director, most of them were unable to explain why they didn't join him on the Senate floor.
Sen. Ron Wyden (D-Ore.) was the only Democrat to join Paul and 14 other Republicans in a 13-hour filibuster Wednesday. Senate Majority Whip Dick Durbin (D-Ill.) also took to the floor twice, but mostly to defend the U.S. government's authority to target American citizens in "extraordinary circumstances."
"I don't know, there's a lot of debates I don't join that I agree -- I've got stuff to do and was doing a lot of other things," Sen. Sherrod Brown (D-Ohio) told HuffPost when asked about his whereabouts the day before. "I think the question should be answered. I think [Sen.] Paul was generally right on it."
Sen. Bernie Sanders (I-Vt.), who in 2010 launched the most recent old-fashioned "talking" filibuster before Paul's against the extension of the Bush-era tax cuts, said flatly that he never considered joining Paul's effort -- but added that the absence of most Democrats was a "good question."
"I'm working right now on many, many, other issues," Sanders said.
"Presumably you go down on the floor because you believe in something," he added, though he argued that the method Paul used to raise his questions and his timing weren't "particularly constructive."
"It has come to my attention that you have now asked an additional question: 'Does the President have the authority to use a weaponized drone to kill an American not engaged in combat on American soil?'" Carney read. "The answer to that question is no."
Paul embraced the response, calling it a "victory."
"Hooray!" he told Fox News' Megyn Kelly after she read him Holder's letter for the first time on air. "For 13 hours yesterday, we asked him that question. So there is a result and a victory. Under duress, and under public humiliation, the White House will respond and do the right thing."
Sen. Claire McCaskill (D-Mo.) said she's been satisfied with the administration's response thus far, though she added that oversight of the drone program remains important.
She justified the lack of Democrats present on the floor by saying that many of them "weren't in the building," and that almost all of them were taken aback by Paul's use of the talking filibuster.
"We all were shocked Republicans were doing a real filibuster instead of a procedural filibuster that has been their standard operating procedure for the last two or three years," she said.
Some Democrats argued that the concerns over transparency extend beyond drones.
"I think there's a host of issues here, not just simply issues related to drones but related to overall powers to spy on Americans and to take action without any sort of check," said Sen. Jeff Merkley (D-Ore.).
"I think broadly I share the concerns of the amount of secrecy [and] I share the concerns about secret law with the FISA court making interpretations of common law language that we don't know what it means," he added.
Merkley, a leading advocate of filibuster reform who has championed the use of the talking filibuster, told HuffPost he didn't join the effort because he believes the president should be granted an up-or-down vote on cabinet nominees.
"I'm not supporting blocking the opportunity for that," he said. "But certainly the arguments that Rand Paul was making last night are legitimate ones and important ones to raise ... I salute his filibuster last night."
"Everyone's got a lot of priorities and people are busy," said Sen. Bob Casey (D-Pa.) "But it's an important debate. I think as we begin ... developing kind of a legal architecture around a set of difficult issues, it's going to be important that we all engage, but right now we need to get a CIA director in place."
Wyden, the lone joiner, said that he could only speak for himself when asked why more Democrats didn't join. "I thought it was an opportunity to demonstrate that on some of these key issues with respect to balance between liberty and security, there are progressives and conservatives that can find some common ground," he told reporters.
"I think you're going to start seeing the emergence of what I sometimes call around here a checks-and-balances caucus, and there'll be a lot of Democrats in it," Wyden added.
Before You Go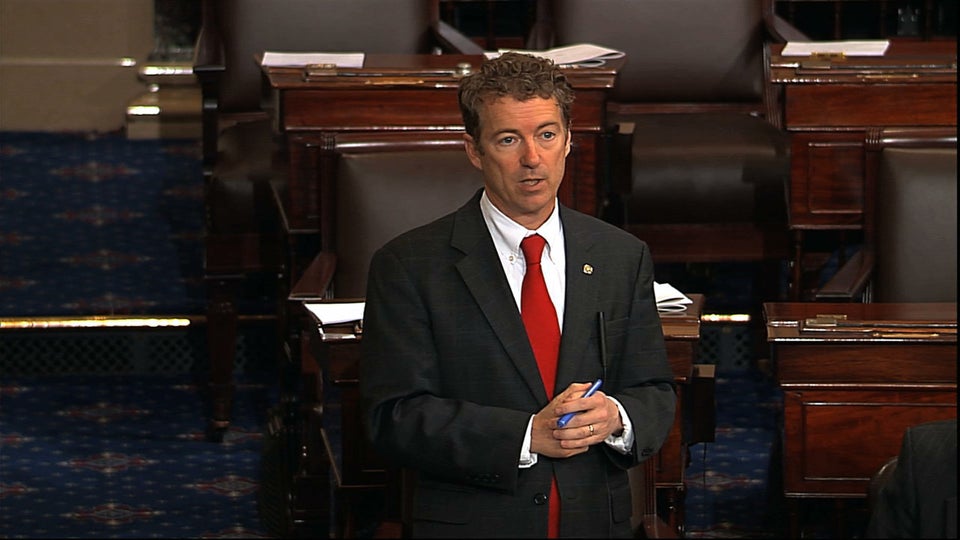 Rand Paul's Epic Filibuster
Popular in the Community