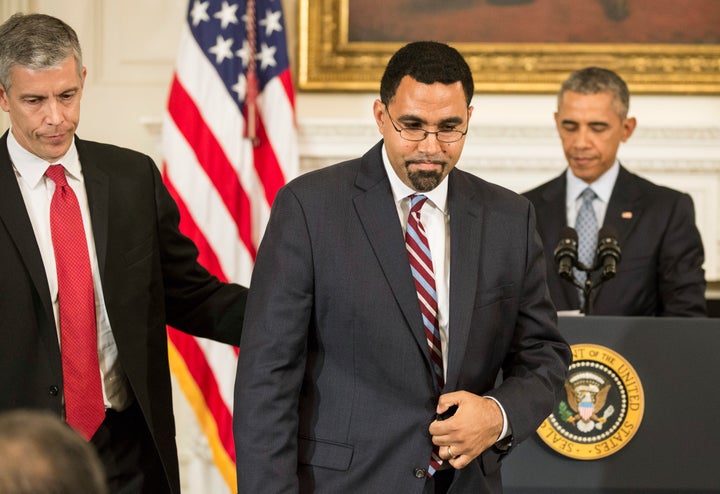 A new federal lawsuit filed by a student punished for sexual assault by Colorado State University-Pueblo is taking on a target much more prominent than the school: The Department of Education.
The complaint filed Tuesday by Grant Neal, represented by Andrew T. Miltenberg, names CSU Pueblo and several officials as defendants, as well as the Education Department, Secretary John B. King, Jr., and Assistant Secretary Catherine Lhamon.
CSU Pueblo is accused of not conducting a fair investigation into a sexual misconduct claim against Neal, which resulted in his suspension in December. Neal claims he received an inadequate hearing at which he wasn't able to defend himself fully. Neal was kicked off the football team during this process.
The Education Department is accused of having violated the Administrative Procedure Act when its Office for Civil Rights released its 2011 Dear Colleague letter.
That Dear Colleague letter was a "call to action," highlighting what schools are obligated to do under the gender equity law Title IX in response to reports of sexual assault and harassment, including provisions about how investigations should be conducted.
The APA requires agencies to provide public notice and then allow stakeholders to comment before issuing "substantive" new rules, such as in the form of a Dear Colleague letter. The APA bypasses this comment period if a letter like this is providing information about how a federal agency interprets existing laws or the agency's practice: The Education Department has said in the past that its 2011 Dear Colleague letter falls under these parameters.
The lawsuit, however, contends that this Dear Colleague letter included "new substantive rules and creates binding obligations," but was issued without going through a required regulatory procedure.
In those suits, Miltenberg has become known for representing men accused of sexual assault in civil suits.
The suit that Miltenburg is fighting on Neal's behalf beats the Foundation for Individual Rights in Education to the punch. Earlier this month, FIRE, a civil liberties nonprofit, offered to sue the Obama administration on similar grounds, on behalf of a student or college willing to work with the group.
Neal was accused of sexual misconduct by a third party who'd learned of his relationship with an athletic trainer, named Jane Doe in the suit. Doe and Neal engaged in a consensual relationship, the suit says. The suit said that another athletic employee saw a hickey on Doe, and that employee "presumed" it was a result of non-consensual sexual contact, and then filed a report of sexual assault with the director of athletic training. University officials launched an investigation even though Doe told them that she hadn't been raped, according to the suit. Doe maintained from the beginning that all of their sexual activity was consensual, according to the complaint, but an investigation ensued anyway.
CSU Pueblo determined that Neal was guilty of sexual misconduct and suspended him for as long as Doe remained a student. The lawsuit says the university was biased against him because he is a male athlete.
"As a result of the Obama Adminstration's directive, CSU Pueblo has violated my client's due process rights and engaged in gender discrimination in his wrongful suspension," Miltenberg said in a statement. "There's a mountain of evidence to prove my client's relationship with the alleged victim was entirely consensual — including statements from the alleged victim herself. Yet, CSU Pueblo disregarded this information and relied upon a third party, hearsay, account in handing down a life-altering suspension to my client, an exceptional student and athlete with a bright future in medicine."
Both CSU Pueblo and the Education Department said they do not comment on pending litigation.
The lawsuit argues that the policies the Education Department advised schools to adopt in their 2011 guidance put students accused of sexual assault at a disadvantage. For example, the suit complains that the "preponderance of evidence" standard of proof threshold that is used by schools to determine if a student is guilty of sexual misconduct is too low, because it only requires a 51 percent certainty -- which is the standard used in civil court cases -- unlike "beyond a reasonable doubt," which is used in criminal cases and requires virtually 99 percent certainty.
Brett Sokolow, head of the Association of Title IX Administrators, told The Huffington Post he does not believe that OCR's 2011 guidance on Title IX needed to be subjected to the public comment stage and negotiated rule-making process under the APA, "because sub-regulatory guidance is inherent in OCR's authority to administer the equity mandates of the Title IX regulations, which were appropriately authorized under the APA."
In February, Lhamon, who is in charge of the Office for Civil Rights, told one Republican senator in a letter that a notice and comment period was not necessary because the 2011 Dear Colleague letter did not carry the force of law, as the Supreme Court affirmed in a case last year.
Popular in the Community