Proud mama doesn't even begin to describe Femi Opesanmi's mom Toyin.
On Saturday, Opesanmi, a captain in the U.S. military, returned home to Baltimore, Maryland after spending a year abroad in the Middle East.
His mom Toyin's stunned reaction to the surprise homecoming is so filled with love and joy, it's no wonder it's currently going viral on Facebook.
"Today is the best day of my life thus far," Femi's younger brother Akin said in the caption of the video. "Got to surprise momma bear and this is how it went..."
After walking through the door, Femi greets his mother with a "dobale," which is a traditional Yoruba gesture of respect for your elders in Nigeria.
Then, Femi gets the biggest hug from his mom Toyin Opesanmi.
"Thank you, Lord, thank you, Lord," Toyin says repeatedly as everyone in the house, including Femi's cousins, jump up and down with excitement.
"I'm definitely in the right house!" Femi jokes as he embraces his mom.
In an interview with HuffPost, proud brother Akin said that he and his mom have prayed for Femi's safe return every single day he was overseas.
"Getting him home safe and sound was really emotional for my mom, that's why she kept praising God and thanking him for bringing my brother home safely," he said. "My mom's a physician in Baltimore City and she goes out of her way to talk about her son the soldier and how proud she is to her patients."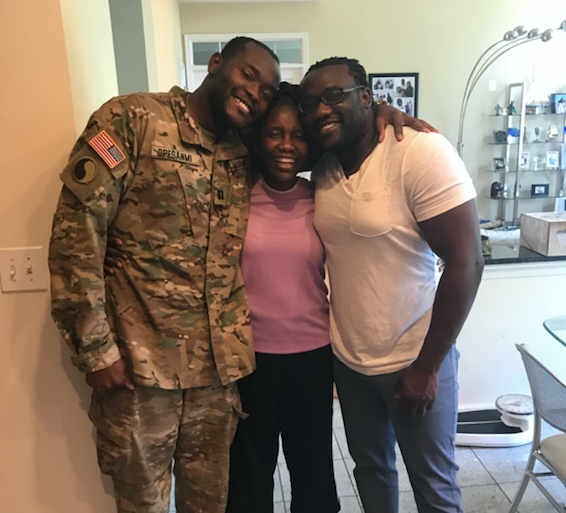 To get everyone in the same room for the surprise, Akin asked his mom to prepare some traditional Nigerian food because he "wanted a home cooked meal to take back to [his] apartment."
That delicious detail was key.
"My brother hadn't had Nigerian food in a year and that was one of his most pressing requests," Akin told us.
While Akin went to pick up his big brother at the airport, their mom cooked away. Akin came back and told everyone he wanted to eat together before heading out for the day.
"While they were talking about something I stepped away and was texting my brother to come to the door," Akin said.
Then, he pressed play and let the magic happen.
"My reunion with Femi at the airport was pretty emotional but my mother's reaction was exuberant," he said. "I was really excited because I knew how happy my mom would be. She really was."