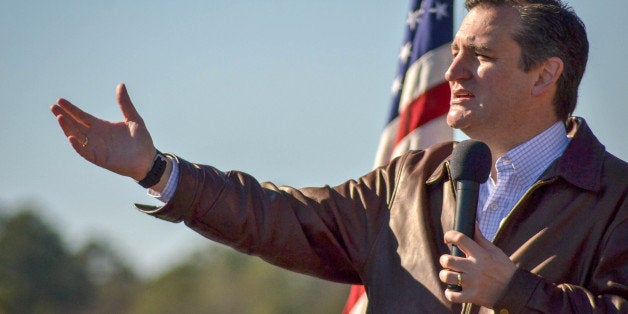 I grew up thinking that I couldn't become president of the United States because I was born in France. This seemed unjust as my overseas birth was due to my father serving as a U.S. Army officer, and both of my parents were native-born Americans, but still, given what seemed to be the prevailing perspective during my youth, I figured there wasn't much that could be done about it.
It wasn't until John McCain ran for president that I had serious reason to think otherwise. McCain's situation was much like my own since he was born in the Panama Canal Zone to a Naval officer and his Oklahoma-born wife -- and on a U.S. military base to boot. As such, it was widely agreed that he was a "natural born citizen" as specified by Section 1 of Article Two of the Constitution that spells out eligibility requirements for serving as president. Of course, there was discussion about Mitt Romney and Barack Obama as well, but both had been born in the United States to at least one American parent.
So maybe I could have run for president if I wanted. Who knew? The matter of "natural born citizen" had been settled. And then came Ted Cruz.
Chatter first began about his citizenship a couple of years ago when he released his birth certificate to the Dallas Morning News. The paper then queried him about whether he might be a dual national since his birth in Calgary, Alberta to an American mother meant that he was likely both a Canadian and American citizen.
Cruz expressed surprise. His response at the time was, "Because I was a U.S. citizen at birth, because I left Calgary when I was 4 and have lived my entire life since then in the U.S., and because I have never taken affirmative steps to claim Canadian citizenship, I assumed that was the end of the matter." But he then took the necessary steps to renounce his Canadian citizenship and officially ceased to be a Canadian citizen on May 14, 2014.
As someone with a similar dual national situation, this struck me as curious. By virtue of my birth to American parents in France, I became a citizen of -- and have birth certificates from -- both countries. And I have always been hyper-aware of this even though in my case, it was addressed by my parents who had me naturalized into exclusively American citizenship at the age of three -- an event I only "remember" through my parents' recollection, a photo, and my resulting certificate of naturalization (and yes, for those following closely, this makes me both a "natural born" and naturalized citizen, a combination many don't realize is possible). How could a foreign-born attorney whose parents, and father in particular, had such an unconventional residential history never have contemplated this, especially given his presidential aspirations? But the story quickly faded, as did my interest.
Fast forward 18 months and fellow presidential candidate Donald Trump re-triggered the debate by openly questioning Cruz's eligibility. I didn't want to be a political rubbernecker, but the "natural born citizen" aspect is personal to me, so I decided to take another look.
To begin with, there's that unusual Cuba-U.S.-Canada-U.S. migration of Ted Cruz's father, Rafael Bienvenido Cruz. Born in Matanzas, Cuba, Cruz came to the U.S. in 1957 on a student visa and studied mathematics at the University of Texas. In 1959, he wed Julia Garza in a marriage that would produce two daughters before the couple divorced several years later.
In a 2013 NPR interview, Cruz said that once his student visa expired, he was granted political asylum in the U.S. and obtained a green card. Sometime around the end of his first marriage, he moved from Texas to New Orleans where he was living as of July 1967 as seen in his Selective Service System registration card below.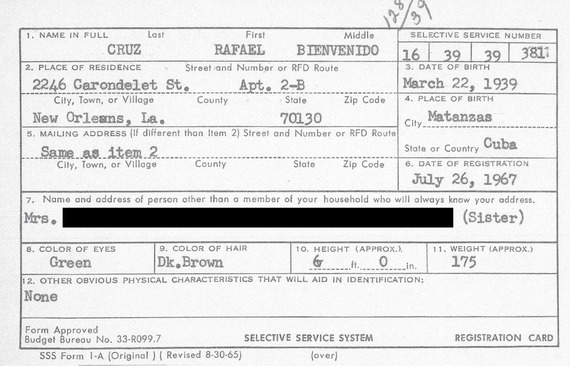 According to that same NPR interview, he then married his second wife (Eleanor Darragh, who had a previous marriage to a man named Alan Wilson), and moved to Canada to work in the oil industry. Their son, Rafael Edward "Ted" Cruz was born there on December 22, 1970.
Rafael Cruz is quoted as saying, "I worked in Canada for eight years. And while I was in Canada, I became a Canadian citizen." Since multiple sources state that he moved to Texas in 1975, this would suggest that his time in Canada stretched from roughly 1967 to 1975, and this 1974 Calgary voters list offers at least some substantiation.
The senior Cruz further asserted that he renounced his Canadian citizenship when he finally became a U.S. citizen in 2005. Asked why he had taken so long -- almost half a century since he had left Cuba and three decades since his return from Canada -- he replied, "I don't know. I guess laziness, or -- I don't know."
All of this is interesting, but Ted Cruz's Cuban/then-Canadian/then-American father may well be irrelevant when it comes to his citizenship status. After all, even if born out of the country, you only need one American parent to become an American citizen, so his Delaware-born mother, Eleanor, ticks off this requirement.
But immigration law is confusing and constantly evolving, and in Ted Cruz's case, there's both American and Canadian law to consider. And that's where the voters list above raises a question. Was his mother American, Canadian, or both?
I don't pretend to be a legal expert, but as far as some Googling permits me to understand (and granted, that's only so far with ample room for correction), it appears that Cruz's parents had to have at least begun the Canadian citizenship process to be on this 1974 list. His father has stated that he became Canadian and since this register is from the last year before the family departed for Texas, he must have been a citizen by then. His mother is also listed, so had she also become Canadian?
Even with this question raised, my take is that Ted Cruz probably is a "natural born citizen." The only exception I see would be if his mother had 1) become a Canadian citizen, 2) done so before his birth, and 3) renounced her American citizenship, as opposed to becoming a dual national. And I assume that this narrow set of criteria does not apply since the Cruz family was able to move back to America and Ted Cruz was later permitted to renounce his Canadian citizenship. That he was able to do so indicates that he was indeed a dual national. Otherwise, dropping his Canadian citizenship would have effectively rendered him stateless.
Still, given the ever-increasing mobility and interaction of people of all nationalities, the odds of even more perplexing scenarios will only multiply in the future, so wouldn't it be a good idea to clarify once and for all the meaning of "natural born citizen"?
Popular in the Community