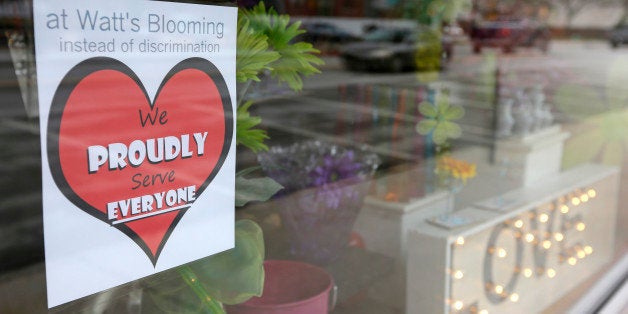 The powerful grassroots backlash against Indiana's anti-gay "religious freedom" law is yielding results and inspiring hope. Right-wing supporters of the law were seemingly caught unawares by a grassroots response that's put them on the defensive.
Perhaps the backlash against Indiana's law gave Georgia Republicans second thoughts.
● A social media campaign against the state launched under the hashtag #boycottindiana.
● At the urging of the grassroots organization Freedom Indiana, the National College Athletics Association (NCAA) condemned the so-called "religious freedom" law, in a statement saying the law creates "concern" for future events in Indiana.
● The Republican CEO of Angie's List canceled plans to build the company's headquarters in Indiana -- plans that would have generated about $40 million in economic activity.
● In a letter to Indiana's Republican governor Mike Pence, the CEOs of nine different companies headquartered in Indiana expressed concern that the law would lead to discrimination against their employees.
● Other major companies have condemned Indiana's law, and similar laws in other states, including Walmart, Yelp, Salesforce, Eli Lily, The Gap, Levi Strauss, Twitter, and Anthem.
● In a Washington Post op-ed, Apple CEO Tim Cook opposed the legislation on behalf of Apple.
● The Democratic governors of Connecticut and Washington state announced bans on state-funded travel to Indiana. The mayors of Seattle, San Francisco and Washington, D.C. announced similar bans.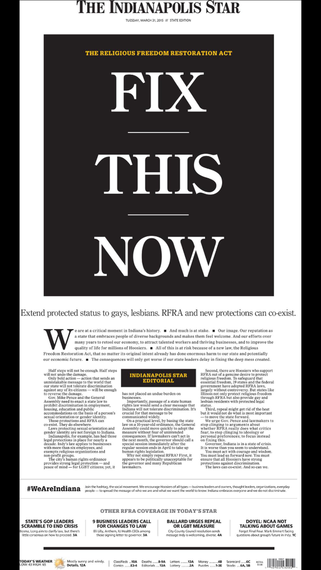 [fve]https://youtu.be/LVMEkvin4lg[/fve]
The GOP's "Indiana Problem"
That's probably because, though he claimed the law was not about anti-LGBT discrimination, Pence was flanked by some of Indiana's most prominent anti-gay activists when he signed it.
Ballard has a point. A 2014 Pew Research survey shows that Americans are almost evenly split on whether businesses should be able to deny service to LGBT people on the basis of "religious freedom," with 47 percent saying businesses should be allowed to refuse services, and 49 percent saying businesses should be required to provide services.
However, a closer look reveals the "bigger trend." Among Americans ages 30 to 49, 50 percent believe that "religious freedom" shouldn't be a license to discriminate, compared to 46 percent who believe otherwise. Among Americans ages 13 to 29, 62 percent oppose such discrimination. A recent poll by the Public Religion Research Institute shows that 80 percent of millennials believe that LGBT Americans deserve to have laws protecting them against discrimination.
It wasn't always like this. Of all the old "culture war" battles, LGBT equality is the one where progressive activists have "flipped the script." Opposition to equality is the new "third rail," and politicians who touch it are in for a shock. That happened, in large part, because LGBT activists and allies organized against such laws, and humanized the issue so that people increasingly see these laws as a direct attack on their family, friends, neighbors and co-workers.
There are other issues -- among them immigration, Social Security, unemployment, workers' rights -- on which politicians feel they can act against human decency and fairness without consequence, and conservatives work hard to dehumanize the poor and vulnerable. The lesson here for Democrats is to humanize these issues, and wear down conservative efforts to turn such people as low-income Americans, public workers and undocumented residents into "those people," until a majority of Americans see "those people" as their family, friends and neighbors -- and reject conservative policies that harm them.
In 2016 and beyond, Republicans will find it hard to strike a balance between "religious freedom" and discrimination. They will find it even harder to choose between either "caving" and alienating their base, or alienating the growing majority of voters and facing a grassroots onslaught.
Popular in the Community