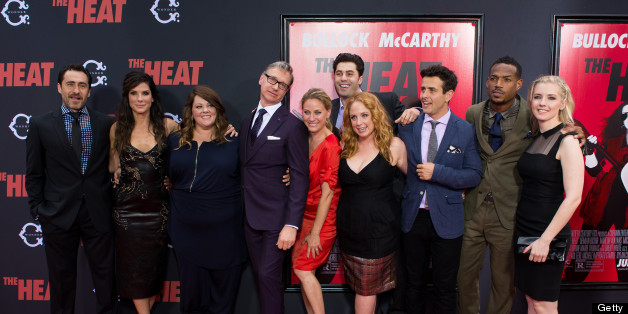 The $40 million earned by "The Heat" during its opening weekend wasn't just a victory for funny women -- the financial windfall also represented a win for Boston. Only last summer's "Ted" had a bigger debut among movies set in the Massachusetts state capital.
To think it almost didn't happen. Written by Katie Dippold, "The Heat" was originally set in New York, but the production moved to Massachusetts for tax reasons.
"I was like, 'Let's set it in Boston and have fun with that,'" director Paul Feig told HuffPost Entertainment. For Feig, that meant putting a specific focus on the family of Boston cop Shannon Mullins (played by Melissa McCarthy).
"That was one of the funniest elements of Katie's script," Feig said. "When I was reading it, I felt all I could do was fuck it up by not casting it right. I was really kind of tense about how to do it."
Feig's tension lessened when Massachusetts native Bill Burr was brought in to play one of McCarthy's onscreen brothers. "He's a Boston guy and he's so hilarious," Feig said. "It was like, 'OK, he's great.'"
After that, the director then turned to his frequent collaborators Jessica Chaffin and Jamie Denbo, best known for the comedy show "Ronna and Beverly," to play the girlfriends of two of the Mulllins brothers. ("They're two of the funniest women on the planet," Feig noted.) From there, the casting got a bit easier -- and a bit more unexpected.
"Jessica and Jamie did these things for Funny or Die called 'Ma Men' -- like 'Massachusetts Men,' which was a take-off on 'Mad Men.' It was them, Nate Corddry and this other guy." That other guy was New Kids on the Block member Joey McIntyre. "Hilarious," Feig recalled of McIntyre's "Ma Men" performance.
With Corddry and McIntyre cast alongside Burr, Chaffin and Denbo, Feig shifted to finding the parents. For Mr. Mullins, the director chose an old friend: Michael Tucci, of "Grease" fame. "We used to be actors together on 'It's Garry Shandling's Show,'" Feig said. "He teaches theater at a high school in California. I was like, 'Michael, you have to be in this movie.'" Tucci is in this movie.
As for the mother, Feig wasn't sure who to cast. On a lark, Cambridge, Mass. native Jane Curtin was suggested because of her Boston roots, and to Feig's surprise, the former "Saturday Night Live" cast member agreed to co-star.
"I'm so happy with the casting, because it really upheld what Katie had created for that family," Feig said.
If the loud and obnoxious Mullins family reminds audiences of the loud and obnoxious sisters from David O. Russell's "The Fighter" (which was set in Lowell, Mass.), it may not be a total coincidence.
"I look at 'The Fighter' like it's one of the greatest comedies of all time. Not in a mean way," Feig said when asked about Russell's 2010 Best Picture nominee. "That and 'The Departed.' These are hilarious movies. They're operatic in their heightened emotion."
Kind of like Boston.
PHOTO GALLERY
'The Heat' With Sandra Bullock & Melissa McCarthy
REAL LIFE. REAL NEWS. REAL VOICES.
Help us tell more of the stories that matter from voices that too often remain unheard.