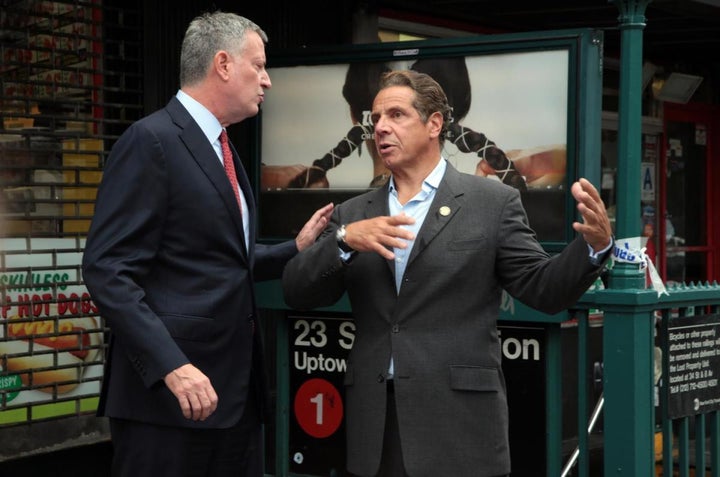 Yiddish, the German dialect spoke by Eastern European or Ashkenazi Jews, is known for its colorful phrases and onomatopoeic insults, the sound of the word helps to convey the meaning, especially of a put-down. Wikipedia's list of Yiddish words that have become part of the English lexicon largely because of Jewish New Yorkers, but especially because of Jewish comedians, include bupkis (worthless), dreck (garbage), gonif (thief), kvetch (complain), meshuga (crazy), and nosh (snack). Some more Yiddish words that have crept into English are at the end of this post.
In New York we have two feuding politicians, neither of who are Jews, but who can both best be described in Yiddish. I am taking about the battle between the Nebbish and the Paskudnyak, Mayor Bill de Blasio (the "Nebbish") and Governor Andrew Cuomo (the "Paskudnyak"). Nebbish is the Yiddish word for a person who is pitifully ineffectual. Paskudnyak describes a disgusting individual.
De Blasio and Cuomo are both Democrats, they both represent New York, so it is not always clear why they are always fighting. Maybe the hyper-competitive and sharp dressing Cuomo simply doesn't appreciate the 6'5" de Blasio's hulking, frequently disheveled style. They might just hate each other. Unfortunately, the needs of New York are sacrificed as they battle.
Recent fights have been over whether the state or the city is responsible to maintain the city's crumbling subway system; increasing taxes on wealthy New Yorkers; the minimum wage; who gets credit for expanded pre-kindergarten programs; how many charter schools there should be in the city; and over whether the mayor can be trusted to be in charge of the city's public school system. Some of their conflicts have simply been ridiculous, like when they called competing press conferences in efforts to undermine each other or when de Blasio accused the governor of insincerity and vindictiveness during a televised interview. Meanwhile Cuomo loyalists call de Blasio an incompetent and inept manager, the accidental Mayor. To them he is an ideologue that hogs the spotlight, a spotlight that rightfully belongs to Cuomo. Cuomo and de Blasio even fight over baseball loyalties. Cuomo, who grew up in Queens, is a big Mets fan, although he also loves the Yankees. De Blasio, who grew up in the Boston area, still roots for the enemy Red Sox.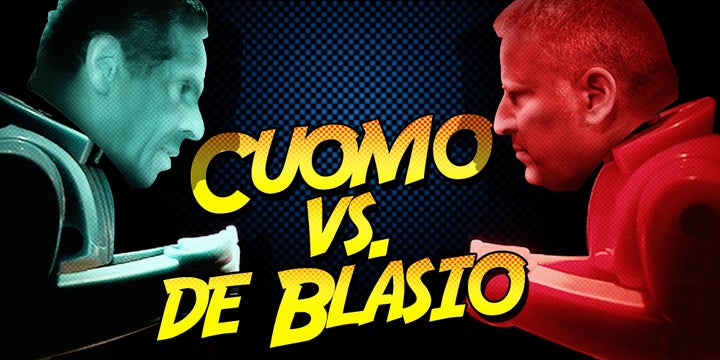 An October 2016 article in the New York Daily News traces the origin of their conflict back to the 1990s when Cuomo was Secretary of Housing and Urban Development (HUD) in the Clinton administration and de Blasio was director of HUD's New York-New Jersey region. They seemed to be buddies at the time, "paisans," but because of their competing political ambitions, they really weren't. The first sign of the impending split between the two was in 2005, when Cuomo would not endorse City Councilor de Blasio for Counsel speaker. Then in 2013, now Governor, Cuomo remained neutral during the Democratic Party mayoral primary ultimately won by de Blasio.
Right now New Yorkers are virtually trapped underground as the subway system gets worse and worse. Its signal system is 100 years old, before computers, even before transistors. Meanwhile, Cuomo and de Blasio accuse each other of avoiding responsibility. Cuomo and Joe Lhota, his handpicked head of the Metropolitan Transportation Authority (MTA), the state agency that runs the subways, claim that a 1953 lease agreement and a 1981 state law make New York City the owner of the mass-transit system and responsible for its capital improvements. But that lease limited the city's obligation to finance the subways to $5 million a year, it now pays over $500 million, and the 1981 law specifically defined capital spending as a "state concern." Incidentally, Cuomo's friend Lhota was the Republican Party candidate who ran against de Blasio for mayor in 2013.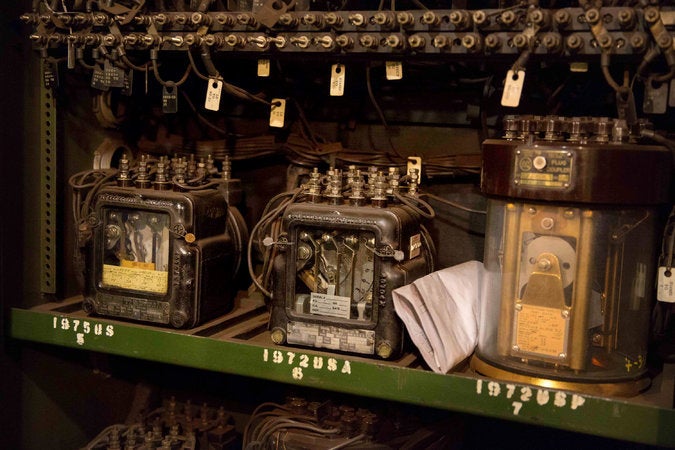 I am not a fan of either Bill "Nebbish" de Blasio or Andrew "Paskudnyak" Cuomo. This is the time to preserve vital infrastructure that is the spine of the city, that millions of people depend on to get to work or school each day, to theaters, beaches, parks, and museums, and for shopping and connecting with family. They need to cut it out! As Donald Trump, who must be laughing at Democratic Party infighting, would say: "What a Covfefe!"
More Yiddish words that enrich New York English: hock (nag), kibitz or schmooze (chat, gossip), klutz or schlemiel (clumsy), maven (expert), noodge (pest), nudnik (idiot), pisher (young and inexperienced), putz or schmuck (brains like a penis), schlep (carry), schmatta (rag), schlock (cheap), schlub or schmo (stupid person), shamus (detective), schmendrik or yutz (fool), shtick (your "thing"), spiel (sales pitch), spritz (sprinkle), tsuris (troubles), tukhus or tush (butt), yenta (female gossip), and zaftig (plump).
Calling all HuffPost superfans!
Sign up for membership to become a founding member and help shape HuffPost's next chapter