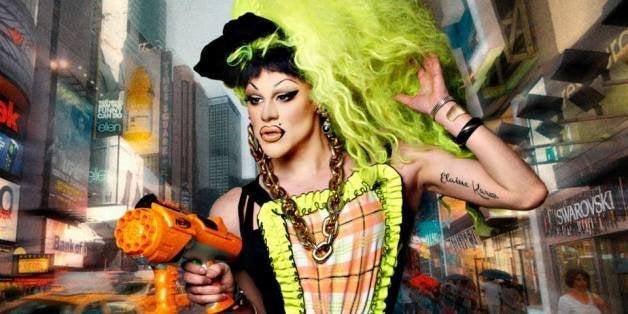 This is the twenty-fourth installment in an ongoing series that explores drag culture and the nightlife scene in Brooklyn, N.Y. Over the past several years, following the large-scale exodus of artists across the East River and into northern Brooklyn, those engaged in drag culture in this outer borough have created a new, queer world entirely their own. Accompanied by a larger movement to understand drag culture outside of the pageant circuit, many individuals engaged in the drag community in this borough approach drag culture through a nontraditional lens of "alternative" drag or performance art, enabled largely by the malleable and queer nature of this part of New York. Visit HuffPost Gay Voices regularly to learn not only about the individuals involved in Brooklyn's drag community, but more about the culture of the community itself.
The Huffington Post: How did you get your start in the drag world?
Well, like most adventurous crazy costume kids, I've been dressing up since I was little but my first performance-based outing was "Rocky Horror" as Frank N. Furter. Then I entered a drag competition in upstate New York and won doing Big Mama Thorton's "Aint Nothing But A Hound Dog." I was welcomed to the stage for Psycho Beach party as Marvel Ann and did a few other theater shows as drag characters. When I moved to New York I started at Sugarland Nightclub (may she rest in peace) performing every Wednesday night with my Brooklyn sisters. From there I worked the door at "FWORD," which was voted the best NYC nightlife event for a few years. I won some Glammy awards for the next few years hosting at "FWORD," and of course for "SALIVA Tuesdays" at The Ritz, which is now called "YOU'RE WELCOME."
I was always self-built. Never had a drag mom to teach me, so everything I do is self-taught. But I think it's important to pay attention to artists around you, ask questions and never be afraid to ask for help in areas that you do not excel at. I'm still learning every day.
You've been doing drag for 11 years -- how would you characterize the development of your craft and the evolution of Thorgy Thor?
Well, Facebook allows us to see old photos of sad Thorgy, so just click through my photos to see the evolution! [Laughs] I've gone through a bunch of stages and changes over the years. I can see photos where I didn't wear eyebrows for four months, then all I wore were hats, then pictures where I was ALWAYS a straight-up clown for a year. But I've always considered myself a drag artist and stage-performer first and foremost. My numbers are what define me. It's funny, I STILL do numbers that I put together 10 years ago... for real. Of course, I've learned new tricks along the way, but I've really always had a clear vision as to what I want Thorgy to look like as a performer and I've stayed true to that -- always -- while growing and changing at the same time.
How have you seen drag and nightlife culture in Brooklyn develop and change over the years?
I get asked that question literally all of the time -- mostly by queens and folks in Manhattan, honestly. I performed in Brooklyn for years before splitting my time between Brooklyn and Manhattan to work. I know Mocha Lite and myself have had conversations about being "pre-race queens," meaning pre-"RuPaul's Drag Race." I love that show. However, it's tough for every single queen who is not on the show because every single day there is a new drag queen who shows up in Brooklyn called "poopy diapers" who wants to work. I welcome each and every artist and kid who wants to put on a fancy sack and strut around. Hell, that's how I got started! There is room for everyone, but Brooklyn has really harvested and featured a lot of BRAND NEW talent over the last year alone. When I first got started, you could count the queens on one hand that had jobs in Brooklyn. Now you need a rolodex. If you can sit through the 100 performers during a show to find a performer that you live for, it's worth it. One thing is for sure, there is never a dull night in Brooklyn -- you can ALWAYS find a party to go to and a flock of freaks to stare at.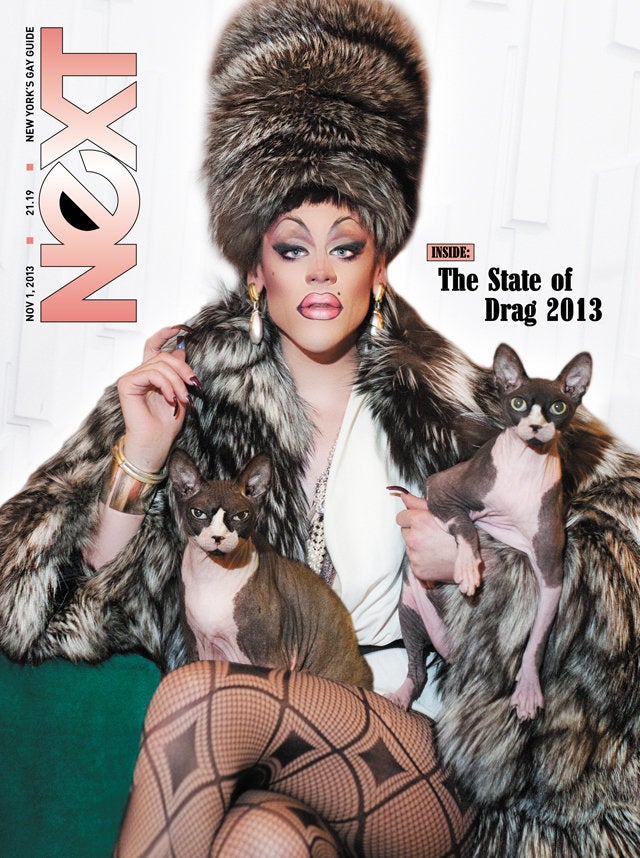 Thorgy Thor
How would you say the Queer New World of northern Brooklyn builds on a rich and important legacy of queer performers, artists, genderfuckers, nightlife personas, etc?
After we bowed out of our Wednesday night show at Sugarland a few years ago, it was given to a fresh set of queens -- I still made sure to show up and support each and every party in Brooklyn as much as I could. In nightlife, if folks do not show up and support in person, the party dies. I try to go out as much as I can, regardless of if I am working in Manhattan or Brooklyn. It's important to support the artists around you and venues that host our talents and energy. That's a legacy I'd like people to follow.
You won the LEGEND award at the 2014 Brooklyn Nightlife Awards -- what do you feel like this represents for yourself as an artist and your experiences that have brought you to this juncture?
It was quite an honor to receive that award, especially up against the other artists in that category who I admire so much. Merrie Cherry asked me to perform on cello as a closing number, so I was excited about that. I only decided to dedicate my performance to Philip Seymour Hoffman that same week -- and completely redid my whole performance. I thought it was cheeky and went over well. Being a LEGEND in my mind suggests you are old and done. [Laughs] But I have only just begun with my ideas! It put a big smile on my face to win the first ever LEGEND award in Brooklyn, and made all of my years of performing come together in the form of a giant brick with my name on it.
How have the events you've been involved with over the years developed and changed? What is unique and important about the regular events you're a part of now?
Well, I do a variety of different events. Some I put together all on my own and some I collaborate with others to create. Let me talk about two events which show a stark difference. "Alotta Stuff" is the first ever LIVE auction nightlife event, hosted by myself and Alotta McGriddles. We've been doing it for a little over a year and a half. The event is once a month and features about 50 hand-picked ridiculous vintage unisex items on three models throughout the evening. The audience can bid on each item and take it home that night. Folks of all sexes, ages and financial brackets come out to bid and celebrate this event each month. It is ridiculous fun! Across the pond in Manhattan I am one of the cast members of "QUEEN" at Industry Bar, which is a non-stop production show -- kind of off-off-off-off Broadway style drag show. Each week is a different theme and the show is fast paced and non-stop. The queens are gorgeous and the talent is undeniable. It's a pleasure to be a part of such different events in either borough -- it keeps my mind active!
Where do you ultimately hope drag takes you?
Carnegie Hall. And a touring cabaret-style show. I will conduct a full orchestra. Out of nightclubs, into theater.
Where can you be found throughout the week?
Every Single Tuesday for over three years you can catch me at The Ritz on 46th in Manhattan. Now called "YOU'RE WELCOME," it's a variety show suitable for every individual who walks the globe. The second and fourth Thursday of every month you can see me performing in "QUEEN" at Industry Bar in Manhattan, which features some great talent in a non-stop production show at midnight. The third Thursday of every month, please come celebrate the art of the auction while I co-host "Alotta Stuff Live Auction" at Metropolitan Bar in Brooklyn with an 8:30 p.m. start time. Every Saturday and Sunday you can see me having a blast running around Lucky Chengs in Times Square -- NYC's longest-running Drag Cabaret Dinner Theater, going strong for 20 years. Every Saturday night I host a late night party with Dougie Meyer Called "Electro POP" at BPM, formerly known as XL, in Manhattan. Every Sunday I am excited to host a brand-new party with Frankie Sharp and Sloan Morgan at Maison O. Last but not least, I am the permanent judge for Brooklyn's Mr(s) Williamsburg Competition, with the semi-finals coming up on Friday, April 25.
Any parting words?
Lately I've been stuck on this idea, so I'll end with this: As an artist, I think it's important to understand that good work comes in waves. Every time you are on top of the world, know that the wave will subside, then come back again. Keep going. Keep creating. And be ready for that wave. Don't lose yourself during a low tide, but rather throw your energy into preparing for the opportunity around the corner. Treat everyone you meet with respect on your way to the top, because you may need their help on the way down... and please wear deodorant and have good breath while working in nightlife.
Next week will be the final installment in "Queer New World" and revisit each artist and performer involved in this series. Missed the previously featured drag performers and installments? Check out the slideshow below.
Before You Go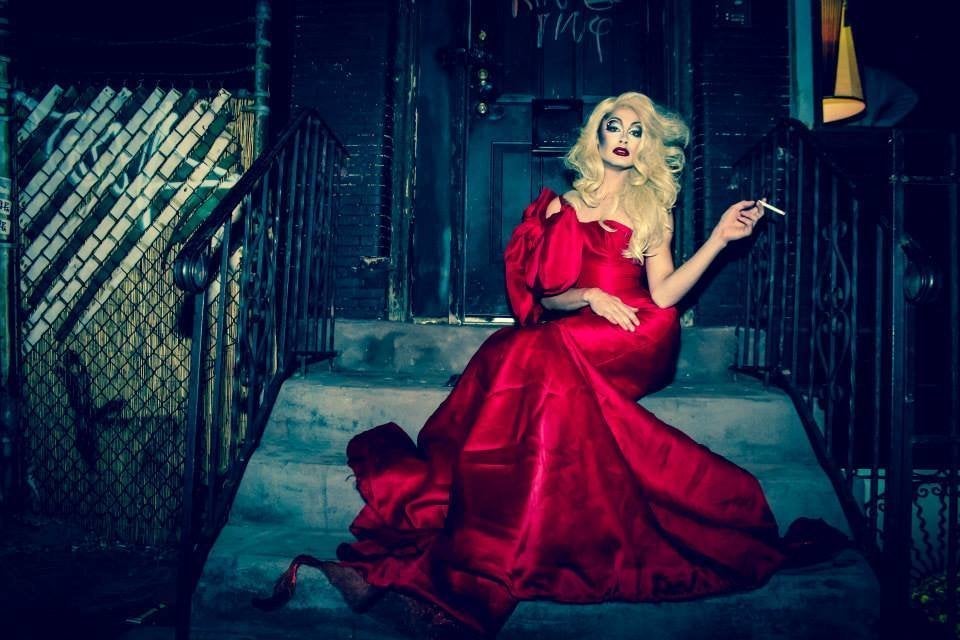 Queer New World: Brooklyn Drag Culture
Popular in the Community