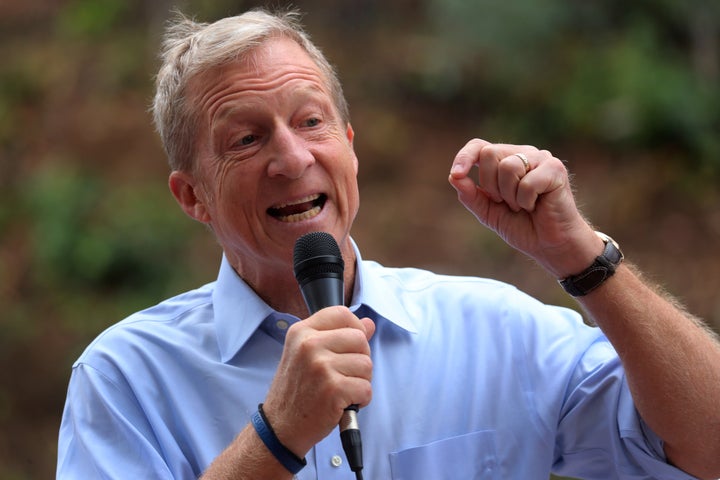 Tom Steyer, a potential 2020 presidential candidate and one of the Democratic Party's biggest donors this cycle, is preparing to spend more than $4 million on digital ads targeting more than 4 million young voters in the final weeks before the midterm elections.
The massive digital ad buy through the Steyer-backed group NextGen America will target voters ages 18 to 35 in 11 states: California, Nevada, Arizona, Iowa, Wisconsin, Michigan, New Hampshire, Pennsylvania, Virginia, North Carolina and Florida.
"This is our closing statement," said Ben Wessel, the director of the youth vote program at NextGen. "It's that last kick in the ass of motivation to get people over whatever hurdles there are between them and voting."
Youth turnout typically plummets during midterm election years ― fewer than one-fifth of registered voters between ages 18 and 35 voted in 2014 ― and NextGen has spent heavily to turn them out. Some early polling has suggested that young voters are more enthusiastic in 2018 than in a typical midterm year.
The ads will run on most digital platforms, including Facebook, Snapchat, Hulu and Spotify. But this buy will also include the first-ever political ads on Twitch, a video game streaming platform.
"There are a lot of eyeballs there that are only there," Wessel said of the Twitch buy. "The people who are on Twitch are not watching MSNBC. The folks who are there are only there."
The buy is focused on two ads: The first, "Last Chance," features a young woman talking about the need to prevent Republicans from repealing Obamacare.
"There are now enough young voters to protect health care, but only if we show up," the woman says in the 30-second ad.
The second ad, the minute-long "Show up," features audio of former President Barack Obama discussing how young voters failed to show up at the polls in 2014, while a young man performs an interpretive dance.
"Is it any wonder this Congress doesn't reflect your values and your priorities?" Obama can be heard asking.
Steyer, a billionaire hedge fund manager, has spent tens of millions of dollars boosting Democrats in the past several election cycles. His push to gather support for impeaching President Donald Trump has rankled Democratic leadership.
Popular in the Community