President Donald Trump said on Sunday he intends to direct the Department of Justice to investigate whether his 2016 presidential campaign was "infiltrated" or surveilled" by the government under the orders of officials in the administration of his predecessor, Barack Obama.
"If anyone did infiltrate or surveil participants in a presidential campaign for inappropriate purposes, we need to know about it and take appropriate action," Rosenstein said in a statement.
Trump's demand potentially sets up a high-stakes showdown with Attorney General Jeff Sessions and FBI Director Christopher Wray, who have resisted requests from Republican lawmakers to hand over some documents related to special counsel Robert Mueller's investigation into Russia's meddling in the 2016 election.
Last week, three GOP congressmen wrote to Trump asking him to intervene and order DOJ to produce documents "related to potential abuses of the Foreign Intelligence Surveillance Act; documents related to the FBI and broader Department of Justice's initial investigation into the Trump campaign prior to the appointment of the Special Counsel."
The extraordinary presidential request wading into a federal investigation being conducted by his own government comes in the wake of a bombshell New York Times story about Donald Trump Jr., the president's eldest son, and his August 2016 meeting with an envoy representing the crown princes of United Arab Emirates and Saudi Arabia. The envoy offered to help the Trump presidential campaign, according to the Times ― similar to the Russian lawyer who met with Trump Jr. two months earlier under the guise of providing what the Trump campaign believed was damaging information about Democratic presidential candidate Hillary Clinton.
FBI agents at the time sent an unnamed informant to talk to two Trump campaign advisers "only after they received evidence that the pair had suspicious contacts linked to Russia during the campaign," according to the Times. The government also obtained a secret warrant in October 2016 to monitor former Trump campaign aide Carter Page's communications after convincing a judge it was appropriate to that investigation.
But Trump, egged on by conservative media outlets and Fox News commentators, lashed out at the FBI, accusing the agency of spying on his campaign for "political purposes."
"Reports are there was indeed at least one FBI representative implanted, for political purposes, into my campaign for president. It took place very early on, and long before the phony Russia Hoax became a 'hot' Fake News story. If true ― all time biggest political scandal!" he tweeted Friday.
That last line parrots assertions that Fox News' Sean Hannity has been making for months.
As GOP lawmakers have pressed their demand to see DOJ documents about the identity of the FBI informant, reportedly an American academic who teaches in Britain, critics of the move have warned against the release of such information to Congress ― where details of federal investigations often leak. Havng the name become public could put lives at risk, these critics caution.
Sen. Mark Warner (D-Va.), the top Democrat on the Senate Intelligence Committee, said that it was against the law to "try to reveal classified information about the identity of an FBI or CIA source."
"Classified information, [the] identity of agents, is sacrosanct," Warner said Sunday on CBS's "Face the Nation."
He added that the FBI and Justice Department "have tried to avoid [giving lawmakers details on informants] because that's just not the way they operate." Providing such information is "not traditional in any sense of the word," he added.
Other Democrats have scoffed at the claims of a "spy" within the Trump campaign. Rep. Adam Schiff of California, the ranking Democrat on the House Intelligence Committee, termed the assertion "nonsense" in a tweet on Sunday.
Wittes asserted that although Trump has the legal authority to demand an investigation into the FBI, he doubted either Wray or Rosenstein could follow through with such an order.
"So if the President really gives Rod Rosenstein or Chris Wray an order (as opposed to Twitter bluster) demanding a particular investigation not properly predicated under FBI/DOJ guidelines for this overtly political purpose, I believe both men will resign rather than comply," Wittes wrote.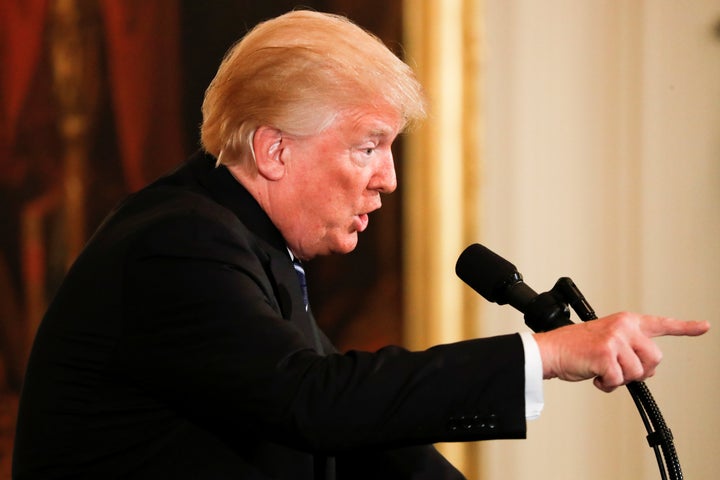 Popular in the Community