U.S. President Donald Trump explained his botched response to a deadly white supremacist rally in Charlottesville, Virginia, last month by saying he needed "the facts" before broadly denouncing violence from racist groups.
But Trump has repeatedly shown he's not interested in waiting for the facts when it comes to other acts of terror.
Just hours after a bomb exploded in a West London Tube station on Friday ― with no information publicly available about potential suspects in the attack ― Trump attributed the violence to "loser terrorists" and "sick and demented people." He also said his travel ban, which affects people from six Muslim-majority countries, "should be far larger, tougher and more specific."
"I never think it's helpful for anybody to speculate on what is an ongoing investigation," British Prime Minister Theresa May said on Friday.
London Mayor Sadiq Khan, whom Trump had harshly criticized in June after a different attack, said he was "not going to go there."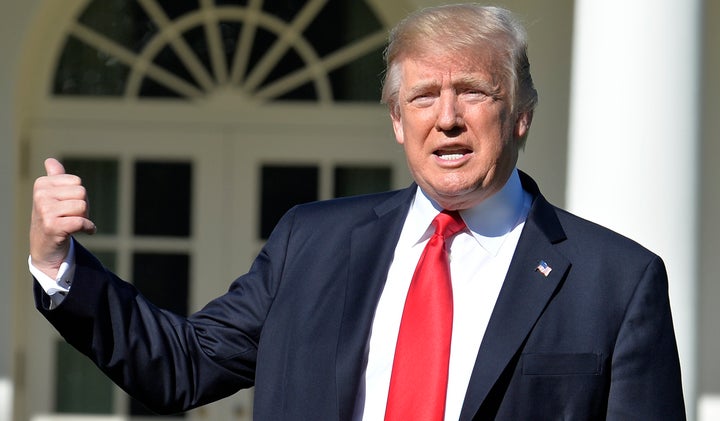 That story ― which has no basis in fact ― is one Trump told on the campaign trail, when he spoke of Pershing executing Muslim insurgents in the Philippines in the early 1900s with bullets dipped in pig's blood.
But after the violence in Charlottesville, where an alleged white supremacist had plowed a car into a crowd of anti-racist protesters, killing one woman, Trump had blamed "both sides," and said, "You can call it terrorism, you can call it murder, you can call it whatever you want."
But he has continued to undermine that statement ever since. At a rally on Aug. 22, he spent more than 10 minutes rereading his comments on Charlottesville, defending statues of Confederate leaders and attacking the media, which he accused "of trying to take away the history and our heritage."
On Thursday, Trump signed a resolution condemning white supremacy, but also reiterated his initial comments on the Charlottesville protests, arguing that "a lot of people" have said he was right to condemn "both sides."
"You look at really what's happened since Charlottesville, a lot of people are saying, and people have actually written, 'Gee, Trump might have a point,'" Trump said, while reflecting on his discussion with Sen. Tim Scott (R-S.C.) about "the brutal history surrounding the white supremacist movement and their horrific treatment of black and other minority groups," according to the senator's office.
"I said, 'You've got some very bad people on the other side also,' which is true," Trump added.
You look at really what's happened since Charlottesville, a lot of people are saying and people have actually written, 'Gee, Trump might have a point.'

Donald Trump
Based on his actions, it appears Trump's claim that he doesn't "want to go quickly and just make a statement for the sake of making a political statement" only applies to white supremacists. 
Alana Horowitz Satlin contributed to this report.
REAL LIFE. REAL NEWS. REAL VOICES.
Help us tell more of the stories that matter from voices that too often remain unheard.
BEFORE YOU GO
PHOTO GALLERY
Trump Surveys Hurricane Irma Damage