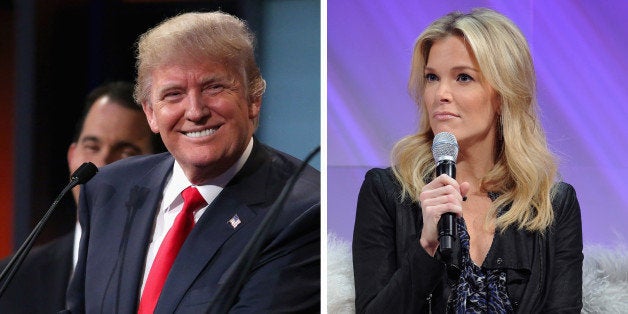 Donald Trump's whining after Thursday's debate must have sounded familiar to any woman who has ever been accused of not playing nice while doing her job. Trump told reporters, "The questions to me were not nice, I didn't think they were appropriate, and I think Megyn behaved very badly personally."
Trump was aggravated that Fox news anchor Megyn Kelly had the gall to call him out about disparaging remarks he's made to women. Since when is asking tough questions considered bad behavior for a journalist?
Trump didn't stop there. He later retweeted a number of hostile tweets about Kelly, including one calling the former attorney a "bimbo." And after Trump told CNN that Kelly had "blood coming out of her wherever," he was dropped from a conservative event.
It's easy to criticize a presidential candidate for this kind of over-the-top boorishness, but what kind of adjectives do you use to describe the women you work with? Do you label a woman who gets things done as hard-charging or bossy? Do you consider her personality forceful or abrasive? Is she tough with her colleagues or rude?
The words we use to describe people really do matter. Research has shown that managers are more judgmental about women than men. In a study of performance reviews, negative personality criticism showed up in just two percent of the critical reviews received by men, but appeared in three-quarters of the critical reviews received by women. The study found that women managers were just as likely to do this as men.
This type of gender bias, which is often unconscious, has led to the "ban bossy" campaign, which seeks to celebrate and build women's leadership skills rather than criticize them for behavior often praised in men. I hope the absurdity of Donald Trump's attack on Kelly shows just how irrelevant "nice" should be when it comes to describing how well a woman does her job. I certainly don't want a journalist to ask nice questions and what candidate should expect that? Kelly was tough, prepared, and professional.
If we stop applauding women for being nice, then perhaps we can work a little harder to praise their actual strengths. The next time you're about to criticize a female colleague for a lack of niceness, ask yourself if you would criticize a man for the same behavior. Can you shift your perspective to focus on competence rather than personality? I don't think Steve Jobs ever worried about being called nice.
Trump's dressing down of an assertive, skilled woman is a very public example of what still happens all too often at work. Let's just drop "nice" from our vocabulary when assessing the competence of the women we work with.
Popular in the Community