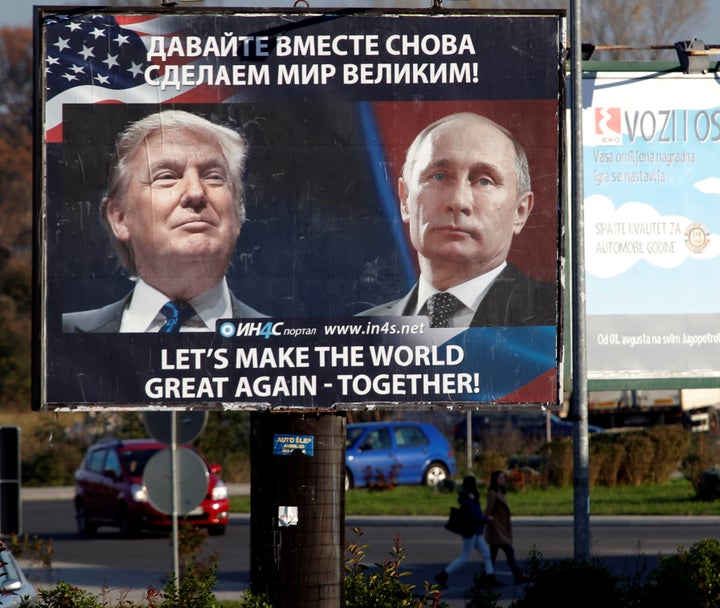 Proponents of improved U.S.-Russian relations might take heart in Donald Trump's surprise victory in the U.S. presidential election. After all, the Republican candidate has repeatedly called for Washington to "get along" with Moscow. Tangible positive changes are certainly possible, but fundamental differences over issues such as U.S. missile defense, NATO expansion and Russia's willingness to use force against its neighbors, as well as the absence of robust economic ties, make a qualitative breakthrough in the bilateral relationship unlikely.
There are many reasons why news of Trump's victory may have sent champagne corks popping behind the Kremlin walls and inside the Russian parliament. Throughout his campaign, Trump made pronouncements that must have pleased leaders in Russia, one of the few countries where he has been more popular than Hillary Clinton: He has promised to consider lifting U.S. sanctions against Moscow and even floated the idea of recognizing Crimea as part of Russia. Trump has also criticized NATO as obsolete and attacked some of America's European allies as free riders, saying the U.S. would defend them against aggression as required by Article 5 of the Washington Treaty only if they "fulfill their obligations" and spend enough on defense.
Trump has broken with virtually every unfavorable view of Russia in Washington. He snubbed Ukrainian President Petro Poroshenko when he requested a meeting in September. And he has called for U.S.-Russian cooperation in Syria against the so-called Islamic State, describing Syrian dictator Bashar Assad as possibly a lesser evil than the alternatives. He has also refused to endorse the finding of the Office of the Director of National Intelligence and the Department of Homeland Security that "the Russian government directed the recent compromises of e-mails" at U.S. political organizations, including the Democratic National Committee. Trump has repeatedly attacked the Trans-Pacific Partnership pushed for by President Barack Obama, much to Moscow's dismay.
Don't expect a lasting change in the relationship between Russia and the U.S.
Finally, on a personal note, Trump has described Russian President Vladimir Putin as a strong leader with whom he would be prepared to meet even before inauguration. Putin has returned some of Trump's compliments, describing him as a "colorful" candidate during the campaign and congratulating him within hours of his victory. In his message to the president-elect, Putin said "Russia is ready and wants to restore full-scale relations with the U.S. We understand it will be a difficult path, but we are ready to play our part."
These overtures and exchanges of niceties are likely to lead to some genuine improvements in the bilateral relationship, which has "hit rock bottom" in the words of Russian Prime Minister Dmitry Medvedev. For starters, some substantive coordination between the U.S. and Russian militaries in Syria can be expected beyond the current tenuous level of deconfliction, which has not been robust enough to prevent close calls in the sky. Given his statements on Syria, Trump might also be more amenable to accepting Russia's view that Assad should stay at least until ISIS and al Qaeda are defeated in Syria. (Of course, that would represent a departure from the current administration's position, which is that the civil war in Syria cannot end as long as Assad remains in power.)
Also, Trump's criticism of NATO and unfriendly stance toward Ukraine indicate he may be unenthusiastic about further expansion of the alliance, which Russia views as a grave threat to its security. Trump would also be less likely than his Democratic rival to commit to any further reinforcement of the U.S. military presence in Europe beyond Obama's existing commitments, and may push NATO's European members to spend more on defense. (Some view Trump's criticism of NATO as an attempt to gain leverage in such talks.) 
Given his business background and 30 years of links with Russia, Trump might try not only to lift some sanctions, but also to expand bilateral trade, though he's unlikely to achieve lasting results, given Russia's business climate. State-controlled entities account for 70 percent of the country's GDP, according to the International Monetary Fund. And Russia is currently not even among America's top 15 trading partners, while the U.S. ranks sixth in Russia's list (for January-August 2016), trailing behind not only China and Germany, but even Belarus.
Trump might also engage Moscow in areas of mutual interest where Russia's behavior can have a significant impact on U.S. national security, such as preventing accidental war and terrorist attacks and countering proliferation of nuclear weapons.
Such engagement would be popular at home. According to a recent poll by the University of Maryland, 67 percent of Republicans and 53 percent of Democrats want the United States to cooperate with Russia to fight ISIS in Syria. Fifty-six percent of Americans believe the U.S. should pursue a general policy of cooperation with Russia, while 39 percent believe Washington should try to limit Moscow's power, according to recent polls conducted by the Chicago Council on Global Affairs and the Moscow-based Levada Center.
Trump won't be able to grant Moscow's wishes even if he wanted to.
And, yet, we don't expect a lasting qualitative change in the bilateral relationship. This would require overcoming several fundamental obstacles. One is the U.S. desire to prevent Russia from expanding its footprint in the Middle East. Another includes Russia's demands for binding guarantees on the non-expansion of NATO and for constraints on U.S. ballistic missile defense systems ― two of the conditions that Moscow recently put forth for reviving bilateral cooperation on nuclear security, both of which run counter to U.S. interests. Russia also wants a 21st century version of the Concert of Europe, but on a global scale, in which Russia plays an equal role with the U.S., China and the European Union; Washington has no intention to concede to such an arrangement.
While limited cooperation on non-proliferation will continue, we also expect no breakthroughs in arms control. Russia will not agree to deeper cuts in strategic nuclear arsenals without limitations on U.S. missile defense, and it outright refuses to discuss nonstrategic nuclear weapons. Moreover, the compliance issues looming over the Intermediate-Range Nuclear Forces Treaty would need to be resolved before any further arms control agreements could be concluded.
In short, Trump won't be able to grant Moscow's wishes even if he wanted to. He will be constrained on the above-mentioned issues and others, including a wholesale lifting of sanctions, by Congress, where many view missile defense as a fundamental U.S. strategic interest. Likewise, many in Washington want to continue holding Russia accountable for what they view as the forcible annexation of Crimea, rejecting Moscow's position that it was an exercise in self-determination. Equally contradictory claims persist over the insurgency in eastern Ukraine, which Americans believe sets a dangerous precedent that Moscow may seek to replicate in Eastern European countries that are America's NATO allies. Ultimately, Trump, who bills himself as something of an isolationist, is likely to defer to Western Europe in the negotiations on resolving the Ukraine conflict, and has even called on Germany to take the lead on the issue.
As George W. Bush's experience with Putin showed, personal ties are not enough to create a sturdy partnership, even if both countries share some vital national interests, such as preventing the proliferation of weapons of mass destruction and reining in international terrorism. A genuinely strong, fruitful relationship simply cannot be sustained in the presence of fundamental differences and the absence of a solid economic foundation. It was these factors that effectively derailed the 2009 reset and they will go on making any long-term qualitative improvements in the bilateral relationship unlikely.
REAL LIFE. REAL NEWS. REAL VOICES.
Help us tell more of the stories that matter from voices that too often remain unheard.
BEFORE YOU GO
PHOTO GALLERY
Inside The Cafe Dedicated To Vladimir Putin