Earlier this year, a woman sat down on a bench by the Lincoln Memorial in Washington, D.C., a selfie stick in hand, and recorded herself making a confession.
"I've been keeping a secret and I can't do it anymore," she said. "My name is really not Amy. It's Elhan. I am a practicing Muslim, and I've been leading a double life."
The confession -- which she was recording for the show "The Secret Lives of Americans" -- was a dress rehearsal of sorts. Now she wanted to tell her friends that her name was really Elhan, and that she was a Muslim. And she wanted to tell her family that she had been living for 15 years as "Amy."
Elhan, who asked that her last name be withheld, says she was 15 in August of 2001 when her family fled the war in Somalia and came to the United States. A month later she was sitting in a high school classroom in Washington, D.C., when her math teacher got a phone call.
He turned on the TV, Elhan remembers, and she and her class watched as the Twin Towers fell.
"I already came from a war zone," Elhan told The Huffington Post. "I was happy because I wasn't there anymore -- I wasn't surrounded by war. But when I saw [the towers fall], it hurt. It was horrifying."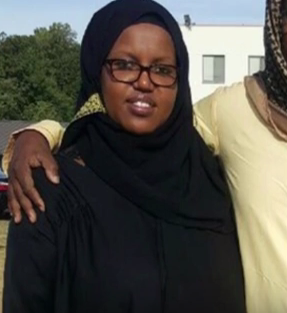 In the days following the Sept. 11 terror attacks, she heard her classmates making disparaging comments about Muslims. There were slurs, she said, and jokes about turbans. Some students wondered aloud if it was safe to ride the Metro when a Muslim was on board.
At the time, her new classmates didn't know she was Muslim, and Elhan -- eager to make friends at a new school in a new country, and afraid of being harassed or even attacked -- decided to keep it that way.
She hadn't yet worn a hijab to school, but rather had been donning an African head scarf. ("I was still getting the feel of my new surroundings," she said by way of an explanation.) After the terror attacks, she decided to never wear a hijab to school.
She also asked her principal to have teachers call her Amy -- a name she heard in American movies and TV shows like "90210" -- because it was easy to pronounce, and didn't sound like a Muslim name. The principal obliged, and her classmates were none the wiser.
For the rest of high school, Elhan had a routine: She'd wear her hijab and Muslim garments out of the house, but change out of them before she got to the bus stop.
She started to make friends -- good friends, she says -- all of whom knew her as Amy. Meanwhile, at home and at the mosque, she was still Elhan.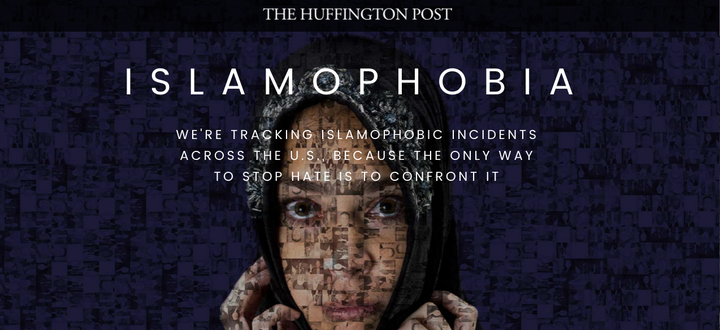 In the years since 2001, the annual number of anti-Muslim hate crimes has remained five times higher than pre-9/11 levels.
Elhan, now 32 and working as a sales rep in D.C., said the longer she hid her faith, and the longer she lived as "Amy," the harder it was to tell her family and friends the truth. But earlier this year, she says she started to realize that if she ever wanted to settle down -- get married, have kids -- her double life wasn't tenable. She also longed to live openly as a Muslim, to walk down the street in her hijab.
That's when she saw an ad on Facebook: A casting agency was looking for people who had secrets to share. She applied, and within a week she was talking to producers from the "Secret Lives of Americans."
They wanted her to come clean with her friends and family, and they wanted her to film it. Elhan agreed.
"I figured it may help others as well," she said of the decision. "If I'm going through that, I'm sure there's someone else going through that, especially with everything that's going on with Islamophobia."
Just the month before, Donald Trump had called for a ban on all Muslims entering the U.S. Also that month, after the terror attacks in Paris and San Bernandino, hate crimes against Muslims tripled. According to a recent report from the Bridge Initiative at Georgetown University, 2015 saw the highest number of anti-Muslim hate crimes since 2001, when Elhan first started living as Amy.
In recent months, The Huffington Post has also documented daily reports of American Muslims facing discrimination, harassment and violence.
"You're not Muslim or American. You're Muslim and American.""
In one scene from the "Secret Lives of Americans" episode -- which was posted to YouTube earlier this week, and which will kick off the second season of the show on Pivot on May 20 -- Elhan records herself watching President Obama visit a mosque for the first time during his presidency.
"And today, there are voices in this world, particularly over the Internet, who are constantly claiming that you have to choose between your identities -- as a Muslim, for example, or an American," Obama said at the mosque, as Elhan starts to cry. "Do not believe them. If you're ever wondering whether you fit in here, let me say it as clearly as I can, as president of the United States: You fit in here -- right here. You're right where you belong. You're part of America, too. You're not Muslim or American. You're Muslim and American."
Soon after, Elhan carried a selfie stick into her friend's apartment. She'd asked her closest friends -- some of whom had known her as Amy since high school -- to all be there.
"My name is not Amy," she tells them. "It's Elhan, and it's a Muslim name. I've been living this double life ever since 9/11 and I do want to apologize to everyone."
There's a stunned silence before her friends start asking questions, some wiping tears away from their eyes. They're disappointed that Elhan felt she had to keep it a secret, but they also understand.
"I was afraid that I would walk around and someone might just jump me, beat me up, stab me, kill me or whatever it is," Elhan says at one point. "I'm not the only one living a double life as a Muslim."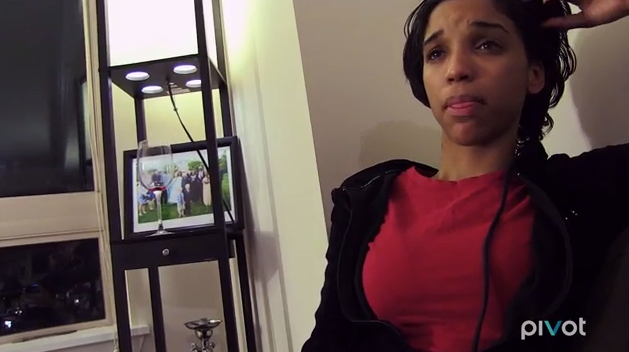 "It's disgusting that you have to have that fear and it's legitimate," a friend named Rob says.
"I want you to be comfortable in your own skin and define who you are," says another friend. "Either if you're gonna be Elhan, or if you're gonna be Amy. Do it however you feel comfortable and we're gonna be here with you."
"Just hold your head high," Rob adds, "and know that you are loved."
"It felt like a big lump sitting on my chest had been lifted off," Elhan said of telling her friends about her faith. "It was just a blessing -- to be blessed with the most amazing friends ever, even the ones that didn't understand. It's been great."
In another scene, she confesses to her sister.
"I'm a Muslim girl and I love it," her sister says. "My friends know me as a Muslim girl, and for you to have struggled to come out and say it, that's just heartbreaking."
They hug and cry. "I love you," the sister says. Elhan told HuffPost that she also confessed to her other family members, but for privacy reasons, opted to keep that out of the episode.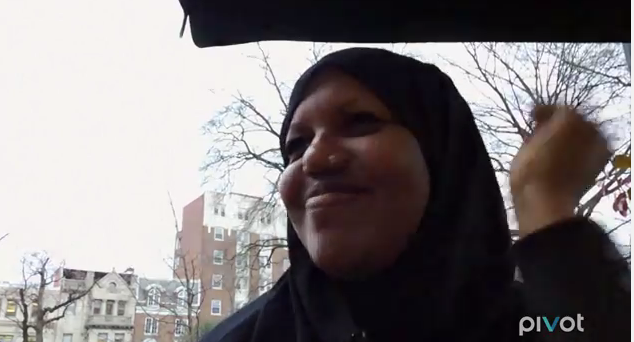 Now, Elhan says she loves walking around in her hijab.
"My faith is important to me because it made me the person I am," she said.
"It brings a sense of peace to me and love," she added. "If anyone asks what Islam is, I say 'peace and love.' That's what it means to me."
These days, she says, people sometimes give her suspicious looks while riding the Metro. But others, she added, sometimes give her a pleasant "As-salamu alaykum" -- a Muslim greeting that in Arabic means, "Peace be upon you."
Support HuffPost
The Stakes Have Never Been Higher
Popular in the Community